Creative technologists showcase ideas
 News 
Bath Spa's creative technologists showcase ideas for the future
Thursday, 30 May, 2019
The use of immersive technology to bring museum exhibits to life and the creation of innovative artwork installations are just two of the ideas which have emerged from a major on-going government-funded research project involving Bath Spa University staff and students.
Bath Spa University's cross-disciplinary Centre for Cultural and Creative Industries (CCCI), as part of its involvement in the South West Creative Technology Network (SWCTN), organised a showcase event in central Bath to highlight the work of the university's SWCTN-funded Fellows - Coral Manton, Prof Anthony Head and Sharon Clark – alongside others in the City who received grant-funding from SWCTN for local ideas and projects.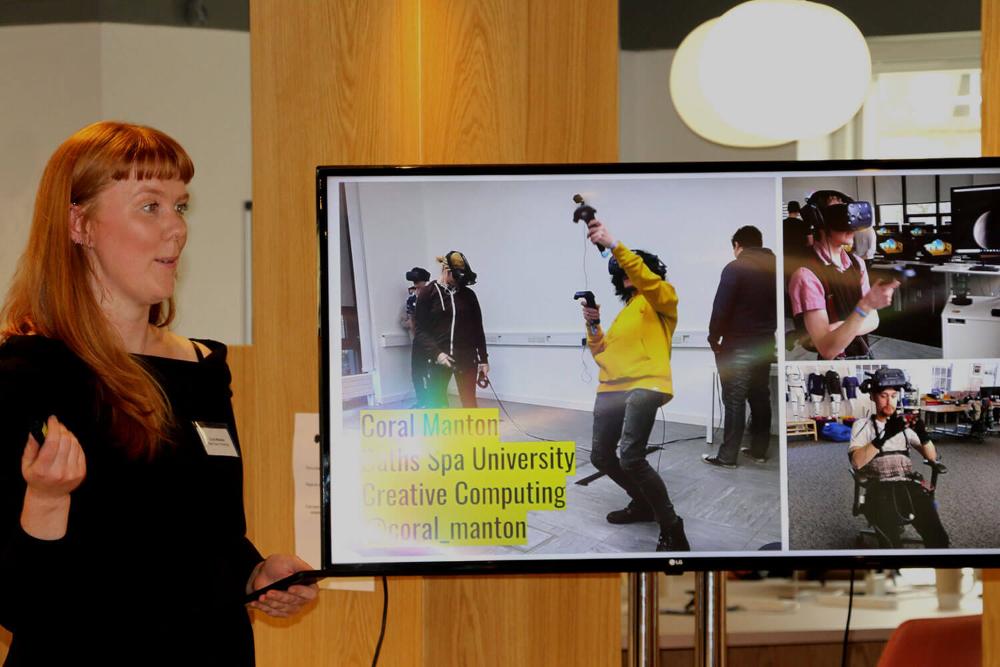 Bath Spa's Coral Manton is exploring how immersive technologies can enhance the curatorial work of museums, libraries and archives, helping engage visitors in complicated narratives surrounding collection objects and historic places. She has recently received a grant from SWCTN to develop a new App, which she is calling: 'Shared Pasts - Decoding Complexity';
Bath Spa's Sharon Clark is looking at how creative digital technology might deliver added anticipation and recall for an audience in an immersive theatre experience;
Bath Spa's Professor Anthony Head is investigating the subtle differences between several forms of immersive media involving 3D graphics and applying these to an existing large-scale art project 'Light Years: Coast'.
Other Fellows talking about their work included Bath-based theatre company Kilter, who have been exploring the use of immersive technology in one of their productions, to a project with the Holburne Museum, where Bath Spa University students are 3D scanning artefacts to create a VR gallery.
Another local project has worked with local architects Stride Treglown to investigate the use of VR in town planning, while in another, Bath Spa students have helped develop a satirical university-inspired immersive theatre game, 'Ivory Towers', for the international Boomtown festival.
Professor Kate Pullinger, SWCTN Co-Investigator and Director of CCCI said: "It is great to see so much inspiring and innovative work being developed in Bath. SWCTN, through its funding and networking support, is helping to nurture creative technology businesses and ideas across the region. We are always interested in hearing from anyone wanting to get involved, and explore opportunities."
The South West Technology Network can be contacted via swctn.org.uk.