Dr
Gavin Gillmore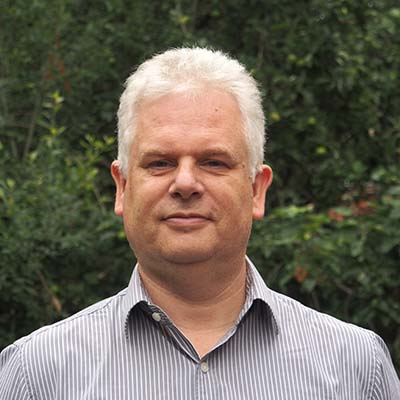 Personal statement
Gavin's primary role is Subject Leader for Geography. He teaches on a variety of Geography and Environment related topics in modules such as Geomorphology and Hazards, and Environment, People and Place.
Gavin's primary focus is on human-environment interactions. Examples include measurement and monitoring of radon (a ground gas that causes lung cancer); 3D visualisation of alpha tracks in solid state nuclear track detectors; mining pollution; air pollution; sedimentary analysis and microfossils in palaeoenvironmental analysis; geoarchaeology; 3D imaging and analysis of PM10s and PM2.5s including volcanic ash; shale gas exploitation; and the Energy Trilemma.
Gavin started his career as a researcher at the University of Bedfordshire followed by the Natural History Museum. This was followed by a time in the hydrocarbon industry. He returned to academia in 1993, as a Senior Lecturer at the University of Northampton. This was followed by posts at the University of Bradford (Senior Lecturer, Head of Department, Geography and Environmental Science). In 2006 he started as Professor of Environmental Geoscience and Head of School, Geography, Geology and the Environment at Kingston University. This was followed by being Head of Kingston Energy and School Postgraduate Director of Research, Engineering and Environment.
Academic qualifications
BSc (Hons) Applied Geology and Geography (Plymouth)
PhD Stratigraphy and Palaeoenvironments of the Tertiary, North Sea (UCL)
Post Graduate Certificate in Teaching in Higher Education (Northampton)
Professional qualifications
Chartered Geologist (Geological Society, London)
Professional memberships
Fellow of the Geological Society
Fellow of the Higher Education Academy
Associate Member, Energy Institute
Other external roles
Director and Chairman, The Radon Council
Areas of expertise
Geography
Geomorphology
Hazards
Environmental Science/Air Pollution
Geoarchaeology
Geoforensics
Geology
Contact me about
Matters concerning Geography course management
Subject support in Physical Geography and Hazards
Research and academic outputs