Design students are the professional problem-solvers of the future: creative, inspired, connected, collaborative and responsive.
In this section
Our courses ask you to define and challenge modern problems – and innovate to create effective solutions through brilliant design.
You'll be curious and resourceful. You'll learn to combine practical, hands-on making with creative thinking to turn your ideas into reality.
Explore our graduate showcase
Check out what our students created in the Bath School of Design Showcase 2021.
Design Degree Show 2021
"...Everything came together as I discovered my style."

Chloe Hills, BA (Hons) Textile Design for Fashion and Interiors
Welcome to the Bath School of Design
Your degree is an opportunity for self discovery. We give you space to experiment, fail, succeed, and fail again, all while supporting you with the tools and guidance you need to find your own path.
Hear from our students about our creative community and how making is at the heart of what we do.
The equipment, studios and workshops you need
Our specialist art and design campus at Locksbrook is purpose-built to foster collaborative creation, and complemented by our specialist workshops at Sion Hill.
Art and Design Facilities
Question your impact
You take your responsibility to protect the environment very seriously, and so do we.
Let's make sure that we're contributing to an inclusive and positive future.
Green Focus
Construct. Co-create. Enjoy the process.
Collaborate with industry. Work to live briefs. Lead your own projects.
Join the wider community in Bath, the South West and the world.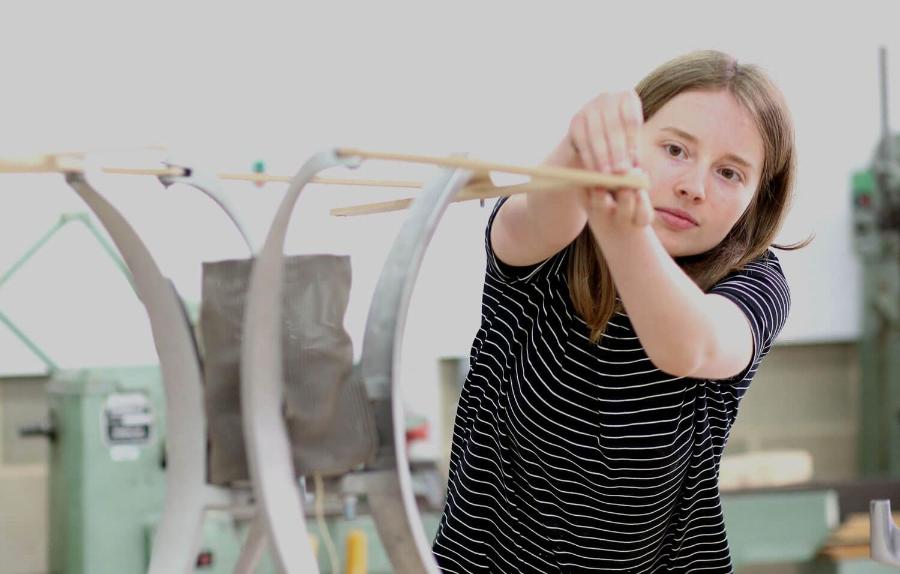 "Get involved, use the equipment and studio space to its fullest while it's on offer to you. Go to the group critiques, professional context sessions and guest lectures, they offer invaluable insight and can really help provide clarity to your work and future direction."

Tim Gautry, BA (Hons) Graphic Communication
We've just redesigned ourselves from the ground up
New campus, more opportunities for you, better ways to share ideas and resources, and fewer fees.
Your experience as a student is still at the heart of everything we do.
Image courtesty of Laura Medlicott
Locksbrook Campus
"Studying the course has allowed me to realise my own potential in developing my personal practice and the opportunities for creating and selling my own product ranges."

Stephen R Hughes, MA Design (Fashion and Textiles); BA (Hons) Fashion Design