Material : Art : Science : Environment : Research
The Material : Art : Science : Environment : Research (MASER) group is a forum that addresses questions around overlapping developments in the Arts and Sciences, historically and today.
Bringing together artists, scientists, curators and researchers from across Bath Spa University and beyond, including from Royal Holloway University, Polar Aspect, Bristol Experimental Expanded Film (BEEF), and University of Brighton, as well as independent practitioners, the group discusses ideas which straddle the disciplines of Art and Science.
They consider how we might understand methods of working in both fields and how and where these overlapping approaches might fit into our lives. Where do Art and Science cross over and influence each other and us? How does our imagination help us to understand and describe the world around us?
Slideshow images: Solveig Settemsdal - still from OK Swallow Great; Emma Critchley - still from Witness; Ben Parry and Lia Mazzari - Billboard with fuse wire; Emma Stibbon - Broken Terrain; Greer Crawley - Trenches; Kathy Hinde - Tipping Point; Lydia Halcrow - Ghost Nets - Strandline; Mariele Neudecker - The Improbable Always Happens Sometimes (Sediment); Matt Law - Mind mapping for climate change theatre; Melissa Mahon - The Shipwrecks; Penny Hay - Forest Drawing Machine; Rosie Snell - Ice Floe; Siobhan McDonald - Crystalline Highlanes; Stephen Vaughan - Zassho Cascadia; Tamsin Relly - Lake II; Anthony Speca - Norwich Model Arctic Council 4; Ariane Koek - Sky Turning
Members from Bath Spa
Members from other institutions
Anthony Speca
Dr Anthony Speca is Managing Principal of Polar Aspect, a consultancy he founded in 2012. He has advised government particularly on issues of Arctic governance and fiscal policy. He has also published articles on Arctic issues, and he has spoken about the Arctic to various organisations and universities. He has lived and worked in Arctic Canada, and he has travelled elsewhere in the North American and European Arctic.

Anthony views the Arctic first and foremost as a homeland, especially for its indigenous peoples, where human development and environmental sustainability both matter. Inspired to share this vision of the Arctic with younger generations, in 2016 Anthony created and launched the world's only secondary-school Model Arctic Council (MAC) programme. Polar Aspect have since offered numerous MAC conferences in collaboration with schools in the UK and Spain, as well as undergraduate MAC conferences in collaboration with universities in the UK and Canada. Polar Aspect have also launched an online MAC delegate training and conference programme for schools around the world.

Anthony combines this innovative educational work with appointments to Norwich School in the UK, where he teaches Philosophy, Politics, Economics and Geography, and to Trent University in Canada, where he is Adjunct Professor of Canadian Studies. He also serves as Managing Director of the Læra Institute for Circumpolar Studies, a part of the international University of the Arctic.

Anthony is a Fellow of the Royal Geographical Society and the Royal Society of Arts. He serves on the Council of Polar Educators International, and he is a member of the British Association for Canadian Studies and the International Arctic Social Sciences Association.
Ariane Koek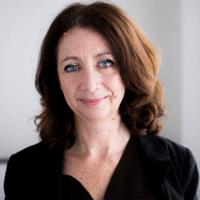 Ariane Koek is an independent international arts/science/technology consultant, director, producer and writer specialising in transdisciplinary working and artist residency programmes. She is internationally known for initiating in 2009 Arts at CERN – based at the world's largest particle physics public research laboratory outside Geneva, Switzerland. She designed and directed the three strands of Arts at CERN until January 2015 – Collide, Accelerate and Visiting Artists, now known as Guest Artists.

Today Ariane Koek works with various international institutions in the arts/science/nexus as a strategic and artistic advisor including this year The Exploratorium San Francisco, USA and Cavendish Arts Science programme at Cambridge University UK. She is also the founder, curator and creative producer of the Earth Water Sky 3 year environmental arts and science residency programme at Science Gallery Venice, Italy.

Her latest curatorial work includes 'Real Feelings: Emotion and Technology' (HEK, Basel, Switzerland 2020 and MU, Eindhoven, Netherlands 2021) 'Backlight: Related Realities – the Nordic Photography Triennale 2020', Tampere, Finland; 'Keith Tyson: The Matter of Painting' (Musée Marmottan Monet, Paris 2019-2020) and 'Entangle: Physics and the Artistic Imagination' (Bildmuseet, Umea, Sweden 2018-2019). She was until recently policy advisor to the European Commission's ICT Directorate DG-CONNECT and is on the cultural board of the European Commission's environmental science and knowledge service, the Joint Research Centre (JRC) and Science Gallery Venice.

She lectures internationally on arts/science and creativity. Commissioned writing includes editor/writer 'Entangle: Physics and the Artistic Imagination' (Hatje Cantz, 2019) and 'Real Feelings: Emotion and Technology' (Christoph Merian Verlag, 2020) with keynote essays in Goshka Macuga: To the Son of Man who Ate the Scroll (Fondazione Prada), Pipilotti Rist: Your Saliva is the Diving Suit of My Pain (Kunsthaus Zurich), Bill Fontana Shadow Soundings (MAAT 2017) and Keith Tyson: The Matter of Painting (Musée Marmottan Monet, Paris) with forthcoming essays on arts/science in various artist's monographs including Sediment: The work of Mariele Neudecker (Anomie 2021), Thought Experiments: The Art of Jonathan Keats (Hirmer Publishers/University of Chicago Press 2021) and Iris Van Herpen: Visualising the Invisible (Rizzoli 2022).

ariane@arianekoek.com
Emma Critchley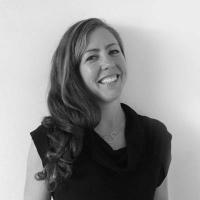 Emma Critchley is an artist who uses a combination of photography, film, sound and installation to continually explore the human relationship with the underwater environment as a political, philosophical and environmental space. She is Royal College of Art alumni and has developed works funded by organisations including Arts Council England, British Council, Singapore International Foundation and the European Regional Development Fund. Her work has been shown extensively in galleries and institutions nationally and internationally.
Recent works, residencies and exhibitions include:
Common Heritage (2019, funded by Jerwood Charitable Foundation), a film about the imminent threat of deep-sea mining for rare earth minerals for which Emma worked with deep-sea ecology scientists at the National Oceanography Centre and the University of Plymouth.
The Space Below (2020), a large-scale public soundscape about underwater acoustic pollution, created in collaboration with artist Lee Berwick and a number of scientific organisations including the British Antarctic Survey and the Californian Ocean Alliance. Originally installed in the Greenwich Foot Tunnel with the National Maritime Museum.
Earth Water Sky Residency winner 2019, (with Science Gallery Venice in collaboration with the Ice Memory Project). The resulting 2-screen film installation Witness will launch in the Italian Pavilion of the Venice Architecture Biennale 2021 and be exhibited with The Science Gallery Venice in late Summer 2021.
@critchley_emma (Instagram)
@EmmaJCritchley (Twitter)
Emma Stibbon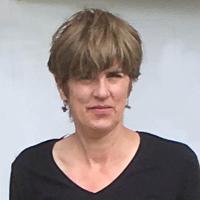 Emma Stibbon is an artist who works primarily on paper, producing large-scale drawing and prints. She depicts environments that are undergoing dynamic change and travels widely with her work.
Stibbon's research has led her to undertake residencies including Artist Placement in Antarctica, organised by the Scott Polar Research Institute; the Arctic Circle.org expedition to Svalbard in the High Arctic; Artist in Residence at Hawai'i Volcanoes National Park; and to document receding glaciers in Ecuador with Project Pressure.
Stibbon has recently exhibited her work at Cristea Roberts Gallery, London; Galerie Bastian, Berlin; the New Art gallery, Walsall; Towner Art Gallery, Eastbourne; The Polar Museum, Cambridge; the Royal Academy, London; York Museum and Art Gallery; and Abbot Hall Art gallery, Kendal. Her work is held in private and public collections including the Laing Art Gallery, Newcastle upon Tyne; New Art Gallery, Walsall; Pallant House Gallery, Chichester; Bristol City Museum and Art Gallery; Russell-Cotes Art Gallery and Museum, Bournemouth; and the V&A, London.
Emma Stibbon was born in 1962 in Münster, Germany and lives and works in Bristol, UK. She studied a Fine Art BA at Goldsmiths, University of London, and a Research Fine Art MA at the University of the West of England, Bristol. She is Senior Lecturer at the University of Brighton, and was elected Royal Academician in 2013.
Greer Crawley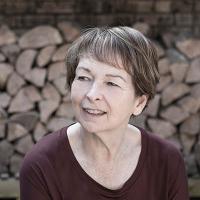 Greer Crawley is a senior lecturer in BA Spatial Design and MA Art and Design Practice at Buckinghamshire New University, UK. Her research concerns the staging of the landscape of war.

Publications include: Fatal Strategies in the work of Michael Ashkin and Wafa Hourani and 'Seduction Chaff' in Mariele Neudecker's The Air is One Vast Library in Monitoring Scenography 3 - Space and Desire (2011). 'Acting Out-Illusion and Representation in the Wartime Landscape' in Monitoring Scenography 2 – Space and Truth (2009) and Staging Exhibitions: Atmospheres of Imagination in Museum Making: Narratives, Architectures, Exhibitions (2012); and 'Soundings' in In the Collection: Mariele Neudecker – Hinterland, Kunstmuseum Trondheim, Norway (2014).
Kathy Hinde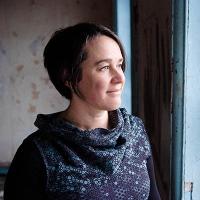 Kathy Hinde is an audio-visual artist whose practice embraces open methods and evolving processes. Through installations, performances and site-specific experiences, she aims to nurture a deeper and more embodied connection to other species and the earth's systems. Composed of hand-made objects, electronics and a blend of digital and analogue systems, Hinde's work represents a cross between kinetic sound sculptures and newly invented instruments. She frequently works in collaboration with other practitioners and scientists and often actively involves the audience in the creative process.

Hinde has toured work across Europe, USA, Canada, Mexico, Brazil, Russia, China, Sri Lanka, Pakistan, Colombia, Australia and New Zealand. Awards include an Ivor Novello Award, an Honorary Mention at Prix Ars Electronica, a British Composer Award, an ORAM award, and a Scottish Award for New Music. Kathy joined the Cryptic Artist programme in 2015, was a selected artist for European SHAPE Platform for innovative music and audio-visual art in 2018, is a member of Bristol Experimental Expanded Film (BEEF), a fellow at South West Creative Technology Network and a member of the Rabbit Holes Collective.

kathy@kathyhinde.co.uk
Lydia Halcrow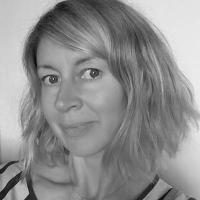 Lydia Halcrow is an artist and researcher. She was recently awarded the Burton Environmental Artist Award and her work is held in public and private collections in the UK and Internationally. She has an MFA in Fine Art and is in the final stage of a Practice-Based PhD in Fine Art at Bath Spa linked to Environmental Humanities.

lydiahalcrow.com
Siobhán McDonald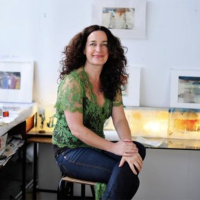 Siobhán McDonald's practice draws attention to contemporary topics dealing with air, breath and atmospheric phenomena, weaving scientific knowledge into her art in a poetic and thoughtful manner. In 2020 she was selected to work with European Cultural Institutions such as the Center for Fine Arts BOZAR and Ars Electronica on a new project about environmental change. The commissioned artworks will be presented at BOZAR and Ars Electronica in 2022.

Siobhan is artist in residence in the School of Natural Sciences at Trinity College Dublin (2020-2023), working with world-leading research facilities such as The European Space Agency (ESA) and The JRC European Commission to explore ecology in light of current ecological concerns. Across research labs, she pursues knowledge to ask questions about the structure and history of the earth. She calls on notions of what is still unknown to science, exploring the Anthropocene and the recent consequences of our treatment of nature. Siobhan's work with water and glaciers deploys a unique artistic language that gives form to intangible and richly varied processes including painting, drawing, film and sound.

Recent awards include: Visual Arts Bursary 2020, Creative Ireland Award 2020 and Climate Whirl Arts Programme Helsinki 2020. Recent shows include: Bozar, Brussels, 2020; Deutsches Hygiene-Museum DHMD, 2020; Volta, Basel 2019; Limerick City Art Gallery, 2019; Deutsches Hygiene-Museum DHMD, 2019; The National Trust Fox Talbot Museum, UK, 2018; Centre Culturel Irlandais, Paris, 2018, among others. Her work is represented in many collections, both public and private, such as The Arts Council of Ireland, Allied Irish Banks, Bank of Ireland, The Ulster Museum and Trinity College Dublin.

siobhanmcdonald.com
Solveig Settemsdal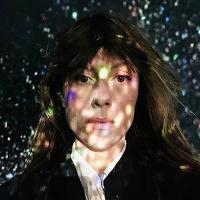 Settemsdal is a multi-disciplinary artist working across mediums including sculpture, video, photography, drawing and sound. She was born in Norway, did her art foundation at Strykejernet Art School in Oslo and has been based in the UK since 2007. She completed a BA in Painting and Printmaking at the Glasgow School of Art in 2010 and an MFA in Sculpture at the Slade School of Fine Art in 2018. She won the Jerwood Drawing Price for her video work Singularity in 2016, the first video to win the award.
She is currently based in Hackney, London. Selected exhibitions include ZEITGEBER, Gossamer Fog, 2020; Pool, Solo Residency exhibition at Unit 1 Gallery, 2019; ENTANGLE, Bildmuseet, Umeå, Sweden 2018; Ars Electronica, Linz, Austria 2017; Sonica at CCA, Glasgow 2017; Imagine, Gippsland Art Gallery, Sale, Australia 2017; Drawing Biennial at Drawing Room, London.

solveig@settemsdal.com
Tamsin Relly
Tamsin Relly's multi-disciplinary practice includes painting, printmaking and photography. South Africa born, she moved to London in 2009 and received her MA in Fine Art at City & Guilds of London Art School in 2011.

Relly's work reflects on the increasingly disrupted environmental conditions of a shifting global climate, and considers the erasure and construction of wilderness, whether for industry or leisure. Recent projects explore the preservation of arboreal and botanical environments through conservation, urban parks, and memory – be it personal, collective or held within the land.

Drawing on both found media imagery and first-hand observations, Relly works with the fluid and unpredictable qualities of her materials and processes to present impressions of natural and urban spaces in states of uncertainty or impermanence. As part of her research, she has visited and studied diverse locations such as Svalbard in the Arctic Circle, The Eden Project in Cornwall, and the fabricated oasis of the Las Vegas Strip.

Relly's work has been exhibited and collected widely in the UK and internationally, appearing in group exhibitions at The Royal Academy of Arts, The National Maritime Museum and Oliver Projects in London, SMITH in Cape Town and Galerie Rue Visconti, Paris. Her work is held in collections such as Spier and Ellerman House in South Africa, and Hogan Lovells, Dentons and the National Maritime Museum in London. She has had solo exhibitions hosted by The House of St Barnabas, The Place Downstairs and Brocket Gallery in London. Artist residencies include Arteles, Finland (2016), RE·THINK: Environment, National Maritime Museum, London (2015), Pocantico, Rockefeller Brother Fund, New York (2015), and The Arctic Circle, Svalbard (2014).
Get in touch
If you are interested in getting involved with Material : Art : Science : Environment : Research (MASER), or have questions, please get in touch with Professor Mariele Neudecker (m.neudecker@bathspa.ac.uk).
Masthead image credit: Mariele Neudecker - The Improable Always Happens Sometimes (Sediment)