This interdisciplinary research group explores the body as a source of creative material and notions of embodiment in cultural contexts
Creative Corporealities is an interdisciplinary research group that responds to a contemporary revision in notions of humanity, felt both viscerally and intellectually, for which the predominant answer is embodiment and creativity.
Who we are
We are practitioners and academics working across a wide range of disciplines, based at Bath Spa University, with research themes accommodated under the banner of the Centre for Cultural and Creative Industries. Creative Corporealities concerns itself with embodiment as a source of creative practice, with its own causalities and politics. We develop and observe disciplinary practices that engage and affect a body that is generative of creative processes.
We are also on the steering group for the Research Centre for the Environmental Humanities, representing performance and arts research.
Events and performances
Below are a series of presentations by members of the Creative Corporealites research group and outside guest speakers, supported by Bath Spa's Quality Research funding. Please also see our Past Events page for an archive of these performances.
Unless otherwise stated, our events are free and open to staff, students and members of the public. Our public lectures are likely to be of broadest interest, while research seminars are intended primarily for staff and postgraduate students.
For further information about our events, please contact group co-convenors Mary Steadman and Thomas Kampe.
Objects Without Borders – 20 January 2022
Objects Without Borders: Exploring how objects connect across borders, boundaries and difference
Thursday 20 January, 6:00pm - 8:00pm GMT, online presentation.
In this presentation, Bath Spa University's Dr Laura Purcell-Gates and PhD student Husam Abed will discuss Objects Without Borders, a practice-based research project that investigates the role of puppetry and object performance in connecting people across borders, boundaries and differences. The project draws on the knowledge and experience of people living on and between the borders and boundaries of society including refugees and people from deprived communities.
Performing Ecologies – 10 March 2022
'Performing Ecologies' – collective embodied arts practices
Thursday 10 March 6:00pm-8:00pm BST, online presentation.
View the recording of these presentations.
This CCRG artist talk brings together dance artists and scholars Olive Bieringa (NZ/NO) and Minou Tsambika Polleros (AT/UK) to discuss their work with dance and somatic arts processes as critical and collective practices of resistance and care in times of ecological crisis.
Olive Bieringa reflects on more than two decades of work with the BodyCartography Project which aims to engage with the vital materiality of our bodies and minds to create live performance that facilitates a re-enchantment of embodiment, relationship, and presence. They create dance in urban, domestic, wild, and social landscapes. Their work is rooted in experimental dance, somatic and socially engaged practice. Their current project, Resisting Extinction, offers practices for living and dying together on a damaged earth. It invites us to not only look forward but to look around and notice what we are losing, to hone our skills and practice embodied knowing to repair our relational field.
Minou Tsambika Polleros will introduce her work with the arts organisation art.earth and their upcoming symposium Sentient Performativities: Thinking Alongside the Human (2022). Her outdoor performance practice homing-in: radical capacities of the sensate is an ongoing work in outdoor natural environments that activates a mode of sensing - a Visceral Empathy - as a potentially remedial practice to the increasing symptoms of environmental apathy, increasing sensory deprivation, the intellectually thought and bodily felt separateness from the rest of the animate world. Her work with the art organisation art.earth creates a platform to investigate the manifold dialogues between the human and natural worlds. The 2022 art.earth symposium investigate how somatic practices can foster embodied ecological awareness and communication between the human and other than human worlds.
Biographies:
Olive Bieringa is a dance, performance and visual artist working at the intersection of social and creative practice, pedagogy, and healing. She is a teacher, and practitioner of Body-Mind Centering and a program director of Somatic Education Australasia. She collaborates with Otto Ramstad as the BodyCartography Project whose mission is to engage with the vital materiality of our bodies and minds to create live performance that facilitates a re-enchantment of embodiment, relationship, and presence. She is a doctoral candidate at the Theatre Academy, Uniarts Arts, Helsinki.
Minou Tsambika Polleros
As dance practitioner, choreographer and Social Sculpture practitioner, Minou has been researching the capacity of "visceral empathy" and embodied cognition as essential antidote to an increasing collective disembodiment and separation from an ecological self. She is developing practices for inner and outer homemaking, as processes that cultivate literacy in being viscerally empathetic with what is alive in and around the human experience. Minou is interested in an expanded perspective on the dance practitioner who is actively cultivating connective capacities and choreographic forms, essential in the endeavour to create an embodied system change in both environmental and social arenas. Minou is currently working as art.earth assistant director.
Minou has been a member of the Institute of the Study of Somatic Communication steered by Nita Little since 2019. She is passionate about her own arts practice and increasingly aims to create platforms for social, environmental and artistic practice dialogues.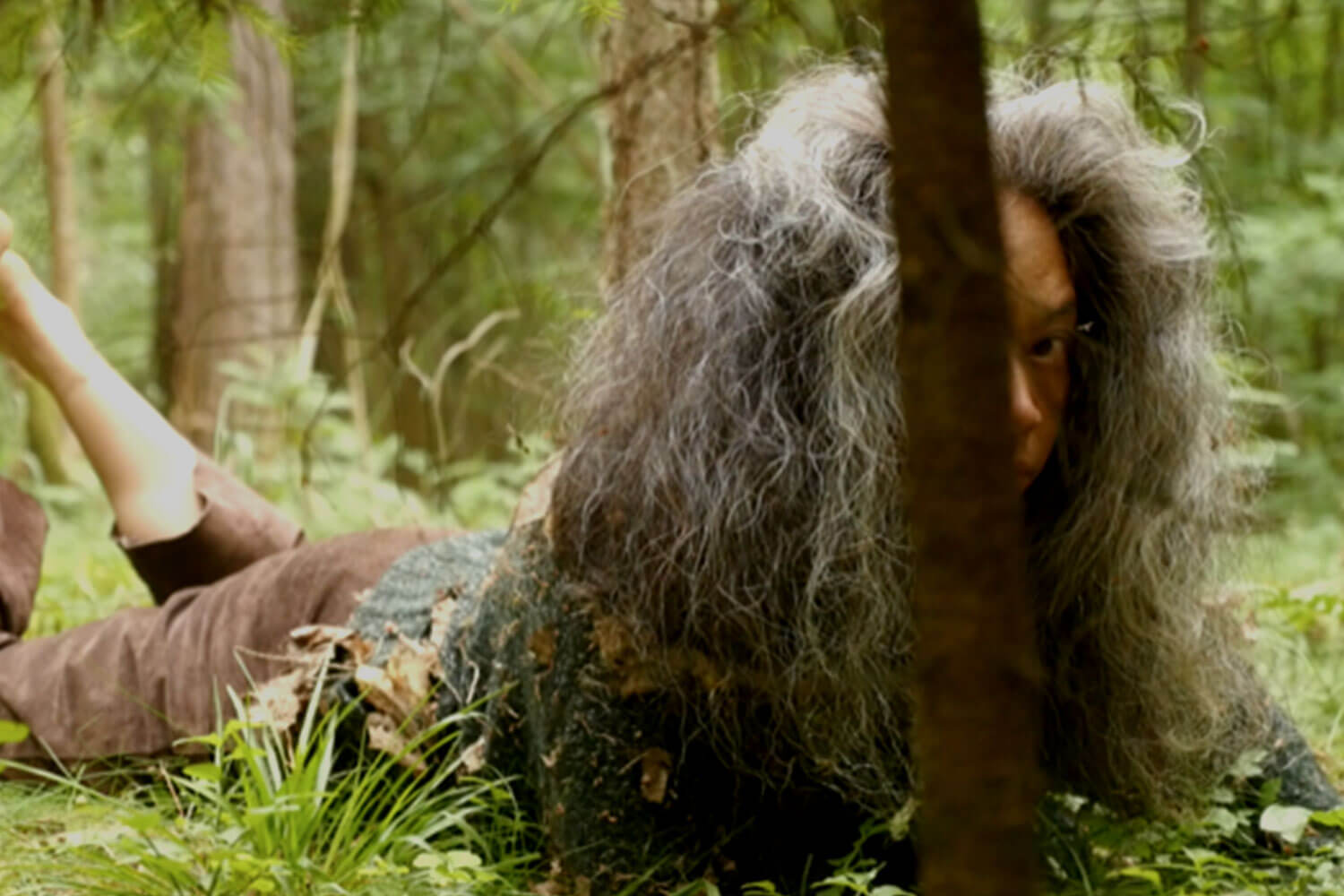 Image credit: BodyCartography "Resisting Extinction"; Performer: Hanna Filomen Mjåvatn; Photographer: Otto Ramstad
This is the Land – 22 and 23 April 2022
This is the Land at the Rondo Theatre, Bath, 7.30pm on 22 and 23 April 2022.
Find out more about This is the Land
What exists in the 'thin' places where the distance between the living and the non-living is closer?
Resisting narrative, This is the Land takes us on a mysterious journey of the British Isles and beyond – with its layers, sediments, joys, sorrows and weather!
The show explores the wild within us through quirky movement and dance, vocal-looping, atmospheric soundtrack and five shapeshifting performers.
Directed by Mary Steadman in collaboration with performers Leeza Jessie, Alice Barton, Xavier De Santos, Samuel De La Torre and Sofia Velez, with an original soundtrack by John Baggott.
A PhD practice-based research project, developed through the lens of Hauntology, this research has led to an investigation of the 'Eerie', as defined by the late cultural theorist Mark Fisher as something where there should be nothing, or, nothing where there should be something (2016). Through an embodied, interdisciplinary methodology, the practice aims to develop a dramaturgy of the eerie in devised performance.
The production has been supported through Bath Spa's QR funding and Bath Spa Productions.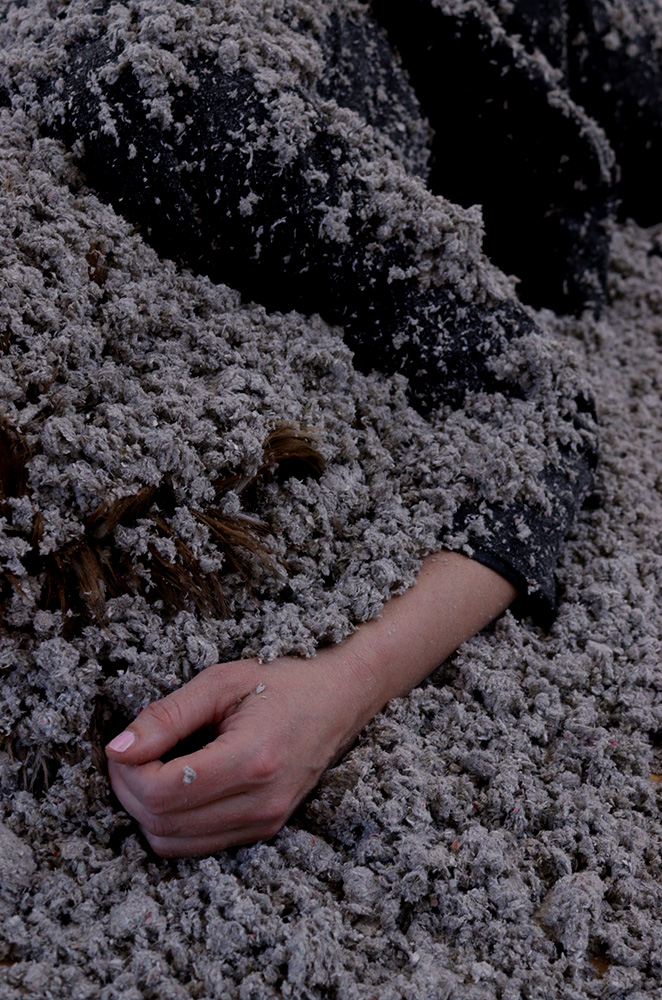 Photo credit: Xavier De Santos
Projects
Our researchers are engaged in projects that have been funded by organisations such as the Arts Council England and the National Lottery Heritage Fund.
BODY IQ 2021: 'Bodies of Cultures, Communities and Places'
Somatische Akademie Berlin
19-21 November 2021
How do we articulate somatic-informed practices as sensitive tools for social and political transformation? How do we address hidden and embodied ideologies, modes of exclusion, oppression and privilege within our growing field? How do we take responsibility for mobilising, activating and organising meaningful ethical embodied interaction in a rapidly changing world? How do we move beyond a historically inscribed
'
whiteness
'
of the field towards a making space for global-majority bodies of culture? How can somatic practices contribute toward a re-embodiment of attention and sustainable human interaction with a living world?
BODY IQ Festival Berlin 2021 aims to address questions of embodied recovery and revisioning in the context of global ethical, social and ecological crises and change. Somatic practices have moved beyond a field of sensorial, experiential and emancipatory learning into wider educational, therapeutic, artistic and social-justice contexts. Body IQ Festival recognises the urgent need for meaningful re-embodiment of increasingly digitalised cultural communities in a pandemic and post-pandemic world.
BODY IQ Festivals
have been hosted by Somatische Akademie Berlin in dialogue with international partners since 2015 as a forum for critical engagement with practices of embodiment in socio-political contexts.
Sonic Dancer, A Creative Exploration of Technology, Presence and Movement
From a collaboration that started at the Talent Development online workshops part of the SWCTN, Movement Artist Silvia Carderelli-Gronau and Computer Scientist Swen E. Gaudl have been developing a sound based framework that enables dancers to move and improvise with each other from different locations, creating a network of presence, connection and touch beyond the visual sphere. View the performance.
Silvia Carderelli-Gronau is a dancer, filmmaker, teacher in HE, researcher and movement therapist in Bristol and Bath. She has been developing a sound-based framework called "Sonic Dancer" that enables dancers to move and improvise with each other from different locations, creating a network of presence, connection and touch beyond the visual sphere. Silvia will be using the Bath Spa Studio Recovery funding to take the project to the next phase of development and testing. Silvia is a Studio resident.
The Imagining Body in Performer Training: The Legacy of Jacques Lecoq and Gaston Bachelard
Bath Spa's Ellie Nixon is currently writing a monograph titled The Imagining Body in Performer Training: The Legacy of Jacques Lecoq and Gaston Bachelard as part of the Perspectives on Performer Training Book Series, to be published by Routledge in 2019.
This is the Land - Performance
This practice-based research project entitled This is the Land, is an investigation of Derrida's concept of Hauntology in contemporary performance practice, with a particular emphasis on cultural theorist Mark Fisher's analysis of Hauntology. Supported by Bath Spa University HEQR Seed Funding.
It aims to explore how embodied interdisciplinary processes of making performance proceed through a dramaturgy of haunting. This is the Land takes the premise that the UK is haunted by the past and by possible futures that never came to be. The figure of the ghost is a regarded as a disruptive force, its act of haunting reveals that which is hidden or excluded from history. The research questions notions of heritage and inheritance, identity, and belonging in turbulent times. What has been lost or exluded in the past, which returns as spectral presence as a reminder or remainder of how we can live differently, imagining a future beyond the ones we are given?
The project is a creative collaboration with five professional performers, all of whom are Bath Spa University Alumni across the disciplines of Music, Dance, and Theatre. A professional musician is involved in the creation of the soundtrack for the performance. The outcome of the research will be a performance presented in collaboration with Bath Spa Productions in the in March 2022. Planning is underway to tour the production to UK venues in the Spring/Summer of 2022.
displaced/displayed: re-enacting dances of migration
Artistic direction: Thomas Kampe
Editorial direction: Manuela Jara
Choreographic direction and research: Carol Brown
Sound: Russell Scoones
Video artist: Meek Zuiderwyk
Video assistant: Freddie Errazo
The New Zealand Dance Company: Carl Tolentino, Lucy Lynch, Chris Ofanoa, Katie Rudd
This performance was featured as part of a major exhibition at the Theatre Museum Vienna in March 2019.
Displaced/displayed re-activates the legacy of Viennese choreographer Gertrud Bodenwieser (Vienna 1890 – Sydney 1959) and her dancers within a context of global transmission of dance knowledge through crisis, diaspora and exile. This installation coincides with the 80th anniversary of Bodenwieser's exile from Europe and celebrates the possibility of a nearly lost avant-garde to remain.
It builds on artistic research undertaken by Kampe and Brown between 2014 and 2017 ('Releasing the Archive', Auckland, Berlin, Hannover, Bath, Tel Aviv and Vienna) in collaboration with The New Zealand Dance Company and international scholars. The installation draws on video footage of choreographic work developed through the re-enacting of archival material of ex-Bodenwieser dancers Shona Dunlop-McTavish, Hillary Napier and Hilde Holger. The installation explores practices of displacement, doubling and fragmenting of recorded material to echo and honour the labour of lost modernist dancers and dances of exile.
With thanks to Shona Dunlop-MacTavish, Shona McCullagh, Barbara Cuckson, Laure Guilbert, Neil Glen, Anthony Head, Kirsten Seeligmüller. The project was supported through Bath Spa University and University of Auckland.
Basement Dances: Prof. Thomas Kampe (BSU) and Dr. Claudia Kappenberg (University of Brighton)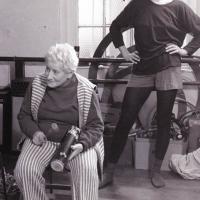 Basement Dances is a research project that aims to document, archive and disseminate traces of creative practice of the late choreographer, dancer and pedagogue Hilde Holger (Vienna 1905 – London 2001). Holger was a prominent Jewish choreographer and educator. Holger's choreographic work has been archived through reconstructions by Aggiss, Stange, Kampe and Kappenberg (1990 -2006), and her work has been critically discussed in academic contexts (Aggiss 2006, Kappenberg 2006, Kampe 2006, 2013, 2019 , Waltz 2019 ) in relation to Jewish diaspora dance practices and the development of UK Contemporary Dance.
Basement Dances draws on up to 50 hours of video recordings filmed by Kampe, Kappenberg and others in Holger's basement studio during the 1990's recording her pedagogy, creative practice and reflections, on personal recollections of her students including Kappenberg and Kampe who worked with Holger over a period of 13 years until her death in 2001.
Projected outcomes over the next three years will be a series of published articles or video essays, an interactive website honouring the nearly lost legacy of the pedagogy and creative process knowledge of Holger, and screen-dance installation based on the archival footage.
The project builds on Kampe's recent research on the work of choreographer Gertrud Bodenwieser (1890-1959) who was Holger's mentor in Vienna up to 1938, and on Kappenberg's research into the mediation of dance and discourses in screendance.
The project has been funded with BSU HQR seedfunding.
Photo : Hilde Holger and students in her basement studio in the 1990s. copyright Hilde Holger archives
Beyond forgetting - persecution/exile/memory: transdisciplinary perspectives on design, performance and education.
This book explores the intersection between Performance Practices, Critical and Expanded Design, and Memorial Culture, exploring cross-disciplinary working modes and educational models in response to contemporary and historical persecution and exile. It aims to contribute to the field of Experimental and Expanded Design by probing embodied practices as socially pertinent process-oriented modalities of problem-solving and education.
The collection of essays and student projects in this publication gives an insight into the possibility of responding to hidden and reluctant histories of persecution and exile through visual, performative, conceptual and interactive means.
With contributions by:
Brahim Benmoh, Stephan von Borstel, Pelin Celik, Sophie Dixon
Matthew Emeny, F.E.E.L. - Effect Group, Andreas Koop, Bahar Majdzadeh
Yehuda Sharim, Stephen Tiller, Richard S. White
Students of Coburg University of Applied Sciences and Arts
Students of University of Applied Sciences (HTW) Berlin