Here for everyone. Here to walk with you through opportunities and challenges. Here to talk about questions of life and faith.

We care about you and we want you to flourish as much as you can in these complicated times. COVID-19 has meant that we've had to change a few things about the way we work, but our chaplains are always happy to meet new people, whether virtually or in a park.
Our programme
Our programme includes morning prayer, stillness, drop-in sessions and fundraising challenges. Each year, students have come up with fantastic ideas for new chaplaincy initiatives. Let us know if you have an idea that we can help to make happen.
Meet the Chaplains
Fran
I live in Saltford and was recently ordained in the Church of England, and now work part time for St Swithin's Church in Walcot and part time on the Chaplaincy team at Bath Spa University. I've only been in the area for a couple of years and I'm loving getting to know the city and exploring the beautiful countryside around. When I have spare time, I love listening to music, playing the piano, singing, reading and going to the theatre or watching a good movie! I also enjoy frequent visits to coffee shops, catching up with friends and leisurely family holidays, especially camping in Cornwall!
James
I've lived in Bath for three years now whilst working with students at St Swithin's Church and helping out on the Chaplaincy team. I enjoy a long meander in nature with a camera, noodling on a guitar or watching football with friends.
Karen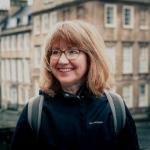 I have a background in teaching and youth work, and I've been part of the Chaplaincy team at Bath Spa University for three years. I live in Oldfield Park with my family and love reading books, trying new recipes, going for walks and meeting people from different backgrounds. I'm supported by the Methodist church and part of Starting Point.
Get in touch
If you'd like a break from studying, or just a chat and a cuppa, please get in touch: