Places to visit in Bath
Places to visit in Bath
Places to visit in Bath
Student Ambassador Charley shares her favourite places to visit in Bath.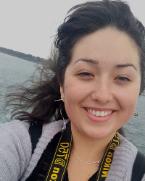 I'm a third year BA Photography student and have spent a lot of time exploring the city during my time at Bath Spa. There are so many independent cafes, shops and museums in Bath so there's always somewhere new to find.
So here we go, here's my top ten:
This is such a wonderful way to see some of Bath's history and to visualise the way in which the Romans lived in their time. Even better, as a Bath student, you get free entry!
The Abbey is such a beautiful place and is situated right in the centre of Bath. My favourite time to see the outside is during golden hour as it captures the light so beautifully!
This is a great way to see the whole of Bath as this park has one of the best viewpoints in the city. It's beautiful during the day and at night. It's quite steep but worth it for the view.
By far the best bagels and coffee I've ever had and the staff are so so lovely. There's always a queue due to how amazing they are, so make sure you have time if you go here. It's definitely worth the wait though!
This is a path that runs along a disused railway line connecting Bristol and Bath. I love going for a walk along the river, or if you're up to it you can cycle all the way to Bristol.
One of my all time favourite places! It's such a beautiful place and one of the best examples of Georgian architecture in the UK. It's also a great picnic spot!
Right by the Crescent is Victoria park which is a lovely place for a walk. You'll also find the Botanical Gardens here, where there is a replica of a Roman Temple.
This is such a gorgeous street with some really dreamy houses! The Holburne Museum is right at the end which another must see. Plus you can get free entry and discounted tickets to selected shows with your Bath Spa student card.
This park has a beautiful view of Pulteney Bridge and is just a lovely place to sit and have a coffee.
There are so many great galleries and museums in Bath and as a student, you can get free or discounted entry into the majority of them. These include the Fashion Museum, American Museum and Gardens, Museum of East Asian Art, Bath Postal Museum, Museum of Bath at Work, and many more!
I love having so many great places to visit right on my doorstep. All these places are easily accessible from wherever you're living in Bath.
Happy exploring!
Charley
Student Ambassador
Disclaimer: The Bath Spa blog is a platform for individual voices and views from the University's community. Any views or opinions represented in individual posts are personal, belonging solely to the author of that post, and do not represent the views of other Bath Spa staff, or Bath Spa University as an institution.