Our cultural partnership with Music Workshop gives students an insight into the professional landscape of music performance.
"Having been a student of Commercial Music at Bath Spa, I had always been keen to open up a pathway for current music students to explore the opportunities that further education can bring."

Kim Hoefkens-Lee, Founder of Music Workshop and Bath Spa Alumni
Music Workshop is a music teaching and performance organisation based in the heart of Bath city centre. It was founded by Bath Spa alumni Kim Hoefkens-Lee in 2009 and began by delivering drum lessons to a small but ever growing handful of students.
Through ambitious student performances and careful teacher recruitment, Music Workshop grew and improved both learning and performing opportunities for students and musicians in the local area. They're currently operating from their professional studios in Green Park Station.
With a team of teachers, over 250 students choosing from eight musical pathways, as well as a host of live and digital performance opportunities for students of all ages each year, Music Workshop continues to broaden their reach and involve more people in music.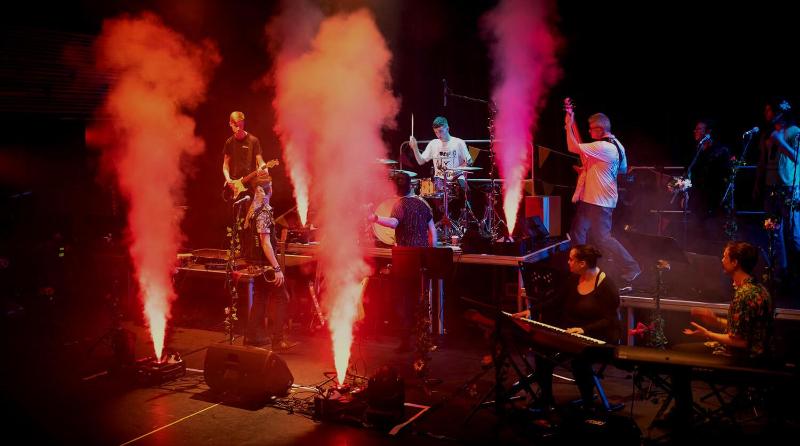 About the partnership
With Music Workshop Founder, Kim Hoefkens-Lee, having been a Commercial Music student at Bath Spa, he was keen to open up a pathway for current music students to explore the opportunities that further education can bring.
The partnership brings mutual benefits to both organisations through the variety of creative, passionate and highly skilled people involved. It has also enabled Music Workshop to grow and have invaluable support and insight into how larger arts organisations work, as well as how to succeed in an ever changing landscape.
A significant success in the partnership has been the ability to access some fantastic venues through the connections of Bath Spa. Enabling Music Workshop students to perform in a professionally equipped space has allowed them to host their most ambitious live event yet.
The opportunity for young students to work alongside Bath Spa students in a professional space has inspired many of them to pursue further education and a career in music.
"Knowing that you have the support of a well respected large organisation has given us a platform to expand our organisation and most importantly create a pathway for our students. It has been invaluable and our future plans continue to evolve with the encouragement of everyone we meet with at Bath Spa University."

KIM HOEFKENS-LEE, FOUNDER OF MUSIC WORKSHOP AND BATH SPA ALUMNI
New community space, Muw Shed
Music Workshop has recently expanded and now incorporates a new community space. Our ambition is to create safe, creative spaces where people can thrive through the shared journey of music.
Muw Shed will be a space for activities such as group music-making workshops, live performances, choir groups, book readings, sound & video recording and much more… One step at a time! A place for personal study or a safe retreat. Somewhere to meet friends & plan ideas. Including purpose-built music rooms, & our cosy coffeehouse event space.