Medusa Emergent is a multi-version media and voice work inspired by the formidable snake-haired Gorgon of Greek myth.
Now Live (4 to 15 June).
I am a monster of my own making, a digital phantasmagoria. I (re)imagine myself.
I hear the me who is not me, yet still me
I am Many She-Monsters...
I am the Furies
I am the storm-torn Harpies
I am Scylla and I am Charybdis
I am Medusa
I am lighting rod and I am lightening
I write-voice-write-voice with my voice-body-body-voice
The voice of the Gorgon
Gorgonic Vocality
Medusa Emergent is part of "The Medusa Project" - a postopera monodrama for soprano performer-composer (Misha Penton) and mixed media. It is an abstract re-imagining of the Greco-Roman Medusa myth, and a synthesis of live semi-improvised and improvised voice work utilizing classical, experimental, and extended voice techniques, fused with original poetics and integrated into an original digital audio voice and film-scape.
The work's structure is modular, in that it functions as a completely solo monodrama for voice and media, or additional improvising musicians may be added to a given performance— making each performance version completely unique.
It is also an iterative piece, having a number of incarnations, including an online-only original film, a number of poetic writings, and several critically engaged, hybrid experimental writing pieces that integrate poetry with the theories of Italian feminist philosopher Adriana Cavarero, French foundational feminist Hélène Cixous, and cultural studies scholar Steven Connor.
The Medusa Project performance premiered at The Women Composers Festival of Hartford, 7 April 2018.
About the artist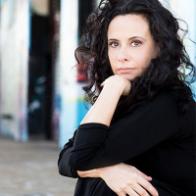 Misha Penton is a contemporary opera singer, experimental vocal composer, director, and media artist, and her work seeks to re-imagine the possibilties of opera in the 21st century.
Her practice is often driven by improvisation, chance, and indeterminacy, with meaning emerging through the creative process itself. She hopes to create works which honor and highlight the diminishing role of the inner life in an ever-fragmented, ever-exteriorized and overdriven world.