Andrew Southall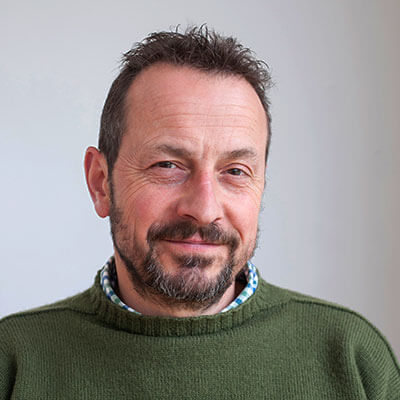 Personal statement
From the mid 1990s, Andrew worked as a freelance architectural photographer for architects and engineers. He worked for a wide range of clients including Buro Happold, Grimshaw Architects, FCB, M Moser Associates, and Penoyre and Prasad. His work has been published in professional magazines such as Architecture Today, Architectural Review and Building, as well as the national press. He was co-founder and director of the online picture library Arcblue which specialises in architectural and interiors photography.
Research and external activities
Andrew's research focuses on the processes and practice of visual representation. Having worked as a professional photographer for many years, negotiating different documentary practices, Andrew now makes works that explore measurement and cultural calibration incurred in two dimensional lens based representations and within three dimensional design and sculptural interventions. Works range from large scale analogue and data projections, or sculptures of disparate and cast off domestic ephemera, to the construction exhibition and photographic representation of replica Shaker furniture.
Research supervision
Gabrial Stillwater, PhD, Drawing with time - Internal examiner, January 2020.
Professional qualifications
FHEA - Fellow of the Higher Education Academy.
Academic qualifications
MA Fine Art, University of the West of England
BA (Hons) Photographic Studies, Derbyshire College of Higher Education.
Research and academic outputs
artefact
Southall, A (2021) Formal Legacies (2016, 2017) [REF2021 collection].
---
exhibition
Southall, A (2016) Shaker Spindle Back Settee Project. The American Museum, Bath, UK, 20 September - 30 October 2016.
---
exhibition
Southall, A (2014) Optical projection (experimental). In: Ashburton Art Festival 2014, British Legion Hut, Ashburton, Devon, 26 - 27 September 2014.
---
exhibition
Southall, A (2010) The possibility of winged flight 2010. In: The Plinth Project, Bristol Museum and Art Gallery, September-October 2010.
---
exhibition
Southall, A (2009) Electrically charged & insulated sculpture. In: Multiples, King Square Avenue, Bristol, UK, 12 June 2009.
---
exhibition
Southall, A (2009) Andrew Southall. In: One, Stokes Croft, Bristol, 2-5 April 2009.
---
exhibition
Southall, A and Cockayne, A (2008) Bristol Contemporary Open 2008 [group exhibition]. Paintworks, Bristol, 8-17 October 2008.
---