Christopher Collier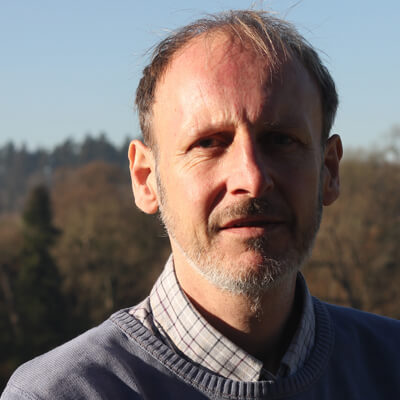 Personal statement
Chris Collier lectures in education on both the Initial Teacher Education and Education Studies programmes.
On the undergraduate Education Studies course he is module leader for the second year Environment and Education module, jointly leads the third year Learning in Science module and teaches on the final year Teaching and Professionalism module. Also he is a tutor for a number of final year dissertation students.
On the ITE programme, he is joint coordinator of science on the PGCE Primary and Early Years course. He has been an academic tutor on the PGCE programme since 2005, a science tutor (also since 2005) for primary science education and a tutor on the Teachers as Researchers strand of the PGCE course. He has developed the science teaching on the part-time early years PGCE course since the inception of the course.
He a founder member of the Centre for Research in Early Scientific Learning (CRESL)and is heavily involved in the centre's research activity. Currently he is involved in the Centre's three-year research project into assessment of science in primary schools.
Before joining the University, Chris taught in a primary school on the Isle of Wight for 7 years, including acting as assistant headteacher and as science subject leader. Prior to this he worked as an environmental geologist both as a consultant and a protection officer.
Academic qualifications
BA (Jt. Hons.) University of Keele
PGCE University College Chichester
MSc University College London.
Professional qualifications
BA (Jt. Hons.) Geology and Biology
PGCE
MSc Hydrogeology.
Professional memberships
Earth Science Teachers Association
Centre for Research in Early Scientific Learning (CRESL).
Teaching specialism
Science teaching and learning
Professionalism in education
Environment and Sustainability.
Current scholarship
Chris's current research interests include teacher assessment of science in primary schools, a three-year project funded by the Primary Science Teaching Trust. Other research recent research interests include a project funded by AstraZeneca Teaching Trust into science teaching and learning in early years settings. Also he has been involved with projects into the use of dataloggers to support pupil data interpretation skills and assessment of science enquiry skills using electronic devices. He has recently been part of a team writing a general initial teaching education text on science teaching of 3-7 year-olds. He has completed consultancy work on creative learning environments in education.
Other external roles
Providing primary and early years science consultancy
Funded by Primary Science Teaching Trust to research assessment of science in primary schools. Previously funded by AstraZeneca Science Teaching Trust to develop a project with primary and secondary schools to enhance and develop data interpretation skills through eco-monitoring. Previous projects funded by AstraZeneca Teaching Trust include assessing science and technology skills using the e-scape system
Governor for a teaching federation in Somerset
Funded to complete a literature survey of learning environments in education by Teaching and Learning Scotland
Completion of an evaluation of the Active Learning in Primary Science project, a joint collaboration between Bristol Local Authority and Science Learning Centre South-west.
Recent professional updating
ASE Annual Conference University of Leeds 2005
ESTA Annual Conference University of Bristol 2006
ASE Annual Conference University of Liverpool 2008
ASE Annual Conference University of Reading 2011
ICASE Conference: Innovation in Science and Technology Education, University of Tartu, Estonia 2010
International Society of Educational Research (ISER) World Conference, Kapadoyka, Turkey 2014.
Research and academic outputs