David Coast
Reader in Early Modern History
Email: d.coast@bathspa.ac.uk
School: School of Writing, Publishing and the Humanities
Office: NP.CM.214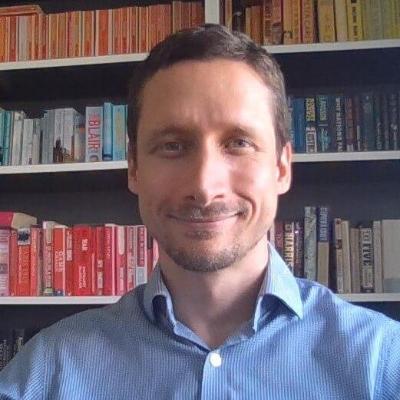 Personal statement
David Coast is a Reader in Early Modern History. His research interests focus on the political, cultural and social history of early modern England, with a particular interest in news, rumour and public opinion.
Dr Coast has held a Leverhulme Early Career Fellowship at Durham University, as well as fellowships at a number of research libraries. He is currently a Co-Investigator for an AHRC-funded research project on 'COVID-19 rumours in historical perspective'.
Academic qualifications
PhD Sheffield University
MA Sheffield University
BA(Hons) Sheffield University.
Professional qualifications
BA (Hons) History, University of Sheffield, 2001-4
MA Historical Research, University of Sheffield, 2005
PhD, University of Sheffield, 2007-11
Short-term fellowship, Huntington Library, California, 2009
Leverhulme Early Career Fellowship, Durham University, 2011-13
Short-term fellowship, Folger Shakespeare Library, Washington, DC, 2013-14
Short-term fellowship, Lewis Walpole Library, 2017.
Professional memberships
2013 - present, Fellow of the Higher Education Academy
2016 - present, Fellow of the Royal Historical Society.
Research and academic outputs
book
Coast, D (2014) News and rumour in Jacobean England: information, court politics and diplomacy, 1618-25. Politics, culture and society in early modern Britain . Manchester University Press, Manchester. ISBN 9780719089480
---
book_section
Coast, D (2018) 'Secrecy, counsel and public opinion during the Spanish and French matches.' In: Caldari, V and Wolfson, S.J, eds. Stuart marriage diplomacy: dynastic politics in their European context, 1604-1630. Boydell & Brewer, Suffolk, pp. 189-202. ISBN 9781783271436
---
article
Coast, D (2020) 'William Tyndale, Henry VIII and 'The obedience of a Christian man'.' The Historical Journal. ISSN 1469-5103
---
article
Coast, D (2019) 'Speaking for the people in early modern England.' Past and Present, 244 (1). pp. 51-88. ISSN 0031-2746
---
article
Coast, D (2017) ''Reformation' or 'ruin'? The impeachment of the duke of Buckingham and early Stuart politics.' Historical Research, 90 (250). pp. 704-725. ISSN 1468-2281
---
article
Coast, D (2016) 'Rumor and "common fame": the impeachment of the Duke of Buckingham and public opinion in early Stuart England.' Journal of British Studies, 55 (2). pp. 241-267. ISSN 1545-6986
---
article
Coast, D and Fox, J (2015) 'Rumour and politics.' History Compass, 13 (5). pp. 222-234. ISSN 1478-0542
---
article
Coast, D (2012) 'Misinformation and disinformation in late Jacobean court politics.' Journal of Early Modern History, 16 (4-5). pp. 335-354. ISSN 1385-3783
---
conference_item
Coast, D (2015) The Duke of Buckingham, secrecy and the 'crisis of counsel' in the 1620s. In: News, Secrecy and Foreign Policy in Early Modern England, 24 October 2015, Bath Royal Science and Literary Institution, Bath, UK.
---