Erin Deighton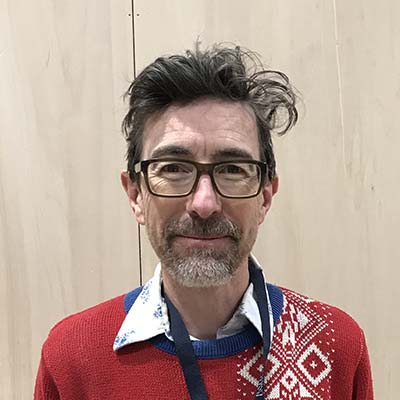 Personal statement
Erin Deighton is a senior lecturer in Furniture and Product Design at Bath Spa University. Additionally he is an associate lecturer at Ravensbourne University (London) on Product Design and Loughborough University on 3D specialism in Art and Design Foundation Studies.
Erin works with students across all years, introducing the design process, design skills, sustainability issues, materials and processes, working closely with the workshops and technical staff and the research staff at Sion Hill. He supports portfolio a career development as students navigate and progress their way through the course, seeking their area of focus. A fellow of the RSA and a practicing design professional, Erin has a background in product design, manufacturing and innovation strategy within the Toy and Games Industry, having spent many years at Hasbro, Ltd. working on 'New Ways to Play'.
As a consultant he facilitates and collaborates on trend, innovation and ideation workshops, with a keen focus on sustainability and the circular economy within the industry. Erin is a member of the Maker Space community, co-running the east London Carpentry Club which aims to support the community with an open access workshop, basic skills, personal and community projects, skill share and social cohesion. Recent projects and collaborations have seen the scope of projects expand to include furniture, interior, installation and spatial design, notably completing the redesign of the V&A Museum Shop in 2017 with Friend & Co.
Erin remains a support and a mentor to students and graduates, keen to follow their career paths as they unfurl.
Academic qualifications
Professional memberships
Other external roles
Ravensbourne University - associate lecturer Product Design
Loughborough University - 3D specialism in Art and Design Foundation
Erin Deighton Design - design consultant
Areas of expertise
Furniture and Product Design
Design Process
Sustainability
Design Skills
Portfolio and Promotion
Impact
Working with Open Workshop London and engaged in the Makerspace Community, part of the discussion and development of the FabCity.