James Dickinson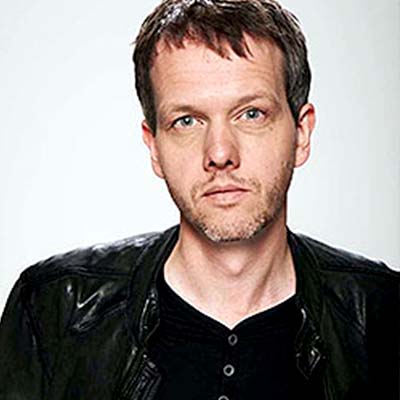 Personal statement
Jim's industry experience includes two major recording contracts (Polydor Records and V2 Records), and two major publishing contracts (Polygram Music Publishing and Sony Music Publishing). His musical projects have included the rock group 'Little Angels', the psychedelic blues band b.l.o.w and the electronic pop group 'The Younger Younger 28's'. He has also composed for television and computer games. Alongside his teaching he currently divides his time between interdisciplinary research, concerning intersections between art and music and commercial music projects.
Major international touring supporting artists including Bon Jovi, Faith no More, Guns and Roses, Van Halen, Aerosmith, ZZ top, Bryan Adams, Jonny Vegas, Ozzy Osborne, Atomic Kitten and The Corrs.
Stadium, arena and headline theatre shows including venues such as Wembley Stadium, Wembley Arena, The Royal Albert Hall, Beacon Theatre (New York), Paris Zenith, Theatre Saint-Denis (Montreal), Kan-I Hoken Hall (Tokyo).
Festival appearances include Glastonbury, T in the Park, Reading Festivals, V Festivals, Download and The Isle of Wight festival.
Recording, production and compositional output includes 12 album releases including a UK #1 and 3 top 20 chart albums and 15 single releases, including 8 UK top 40 and 2 UK top 20 hits.
Academic qualifications
CertEd Huddersfield University
PhD Bath Spa University.
Professional memberships
Teaching specialism
Teaching specialisms include Studio Production, Electronic Music and Visual Music.
Research and academic outputs
book_section
Dickinson, J (2020) 'Mechanical – magical: the shared creative vision of Harrison Birtwistle and Paul Klee.' In: Gartmann, T, ed. Von der Fuge in Rot bis zur Zwischermaschine: Klee und die Musik. Schwabe, Basel, pp. 123-139. ISBN 9783796542558
---
conference_item
Dickinson, J (2016) Distortions of space and time in Harrison Birtwistle's Carmen Arcadiae Mechanicae Perpetuum (1977). In: Music, Art and Philosophy in Dialogue, 20 - 21 May 2016, Paul Klee Centre & University of Bern, Switzerland.
---
conference_item
Dickinson, J (2015) Pastorale-mechanical: imagined landscapes, between determinate systems and poetic fantasy. In: INTIME Symposium : Landscapes and Environments: Experimentation and Transformation in Sound and Music, 24 -25 October 2015, Coventry University, UK.
---
conference_item
Dickinson, J (2013) System vs. self. In: International Conference On Analysing Popular Music, 2 - 4 July 2013, University of Liverpool, Liverpool, UK.
---
conference_item
Dickinson, J (2013) Dynamic process in static form. In: The Noises of Art: Audiovisual Practice in History, Theory and Culture. Aberystwyth University in collaboration with the Courtauld Institute of Art, 4-6 September 2013, Aberystwyth University, Aberystwyth, UK.
---
conference_item
Dickinson, J (2012) Building the Imperfect Beast. In: Leeds International Songwriting Conference (LISC 2012), 8-9 March 2012, Leeds College of Music, Leeds, UK.
---
conference_item
Dickinson, J (2011) Infinite Process From Finite Form. In: Seeing Sound: Practice-led Research Symposium, 29-30 October 2011, Bath Spa University, Bath, UK.
---
conference_item
Dickinson, J (2011) Infinite Process in Finite Form. In: Sound, Sight, Space and Play, 8-10 June 2011, Music, Technology and Innovation Research Centre, De Montford University, Leicester UK.
---
thesis
Dickinson, J (2016) Musical-pictorial symbiosis: an intermedial approach to the analysis of selected musical readings of Paul Klee's art. PhD thesis, Bath Spa University.
---
exhibition
Dickinson, J (2008) Kane Cunningham and Jim Dickinson collaboration. Triton Gallery, Sledmere House, Driffield, UK, 2008.
---
performance
Dickinson, J, Dickinson, B, Jepson, T, Plunkett, M and Richardson, M (2013) Little Angels. .
---
video
Dickinson, J (2012) Little Angels Live at Download 2012.
---
other
Hyde, J, Stamp, R, Dickinson, J and Head, A (2018) Seeing Sound [organisers].
---