Professor
James Newman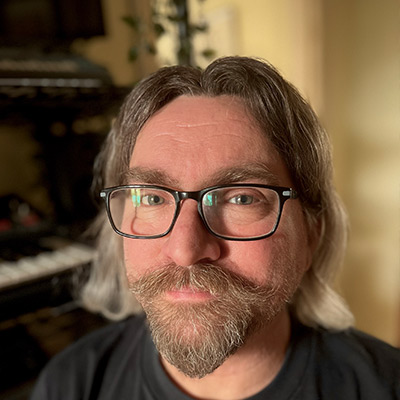 Personal statement
James Newman researches, writes about, talks about, and, perhaps most importantly, plays videogames. He has written widely on aspects of videogames and gaming cultures. His key books include volumes for Routledge Playing with Videogames (2008) and Videogames (2004); and BFI Publishing 100 Videogames (2007) and Teaching Videogames (2006). This influential and widely-cited work has been pivotal in establishing the viability of videogames as objects of study for scholars of media, film and cultural studies and has been central to establishing game studies as a discrete and rigorous academic discipline. James has recently updated 'Videogames' which was published by Routledge in 2013.
Over the past decade, James' work has contributed to both building and validating the study of videogames and has continued to push it into new areas, challenging taken-for-granted orthodoxies and synthesising apparent schisms born of limited understanding of the form or the vested interests of discipline-specificity. James work on videogames has now become a respected part of the core of new media studies and its influence is felt widely within the fields of media, popular culture and technology studies where it is widely cited and adopted on teaching curricula in Europe and the US. His book Playing with Videogames has been described as signalling a Second Wave of game studies (Arceneaux, 2010, New Media and Society, 12(1) pp. 161166) while his book 'Best Before: videogames, supersession and obsolescence' Routledge (2012) is the first book dealing with the issues and challenges of game preservation. James is currently contracted to BFI Publishing and Routledge to deliver books on material cultures and gaming history (A History of Videogames in 50 Objects, BFI Publishing, 2014); and cultures of development international practice (The Videogame Handbook, Routledge 2014).
James consultancy, public-facing writing, presentations and numerous media appearances have heightened the visibility and importance of academic research within the videogames industry and translated many of its complicated concepts for non-expert audiences. Alongside his work on videogames, James is an active researcher and practitioner of e-learning and has been responsible for the implementation of innovative learning, teaching and student support systems throughout his academic career and across academic disciplines (e.g. through collaboration with colleagues in Geography and Earth Sciences).
In addition to his academic output, James also writes for a variety of other publications (e.g. Edge magazine, 360) and makes regular media appearances (most recently discussing videogame preservation on BBC World Service's Digital Planet; user generated content in relation to Sonys LittleBigPlanet and the history and legacy of Nintendos Super Mario series on his appearances on BBC Radio 4's Front Row; the history of games for BBC4 TV's Games Britannia series on which he also acted as advisor. He is a frequent interviewee and writer in the specialist gaming and wider technology press (most recently on game history and preservation in Games TM, The Escapist, Gamasutra and the Washington Post, videogame music in the New Statesman, as well as on the iPad launch for The Sunday Times. Throughout 2013, James is working as Co-I with colleagues at NTU and the British Library on an AHRC-funded project on oral histories and the cultures of videogaming.
Since 2006, James has worked closely with the organisers of the GameCity international videogame festival and has programmed, presented and chaired numerous sessions for popular, academic and industry audiences. Most recently, James has collaborated with teams from Nottingham Trent University and the National Media Museum on the National Videogame Archive project which is the UKs official collection of videogames and the ephemera of game development and culture. His current academic research draws on the collections as well as the connections that arise from the National Videogame Archive network of digital media preservation practitioners (e.g. The National Archives; The British Library; The Design Museum; Science Museum). Throughout 2012-13 James took part in a public engagement and exhibition tour based around the National Videogame Archive collections (venues included BFI Southbank, Liverpool FACT, Bristol Arnolfini, Cambridge Junction, Midland Arts Centre). The tour will continue in 2013-14 and James now has a quarterly residency at BFI Southbank to deliver public-facing events on videogames, development and digital media.
In 2013, James was awarded a BSU University Teaching Fellowship in recognition of his teaching, course leadership and development work and pedagogical research.
Recent professional updating
To support research and scholarship in the field of videogames and new media studies, I have attended a number of conferences and events (e.g. 'Preservation of Complex Digital Objects symposium on game preservation'; JISC Digital Media Seminars; Digital Games Research Association; Clash of Realities; Ludomusicology).
To ensure the maintenance and development of my professional practice, I have attended a number of learning and teaching conferences (e.g. HEA conference) and have undertaken research degree supervision, interviewing and viva chairing training.
To support research in the use of mobile and rich media in VLEs and onsite in fieldwork (see current research above), I have attended conferences, seminars and symposia on VLEs, intellectual property and the location, use and embedding of audio-visual media in learning and teaching environments (e.g. 'Finding and Using Audio-Visual Media in Further and Higher Education'; iTunes U at Apple UK' Executive Briefing Centre).
Professional memberships
FHEA (Fellow of the Higher Education Academy)
MeCCSA (Media Communication and Cultural Studies Association)
IGDA Game Preservation Special Interest Group
External examiners
Undergraduate programmes in Animation, Arts and Product Design subject area, Southampton Solent University (2013-2017)
Undergraduate programmes in Media, Journalism and Cultural Studies at Staffordshire University (October 2003 - September 2007)
External Advisor for the review of undergraduate Media provision at Trinity and All Saints College (University of Leeds, March 2005).
PhD external examiner at Griffith University, Australia (2005-6); Loughborough University (2010)
Other external roles
AHRC Peer Review College member
Reviewer for DiGRA and Nordic DiGRA games conference (various tracks)
Co-investigator AHRC-funded Creative Economies Knowledge Exchange Project (oral histories and archives project): 2012.
Co-founder of The National Videogame Archive (DCMS-funded UK national collection of videogames and gaming culture). Collaboration with National Media Museum and Science Museum.
Steering group, programming and production for GameCity festival (2006-present)
Review book proposals and manuscripts on aspects of digital media for international academic publishers including Routledge, Sage, BFI Publishing, MIT Press and University of Chicago Press
International Editorial Board of Game Studies: the International Journal of Computer Game Studies
Commissioned by The Wellcome Trust to produce a literature review on game studies and a strategy document on videogames as part of the Trusts Broadcast Strategy for public engagement (2010)
Provided consultancy services for a number of different organisations including Eidos on their Championship Manager series of football simulation games (2005-06)
Consultancy for Sony Computer Entertainment Europe, Flamingo research and JCPR on the European launch strategy for PlayStation 2 and the Mental Wealth campaign (2000-2001)
Strategic consultancy for Screenplay games conference and festival (Broadway Arts Cinema, Nottingham. 2005-6)
Research funding reviewer for the Veni programme (Government-sponsored Innovational Research Incentives Scheme 2004. Netherlands)
Curriculum consultancy for Nottingham Trent University. Designing undergraduate videogames provision for the Creative Media Studies programme (2006-7)
Staff development on videogames in learning and teaching, Nottingham Trent University (2006)
Consultancy for Nottingham Creative Partnerships on videogames education programmes (2007).
Teaching specialism
Current teaching includes:
videogame studies
digital media histories
media fandom
media preservation.
Current scholarship
James is currently working on book projects exploring gameplay spectatorship, and the history of early videogame sound and music.
He is a member of the curatorial group at the National Videogame Arcade and is currently working on a number of exhibition and interpretatiation projects.
James' current work on game preservation is supported by a British Academy/Leverhulme research grant 2017-18.
Research and academic outputs