Professor
James Newman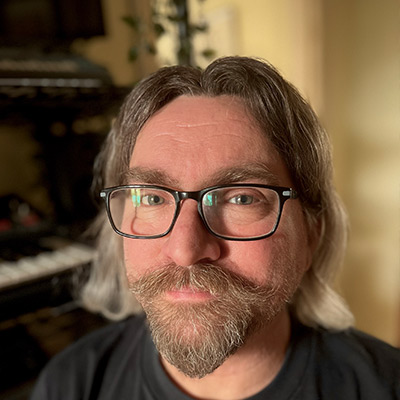 Personal statement
James Newman, PhD is Research Professor in Media and a University Teaching Fellow. Over the past 20 years, he has written widely on aspects of videogames, players and fans, game sound and music, and media histories and has spoken across the world at events for academics, policy-makers, game developers and players. His books on videogames and gaming cultures include 'Videogames'; 'Playing with Videogames'; and 'Best Before: Videogames, Supersession and Obsolescence' (for Routledge); and '100 Videogames' and 'Teaching Videogames' (for BFI Publishing). In 2018, James co-authored 'A History of Videogames' (Carlton) which is the first volume to explore and draw on the collections of the National Videogame Museum where James also works as Senior Curator.
As outputs of British Academy/Leverhulme and ESRC-funded projects, James has co-authored two White Papers on videogame history and preservation and is a co-founder of the Videogame Heritage Society which is the first Subject Specialist Network (SSN) dedicated to digital media.
James' work has been supported by numerous international funders including the ESRC, The Wellcome Trust, the EPSRC, the AHRC (Creative Economies and Knowledge Exchange), HEFCE, the Daiwa Anglo Japanese Foundation, the Japan Foundation, the Strong National Museum of Play, the British Academy and the Leverhulme Trust. He is an international adviser on numerous programmes and networks on videogame studies, history and preservation and has been awarded sabbaticals (for example to Stanford University) and Fellowships (for example ICHEG/Strong National Museum of Play) to develop this work internationally.
James is a regular contributor to public-facing articles on videogames and has been interviewed many times in print, online and in broadcast media on his work (including Radio 4, BBC4 TV, The Guardian, Independent, The New Statesman, as well as specialist gaming press, for example Games TM, The Escapist, Gamasutra, Wireframe).
James is the director of the All Your Bass videogame music festival and is co-founder of the Game Sound Archive which is a collaboration with the British Library. Since its inception in 2006, James has been part of the GameCity international videogame festival team and since 2015, he has been a member of the Research and Curatorial team at the National Videogame Museum.
James is currently contracted to write monographs on videogame spectatorship and the histories of early videogame music and sound. In addition to his scholarly work on ludomusicology (game sound and music), James is also a practicing studio and live musician and is busy in his home studio writing electronic music using a range of old, 'obsolete' synthesis systems and techniques as well as new and old videogame hardware and software.
Recent professional updating
To support research and scholarship in the field of videogames and new media studies, I have attended a number of conferences and events (for example 'Preservation of Complex Digital Objects symposium on game preservation'; JISC Digital Media Seminars; Digital Games Research Association; Clash of Realities; Ludomusicology).
To ensure the maintenance and development of my professional practice, I have attended a number of learning and teaching conferences (for example HEA conference) and have undertaken research degree supervision, interviewing and viva chairing training.
To support research in the use of mobile and rich media in VLEs and onsite in fieldwork (see current research above), I have attended conferences, seminars and symposia on VLEs, intellectual property and the location, use and embedding of audio-visual media in learning and teaching environments (for example 'Finding and Using Audio-Visual Media in Further and Higher Education'; iTunes U at Apple UK' Executive Briefing Centre).
Professional memberships
EFGAMP (European Federation of Games Archives and Museum Projects)
Society for the Study of Sound and Music in Games (SSSMG)
Game Preservation Network
Digital Games Research Association (DiGRA)
Videogame Heritage Society
FHEA (Fellow of the Higher Education Academy)
MeCCSA (Media Communication and Cultural Studies Association)
IGDA Game Preservation Special Interest Group.
External examiners
Postgraduate programmes in Digital Games Theory and Design, Brunel University (2017-2021)
Undergraduate programmes in Animation, Arts and Product Design subject area, Southampton Solent University (2013-2017)
Undergraduate programmes in Media, Journalism and Cultural Studies at Staffordshire University (October 2003 - September 2007)
External Advisor for the review of undergraduate Media provision at Trinity and All Saints College (University of Leeds, March 2005).
Other external roles
History of Games Steering Group (European representative)
Advisory Board for IMLS-funded Game Metadata and Citation Project (GAMECIP)
UCSC/Stanford; Board member International Digital Game Preservation Practitioners group (led by RCGS)
Strong National Museum of Play World Video Game Hall of Fame Selection Committee
Co-Founder 'The Game Sound Archive' in collaboration with the British Library and 'Videogame Heritage Society' Subject Specialist Network (SSN)
AHRC Peer Review College member
Reviewer for DiGRA and Nordic DiGRA games conference (various tracks)
Co-investigator AHRC-funded Creative Economies Knowledge Exchange Project (oral histories and archives project): 2012.
Co-founder of The National Videogame Archive (DCMS-funded UK national collection of videogames and gaming culture). Collaboration with National Media Museum and Science Museum.
Steering group, programming and production for GameCity festival (2006-present)
Review book proposals and manuscripts on aspects of digital media for international academic publishers including Routledge, Sage, BFI Publishing, MIT Press and University of Chicago Press
International Editorial Board of Game Studies: the International Journal of Computer Game Studies
Commissioned by The Wellcome Trust to produce a literature review on game studies and a strategy document on videogames as part of the Trusts Broadcast Strategy for public engagement (2010)
Provided consultancy services for a number of different organisations including Eidos on their Championship Manager series of football simulation games (2005-06)
Consultancy for Sony Computer Entertainment Europe, Flamingo research and JCPR on the European launch strategy for PlayStation 2 and the Mental Wealth campaign (2000-2001)
Strategic consultancy for Screenplay games conference and festival (Broadway Arts Cinema, Nottingham. 2005-6)
Research funding reviewer for the Veni programme (Government-sponsored Innovational Research Incentives Scheme 2004. Netherlands)
Curriculum consultancy for Nottingham Trent University. Designing undergraduate videogames provision for the Creative Media Studies programme (2006-7)
Staff development on videogames in learning and teaching, Nottingham Trent University (2006)
Consultancy for Nottingham Creative Partnerships on videogames education programmes (2007).
Teaching specialism
Current teaching includes:
videogame studies
digital media histories
media fandom
media preservation.
Current scholarship
James is currently working on book projects exploring gameplay spectatorship, and the history of early videogame sound and music.
He is a member of the research and curatorial group at the National Videogame Museum and is currently working on a range of exhibition, collecting and interpretation projects.
Research and academic outputs