Dr
Kate Muir
Lecturer in Forensic Psychology
Email: k.muir@bathspa.ac.uk
School: School of Sciences
Campus: Newton Park
Website: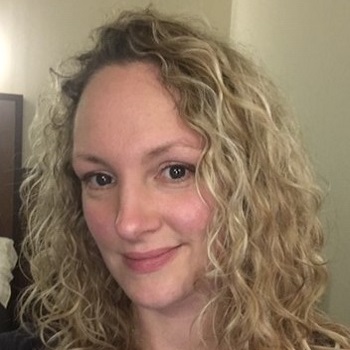 Personal statement
Kate is a Lecturer in Forensic Psychology. Her research concerns interpersonal communication, and how interacting with others impacts on various elements of cognition and social relationships.
Kate's main focus is forensic linguistics: What can we tell about an individual's personality, behavior and relationships from the language that they use? And what factors influence the language used by individuals? Her research has shown that language use can point to who is in a greater position of power in a conversation, who is trying to persuade someone else and what type of personality they have. She has examined this in the context of both face to face and computer mediated communication. She is also interested in eyewitness memory and the social factors that impact on memory accuracy: how does discussing memory for a crime impact on witness memory?
Finally, she has a longstanding interest in the social and personality factors that influence the Fading Affect Bias, which is a phenomenon of autobiographical memory thought to exist as a result of self-protective processes. She has previously explored how discussing personal memories can lead negative emotions to fade, and positive emotions to be retained, and how the interactions between speaker and listener can be an important moderator of this process.
Academic qualifications
PhD, Psychology, University of Leeds
BSc (Hons), Psychology, University of Leeds
Professional Memberships
Chartered Member, British Psychological Society
Teaching specialisms
Forensic Psychology
Social Psychology
Cognitive Psychology
Research supervision
I welcome potential research students in the areas of forensic linguistics, autobiographical memory and emotions, or eyewitness testimony.
Research and academic outputs
book_section
Williams, E.J and Muir, K (2019) 'A model of trust manipulation: exploiting communication mechanisms and authenticity cues to deceive.' In: Docan-Morgan, T, ed. The Palgrave handbook of deceptive communication. Palgrave Macmillan, Cham, pp. 249-265. ISBN 9783319963334
---
book_section
Jones, S, Cotterill, R, Dewdney, N, Muir, K and Joinson, A (2014) 'Finding Zelig in text: a measure for normalising linguistic accommodation.' In: Tsujii, J and Hajic, J, eds. Proceedings of COLING 2014, the 25th International Conference on Computational Linguistics: technical papers. Dublin City University/ACL, Dublin, Ireland, pp. 455-465. ISBN 9781941643266
---
article
Muir, K and Brown, C (2023) 'The COVID-19 pandemic disrupted the healthy fading of emotions in autobiographical memory mediated via in-person social disclosures.' Applied Cognitive Psychology. ISSN 0888-4080
---
article
Muir, K, Madill, A and Brown, C (2023) 'Reflective rumination mediates the effects of neuroticism upon the fading affect bias in autobiographical memory.' Self and Identity, 22 (1). pp. 102-128. ISSN 1529-8876
---
article
Muir, K, Joinson, A, Collins, E, Cotterill, R and Dewdney, N (2020) 'When asking 'what' and 'how' helps you win: mimicry of interrogative terms facilitates successful online negotiations.' Negotiation and Conflict Management Research. ISSN 1750-4708
---
article
Muir, K and Joinson, A (2020) 'An exploratory study into the negotiation of cyber-security in the family home.' Frontiers in Psychology, 11. e424. ISSN 1664-1078
---
article
Muir, K, Brown, C and Madill, A (2019) 'Conversational patterns and listener responses associated with an enhanced fading affect bias after social disclosure.' Journal of Language and Social Psychology, 38 (5-6). pp. 552-585. ISSN 0261-927X
---
article
Muir, K, Joinson, A, Cotterill, R and Dewdney, N (2017) 'Linguistic style accommodation shapes impression formation and rapport in computer-mediated communication.' Journal of Language and Social Psychology, 36 (5). pp. 525-548. ISSN 0261-927X
---
article
Muir, K, Madill, A and Brown, C (2017) 'Individual differences in emotional processing and autobiographical memory: interoceptive awareness and alexithymia in the fading affect bias.' Cognition and Emotion, 31 (7). pp. 1392-1404. ISSN 0269-9931
---
article
Muir, K, Joinson, A, Cotterill, R and Dewdney, N (2016) 'Characterizing the linguistic chameleon: personal and social correlates of linguistic style accommodation.' Human Communication Research, 42 (3). pp. 462-484. ISSN 0360-3989
---
article
Cotterill, R, Muir, K, Joinson, A and Dewdney, N (2015) 'Identifying linguistic correlates of power.' International Journal of Computational Linguistics and Applications, 6 (1). pp. 11-24. ISSN 0976-0962
---
article
Muir, K, Brown, C and Madill, A (2015) 'The fading affect bias: effects of social disclosure to an interactive versus non-responsive listener.' Memory, 23 (6). pp. 829-847. ISSN 0965-8211
---