Professor
Mahinda Deegalle
Emeritus Professor - Religions, Philosophies and Ethics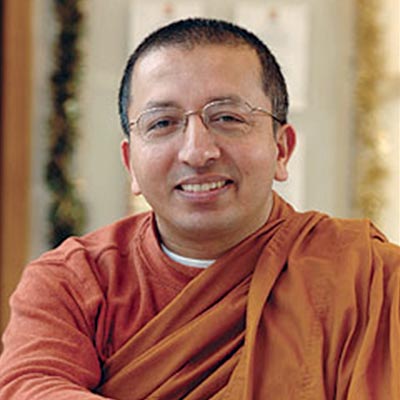 Emeritus Professor profile 
Personal statement
My research focuses on the ethics of war, violence and conflict in Buddhist societies. I've researched Buddhist monks' involvement in parliamentary politics in Sri Lanka as well as the rise of activist movements such as Bodu Bala Sena and issues that these have raised in the public realm in terms of secularism, religious agency in politics and the role of activist movements.
I have also worked to develop an international research project on Buddhism, Ethnicity and Minority Religious Relations in South and Southeast Asia with a focus on Sri Lanka, Thailand and Myanmar. For the research on Buddhism and Minority Relations in Sri Lanka, I have been awarded a British Academy Research Grant (2015-17).
My research interests include preaching as well as contemporary ethical and political issues related to the Buddhist traditions.
Publications during the Research Exercise Framework (2008-2013):
Edited volume:
'Dharma to the UK: A Centennial Celebration of Buddhist Legacy (World Buddhist Foundation 2008).
Book chapters, journal articles and encyclopedia articles:
'Sinhala Ethno-nationlisms and Militarization in Sri Lanka,' Buddhism and Violence, ed. V. Tikhonov et al (London and New York: Routledge, 2013), pp. 15-36.
'Foremost Among Equals: Theravada Buddhisms Affairs with the Modern Sri Lankan State,' Buddhism, Modernity and the State in Asia, ed. John Whalenbridge (New York: Palgrave Macmillan, 2013).
'United Kingdom,' The Encyclopedia of the Sri Lankan Diaspora, ed. Peter Reeves (Singapore: Institute of South Asian Studies, National University of Singapore and edition Didier Millet, 2013), pp. 115-121.
'Warfare: Buddhism,' Encyclopedia of Indian Religions, ed. Arvind Sharma (New Delhi: Springer, 2013).
'Jataka Narratives in Buddhist Preaching and Their Contested Popular Imagination in Sri Lanka,' Buddhist Narratives in Asia and Beyond, Vol. 1, ed. Peter Skilling and Justin McDaniel (Bangkok: Institute of Thai Studies, Chulalongkorn University, 2012), pp. 127-146.
'Contested Religious Conversions of Buddhists in Sri Lanka and India,' Dharmapravicaya: Aspects of Buddhist Studies, ed. Lalji Shravak and Charles Willemen (Delhi: Buddhist World Press, 2012), pp. 71-101.
'Multi-faceted Theravada Buddhism in the United Kingdom,' Buddhism, Buddhists and Buddhist Studies, ed. Hari Shankar Shukla and Lalji Shravak (Delhi: Buddhist World Press, 2012), pp. 37-57.
'Politics of the Jathika Hela Urumaya: Buddhism and Ethnicity,' The Sri Lanka Reader: History, Culture, Politics, ed. John C. Holt, (Duke University Press, 2011), pp. 383-84.
'Sri Lankan Interreligious Contestations for the True Religion: Implications of the Buddhist-Christian Religious Debates of the Nineteenth Century Ceylon on the Revival of Buddhism,' Theology Beyond Neutrality: Essays to Honour Wesley Ariyarajah, ed. Marshal Fernando and Robert Crusz (Colombo: Ecumenical Institute for Study and Dialogue, 2011), pp. 159-171.
'Norms of War in Theravada Buddhism,' World Religions and Norms of War, ed. Vesselin Popovski, Gregory M. Reichberg and Nicholas Turner (Tokyo, New York and Paris: United Nations University Press, 2009), pp. 60-86.
'Religious Concerns in the Ethno-politics of Sri Lanka,' The Mahachulalongkorn Journal of Buddhist Studies 2 (2009): 79-109.
'Dialogue and Division: A Buddhist Response to Interfaith Dialogue,' Buddhist and Pali Studies in Honour of the Venerable Professor Kakkapalliye Anuruddha, ed. K.L. Dhammajoti and Y. Karunadasa (Hong Kong: Centre of Buddhist Studies, The University of Hong Kong, 2009), pp. 457-471.
'Promoting Buddhism while Adapting to the UK: Sri Saddhatissa International Buddhist Centres Contribution to British Buddhism,' (with N. Sumana), Dharma to the UK: A Centennial Celebration of Buddhist Legacy, ed. M. Deegalle (London: World Buddhist Foundation, 2008), pp. 180-230.
'Sustainable Development and Buddhism, Religion, Science and Sustainability,' ed. Takeshi Kimura (Osaka: Union Press, 2008), pp. 95-114.
Conference proceedings:
'When Buddhism Meets Cosmopolitanism: An Education for Global Citizenship,' International Symposium on Education and Global Citizenship, The 10th International Celebration of United Day of Vesak, Bangkok, Thailand, 21-22 May 2013, pp. 13-24.
'Practising Buddhist Principles in the Japanese Business World: Kazuo Inamoris Thought' (with K. Obuse), Buddhist Virtues in Socio-Economic DevelopmentICDV Conference Volume, The 8th International Buddhist Conference on the United Nations Day of Vesak Celebrations, Thailand, 1214 May 2011, pp. 38-50.
'Engaged and Humanist Buddhism for the Rehabilitation Process of Post-war Sri Lanka,' Global Recovery: The Buddhist Perspective UNDV Conference Volume, The 7th International Buddhist Conference on the United Nations Day of Vesak Celebrations, Thailand, 2325 May 2010, pp. 304-308.
'A Buddhist Guide in Tackling the Challenges of Economic Crises,' Buddhist Approach to Economic Crisis: UNDV Conference Volume, The International Conference on the United Nations Day of Vesak Celebrations, Ayutthaya, Thailand, 2009, pp. 38-48.
'Buddhist Ethics in Politics of Religious Conversion,' International Research Seminar on Buddhism: Truthful Knowledge and Quality of Life, Buddhist Research Institute, Mahachulalongkornrajavidyalaya University, Ayutthaya, Thailand, 2009, pp. 153-61. Also reprinted in Journal of International Buddhist Studies (JIBS), 1 (2009): 31-37.
Academic qualifications
PhD Chicago
MTS Harvard
BA (Hons) Peradeniya
PGCE Bath Spa University
Professional qualifications
Teaching and Learning Certificate of Advanced Professional Studies of Higher Education, Bath Spa University, 2005
Professional memberships
Steering Committee Member, Buddhism Section, American Academy of Religion
Board Member, Society for Buddhist-Christian Studies
Managing Committee Member, The Spalding Symposium on Indian Religions
Member, International Association of Buddhist Studies
Member, United Kingdom Association for Buddhist Studies
Member, British Association for the Study of Religions
Member, Sri Lanka Association of Buddhist Studies
Member, The Pali Text Society
Board Member, International Council for Buddhist Development in Sri Lanka (Ministry of Buddhist and Religious Affairs)
Research and academic outputs