Nasir Salari
Senior Lecturer, Marketing
Email: n.salari@bathspa.ac.uk
School or Department: Bath Business School
Office: NP.CM.229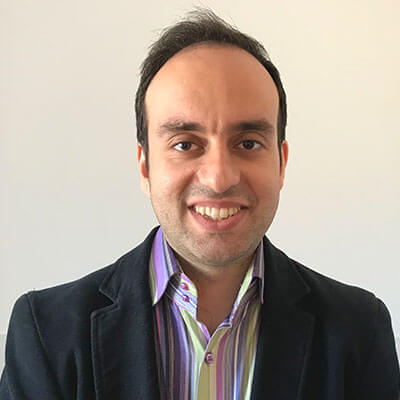 Personal statement
Dr Nasir Salari joined Bath Spa University in 2013 after completing his PhD at the University of Birmingham. He is currently the leader of "International Marketing" and "Marketing Management" modules at the undergraduate and postgraduate level.
Nasir's areas of expertise interplay between innovation and marketing. He has a keen interest in research and consultancy activities in innovation adoption behaviour (particularly, radical innovations), continuing his PhD research in antecedents of innovation resistance. His work in this field has been published as journal articles, book chapters and conference papers.
Dr Salari welcomes scholarly and consultancy proposals in marketing and innovation from all prospects. Should you have any question, please do not hesitate to contact him.
Academic qualifications
PhD University of Birmingham
MSc University of Birmingham
BSc Shahid Beheshti University (Iran/Tehran).
Professional memberships
Academy of Marketing Science.
Subjects
International marketing
Marketing management
Creativity and innovation.
Areas of expertise
Marketing
International marketing
Innovation management.
PhD Research supervision
My research interests and expertise are in the area of consumer behaviour towards adopting (or even rejecting) innovations, in particular, radical innovations.
I am currently supervising a research project about the consumer behaviour towards adopting autonomous vehicles.
Research proposals highlighting the role of cultural factors on consumer behaviour across international markets are highly desired (e.g. technology adoption across international markets).
However, all research proposals in Marketing and Innovation topics will be considered.
Topics
International Marketing
Consumer Research
Cross Cultural Research
New Product Development
Innovation Studies, and
Radical Innovations.
Preferred methods
Predominantly quantitative (regression analysis and Structural Equation Modelling) but qualitative methods are also welcome.
Research and academic outputs
book_section
Salari, N (2017) 'Cultural influences on innovation resistance: a conceptual framework.' In: Shiu, E, ed. Research handbook of innovation and creativity for marketing management. Edward Elgar, Cheltenham, pp. 156-170. ISBN 9781786434982
---
article
Salari, N and Shiu, E (2015) 'Establishing a culturally transferrable consumer innovativeness scale for radical and really new innovations in new markets.' Journal of Marketing Analytics, 3 (2). pp. 47-68. ISSN 2050-3326
---
conference_item
Smith, D and Salari, N (2018) Vampire grades: can simulations support learning without reflection? In: American Marketing Academy Summer Conference, 10 - 13 August 2018, Boston, Massachusetts, USA.
---