Nasir Salari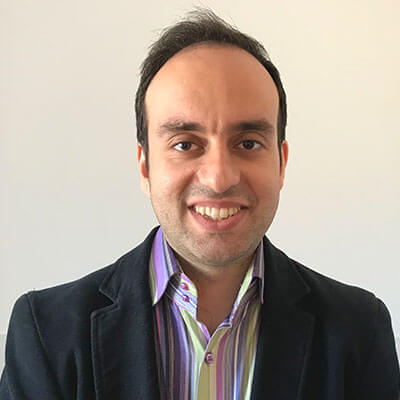 Personal statement
Dr Nasir Salari joined Bath Spa University in 2013 after completing his PhD at the University of Birmingham in Marketing. He is currently the Course Leader in MA Marketing and Brand Management as well as the Pathway Leader in Marketing at the undergraduate level.
Dr Salari has taught variety of courses in the Business Management studies including 'International Marketing', 'Marketing Management', 'Creativity and Innovation', 'Managing Data', and 'Marketing Analytics'.
Nasir's areas of expertise interplay between marketing and Data Science. He has achieved professional certificate in Data Science from the Data Incubator and the Cambridge Spark and is currently undertaking research activities in this field. Specifically, he is interested in the application of Data Science in Marketing, such as NLP for sentiment analysis, and the machine learning approaches that are applicable in Marketing, such as: Approximate Nearest Neighbours, Random Forests, TSNE, K-Means etc.
Dr Salari welcomes scholarly and consultancy proposals in Marketing and Data Science and has already completed some projects in this area. Should you have any question, please do not hesitate to contact him.
Academic qualifications
PhD in Marketing: University of Birmingham
MSc in Marketing: University of Birmingham
BSc Shahid Beheshti University (Iran/Tehran).
Professional memberships
Chartered Institute of Marketing
Professional certificates
Foundation of Data Science (Data Incubator)
Applied Data Science (Cambridge Spark)
Teaching subjects
International marketing
Marketing management
Creativity and innovation
Marketing analytics
Areas of expertise
Marketing
Data science in Marketing
Innovation studies
PhD Research supervision
All research proposals in Marketing and Innovation topics will be considered but specifically please contact me with regard to your proposals about Data Science topics in Marketing, such as your ideas in Machine.
Preferred methods
Predominantly quantitative but qualitative methods are also welcome. My preference is to use the Python language in Data Science projects.
Research keywords
Quantitative Marketing
Data Science
Machine Learning
NLP (Natural Language Processing)
Research and academic outputs
book_section
Salari, N (2017) 'Cultural influences on innovation resistance: a conceptual framework.' In: Shiu, E, ed. Research handbook of innovation and creativity for marketing management. Edward Elgar, Cheltenham, pp. 156-170. ISBN 9781786434982
---
article
Salari, N (2022) 'Electric vehicles adoption behaviour: synthesising the technology readiness index with environmentalism values and instrumental attributes.' Transportation Research Part A: Policy and Practice, 164. pp. 60-81. ISSN 0965-8564
---
article
Salari, N and Shiu, E (2015) 'Establishing a culturally transferrable consumer innovativeness scale for radical and really new innovations in new markets.' Journal of Marketing Analytics, 3 (2). pp. 47-68. ISSN 2050-3326
---
conference_item
Smith, D and Salari, N (2018) Vampire grades: can simulations support learning without reflection? In: American Marketing Academy Summer Conference, 10 - 13 August 2018, Boston, Massachusetts, USA.
---