Dr
Robert Luzar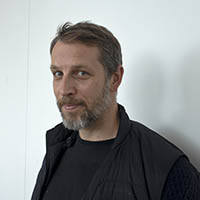 Personal statement
Robert Luzar is an artist, researcher and educator. Slovenian born and having lived many years in Canada, he is now based in England. After having studied fine art and modern philosophy at York University (Canada), he moved to London and completed a Master of Arts degree from the Chelsea College of Art and Design. In 2013 he was awarded a Doctor of Philosophy from Central Saint Martins, University of the Arts London.
Luzar continues to exhibit internationally in live-art events, galleries, residencies, and museums. Some prior examples include:
the Talbot Rice Gallery (UK)
Nunnery Gallery (UK)
Torrance Art Museum (USA)
Red Head Gallery (CA)
DRAWinternational (FR)
Künstlerhaus Dortmund (DE) and
KCCC cultural institute (LT).
Throughout such exhibitions he has worked with artists and curators, such as Edward Lucie-Smith, Adrian Heathfield, Phyllida Barlow, and Franko B.
Additionally, he publishes articles in cultural magazines and peer-review journals, such as Mnemoscape Magazine, and Artfractures. He contributed a chapter to the book Nancy and Visual Culture (Edinburgh University Press, 2016), which explores ideas by French philosopher Jean-Luc Nancy.
Throughout his works, he investigates forms of mark-making through a form of 'multiplicity'. He approaches this notion as an event that is materialist and conceptually inventive, engaging the work of art as a complex whole.
Drawing, writing, imprinting, projecting, videoing, inscribing a trace, making a mark; seeing how one makes and re-thinks (conditions, actions, everyday materials), how the human body engages, how the hand grasps or forefinger points, probes, moves, obstructs… or comes to a halt; engaging surfaces – such as paper, foam, pavement, walls, floors, photographic images, or digital/analogue projections –, mutable interfaces that result in, for example, re-traced paper, or digitally re-marked images of a clear day-lit sky. These are some of the many ways in which his work takes place. This happens not only throughout drawing but, furthermore, within live-art performance, two-person actions, video, live web broadcasting, photography, painting, and installation.
His doctoral thesis, Drawing Upon Multiplicity: Mark, Body, and A Trace of Thought (2013), is a substantial practice-led investigation into the question of thinking throughout performative kinds of drawing practices.
His research is ongoing. This means additionally investigating theoretical and philosophical issues structuring art in relation to materialist ideologies of inscription and process. Some of his current research interests are:
drawing and performance-based art forms (from the 1970's to present)
self-interruptive and generative gestures
graphical motifs of the point [ • ]
re-tracings and subtractions of the line
event (Heidegger, Badiou, Deleuze)
plasticity (Malabou) and
post-phenomenology (Nancy, Blanchot).
Academic qualifications
Doctor of Philosophy (PhD), Central Saint Martins, University of the Arts London (UK)
Master of Arts (MA), Chelsea College of Art and Design, University of the Arts London (UK)
Bachelor of Fine Art (BFA), York University (CA)
Professional memberships
Drawing: Research, Theory, Practice (a peer-review journal, Intellect press), member of Editorial Board, 2015 - present.
FADO performance art centre (CA), Board Member, 2015.
Research and academic outputs