Dr
Robert Luzar
Senior Lecturer in Fine Art
Email: r.luzar@bathspa.ac.uk
School: Bath School of Art, Film and Media
Campus: Locksbrook Campus
Website: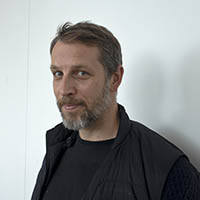 Personal statement
Robert Luzar is an artist, writer, researcher and educator. He is Senior Lecturer in Fine Art, Module Coordinator for the MA Fine Art, and PhD director of studies and supervisor.
He was born in the former Yugoslavia, now Slovenia; as a child he immigrated to Canada, raised by a single mother. Luzar has lived in England for over a decade. His practice has been shaped by experiences of immigration but also, by coming from a low-income background, dispossession, trauma, and forms of ideological change.
He is interested in critical practices where 'thinking' takes place as an event, trace and multiplicity. These concepts resonate with claims that 'ideas matter' and are 'deeply lived' – rather than mentally preconceived. This poses challenges to worldviews, or more specifically ideologies, that complicate any event of 'real change' politically, socially, economically, and metaphysically.
Luzar uses drawing critically, openly and unconventionally. Under a model of 'point', he 'traces' absences and erasures that echo trauma. By tracing blank pages and legal documents, staining walls, clearing floor spaces, and pixelating skies, his works give visibility and gravity to the body. With a focus on the body––beyond one's own, with others (human and non-human)––the trace is used to rethink ideologies that privilege 'mark' and 'marking-making'. From this change of coordinates, he uses live-art, performance, situations, installations, video, projection and the Web.
His current artist projects are in two forms. The first project is a set of drawings that reflect socio-economic abstractions that implicate bodies and spaces. These drawings re-present 'blank pages' that reflect information and compositions found in documents, paperwork and political constitutions. The second project is on paradoxical performances and videos that resonate with un-working, as in the French Désouvrements, also translated as inoperativity. Both projects rethink aesthetic qualities of a liberal-economic ideology that is experienced through labour, creative economy, race and identity, political demonstrations, and truth. The projects are evidenced by the following works: Demonstrations (2015-2020), Traced Papers & Drawing Bureau (2019-2020), and Screened Pages of Magna Carta & The Constitution of The United States (in progress).
Luzar continues to exhibit internationally in live-art events, galleries, residencies, museums, and Web based projects. Previous venues include Palazzo Loredan Venice (IT), Torrance Art Museum (USA), Talbot Rice Gallery (UK), DRAWinternational (FR), Katzman Contemporary (CA), Künstlerhaus Dortmund (DE), and CUMT Institute (China). His writings on art, culture and philosophy are published in books and journals such as Nancy and Visual Culture (Edinburgh University Press 2016), Differences in Identity in Philosophy & Religion (Bloomsbury 2020), Theatre and Performance Design (Routledge 2017), and Drawing: Research, Theory, Practice (Intellect 2019).
He studied fine art and modern philosophy at York University (Canada), and, in 2005, moved to London to complete a Master of Arts degree from the Chelsea College of Art and Design. Between 2009 and 2013 he conducted doctoral research and was subsequently awarded a Doctor of Philosophy from Central Saint Martins, University of the Arts London.
His doctoral thesis, Drawing Upon Multiplicity: Mark, Body, and A Trace of Thought (2013), is a substantial practice-led investigation into the question of thinking in so-called performative drawing practices.
Academic qualifications
Doctor of Philosophy (PhD), Central Saint Martins, University of the Arts London (UK)
Master of Arts (MA), Chelsea College of Art and Design, University of the Arts London (UK)
Bachelor of Fine Art (BFA), York University (CA)
FHEA
Professional memberships
Drawing: Research, Theory, Practice (a peer-review journal, Intellect press), member of Editorial Board, 2015 - present.
Research supervision
Contemporary art practice (cross-disciplinary, especially drawing, performance, video, web/technoloy
Theory and philosophy (aesthetics, phenomenology, post-structuralism, comparative studies)
Other external roles
PhD external examiner (Goldsmiths, 2019)
Areas of expertise
Art practice, critical theory, philosophy
Drawing, performance, video, projection
Impact
CBC Radio Canada (2010), Lithuanian state television and national newspaper (2011), BBC Radio (2015), Ujima Radio Bristol (2019), Latvian state television (2019).
Research and academic outputs