Anna Lambert
Textile Design for Fashion and Interiors graduate and Bristol Textile Quarter resident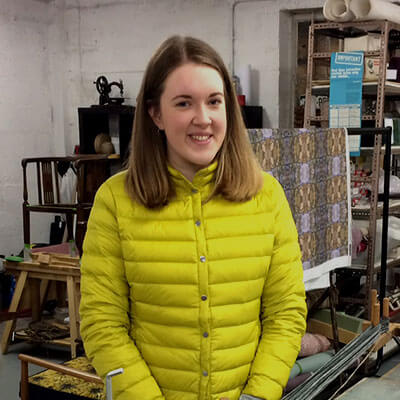 Anna Lambert graduated from Bath Spa University with a BA in Textile Design for Fashion and Interiors in 2016, and successfully applied for a ten-month workspace at Bristol Textile Quarter funded by the University.
Anna balanced her time at Bristol Textile Quarter with working as a freelance bookkeeper, and also worked for A Yarn Story, based in Bath's Artisan Quarter.
Having a dedicated workspace has helped Anna to focus her time.
"It encourages you to keep going," she says. "You know you've got a space and you need to make sure you get the most out of it. Being part of the community here and having people around has been really nice."
"The best thing about the placement was being back in a studio environment with the space and facilities to design and make again. It was also great to be surrounded by other people working in similar areas..."

Anna Lambert
Anna spent the ten months refining her work and developing a range of woven fabrics that she can take to clients and potential outlets. She's liaised with other studio residents regarding product development and manufacturing.
Anna was also selected as the National Trust's Emerging Maker in association with Bath Spa University. As part of this prestigious opportunity, she's developed a range of products (including cushions and throws) which were featured in National Trust shops in 2018.
"[The National Trust] will be an amazing platform to get my work out there, especially as it's only just over a year since I graduated. This wouldn't have been possible if I hadn't had access to the loom at the studio and the encouragement from the other people working there."

Anna Lambert
Since her residency, Anna has moved into a studio in Bath, allowing her to fit more designing and weaving in around her day job as the manager of A Yarn Story. There, she continues to build her brand, Anna and Maud.
Now that the National Trust contract has ended, Anna's been working on new products and selling regularly at markets including Native Makers in Plymouth and the Frome Independent. She's also in the early stages of trying to get her work into a few shops.