Ed Pashley
BA (Hons) Business and Management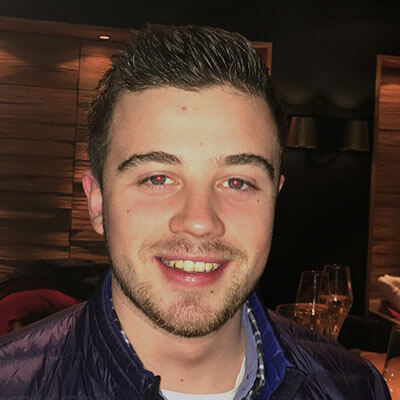 Why did you choose to undertake a PPY?
I've always had a passion for sport and the industry surrounding it, so the opportunity that arose from Bath Rugby was a great way to see inside the industry a little further and gain valuable business skills.
What does your role entail?
Everything from organising player appearances for community events to creating content for social media throughout the week and on match days, including live tweets and match reports for the club
Describe a typical day on your placement
Typically, I get into work at 9am and check the club's social media and rugby news. On an average day, the communications team will release three or four news articles. My job is to collect the content, whether that be through conducting interviews or doing research into a rival team, and then draw the content together to create web articles to be released on the club's social media accounts.
Between these jobs I help correlate club stats and social media analysis, and manage player appearance requests.
I also undertook all of the internal communications for Bath Rugby in my placement year, which included creating a newsletter to go out every other Tuesday with news stories from within the club.
How did you find and secure your placement?
I sent Bath Rugby a letter declaring my interest in a placement year with them to see if there were any opportunities available and a got an email back with the job description. I sent over my CV and a covering letter, and waited to hear back. I had a face-to-face interview with the Head of Communications before a phone interview with my future line manager.
I was persistent throughout the application process and was told by my line manager that it was one of the reasons I was the successful candidate. A couple of weeks after my phone interview, I was offered the job and started in August 2018.
What have been the best and most challenging aspects of your placement?
The best experience of my placement was visiting Dublin as Bath Rugby faced Leinster in the Heineken Champions Cup. It was an incredible weekend. I was fortunate enough to fly and stay in the team hotel, and got to see inside the organisation further.
The most challenging thing with working within a sporting organisation is the unpredictability. For example, we'll be informed a new player has signed for the club at 10am and we have to get a press release and web copy written up and approved by midday – meeting the deadline is crucial.
How has your placement been beneficial?
I've massively improved my writing skills and technique in formatting articles and match reports. Conducting pre- and post-match interviews with players and coaching staff has improved my confidence greatly. I've also learnt the ins and outs of using a website and creating newsletters, press releases and emails. I've seen first-hand what goes on behind the scenes at a sports organisation and now understand the relevant departments and the jobs they do. I've learnt so much.
How did the Professional Placement Year support your career aspirations?
I now feel I'd be comfortable working within a sporting organisation in the communications or marketing team. I've seen how the business operates and my eyes are definitely more open now to sports journalism or a career in marketing.
Do you have any advice for students considering a PPY?
Find a placement you feel you'll enjoy: don't just go for a placement that's advertised online. If there's a business or organisation that you're interested in or passionate about, send them a letter or email them to see what opportunities are available and be persistent in the application process – it shows you're interested.