Simon Crispin
BA (Hons) Drama
Department: Bath School of Music and Performing Arts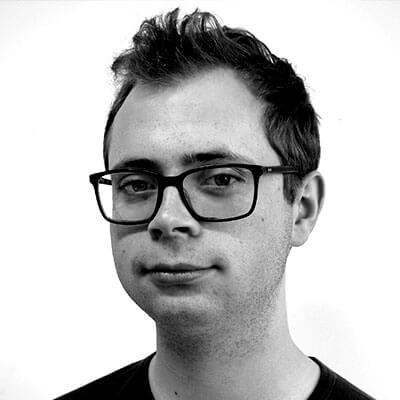 "I wanted a programme that would stretch my intellectually, physically and theatrically. Drama at Bath Spa ticked all of these boxes."
Why did you choose the course you studied at Bath Spa?
The freedom to discover and explore is what initially drew me to Drama at Bath Spa. Knowing I didn't want to be an actor primarily, but wanted to gain a deeper understanding of different theatrical disciplines and approaches to theatre, I wanted a programme that would stretch me intellectually, physically and theatrically. Drama at Bath Spa ticked all of these boxes.
What were the highlights of your time here?
Drama at Bath Spa is a people-oriented degree. A lot of time is spent working in groups; devising, presenting or performing. I have been fortunate enough to collaborate with some of my closest friends, which makes going to uni a real privilege. As we've progressed through the years, everyone develops their own passions and specialisms, and we use these to advise / support our friends in our different assignments. The people I've met have, without question, been the highlight of my time at Bath Spa.
How did the course support your steps into industry?
All lecturers are professionals in their fields and are actively researching alongside teaching. They are happy to talk about how they began in the industry, as well as offering advice and support through their own experience.
"The best thing about the course is..."
The wide range of modules on offer to students. The diversity of styles, approaches and frameworks available gives students the opportunity to experiment with new styles of theatre and to build up a repertoire of skills. The course structure broadens the horizons of students and opens up a deeper understanding of theatre as a discipline.
"I am most proud of..."
Co-forming a theatre company with two other Drama students in 2018. Between us, we wrote, directed, designed, marketed, financed and produced our first show in a theatre in Bristol. Alongside of our main shows, we facilitate workshops to young people and various other groups. The Drama department has been excellent in supporting us and offering advice and support when needed. The course was a springboard into the professional world of Drama.
"My advice for current students is..."
To not underestimate the importance of managing yourself - keeping on top of emails and room bookings, arriving early to rehearsals and being proactive with readings and production meetings. These seemingly simple steps will prove so useful when performance weeks and deadline season approaches. Regularly keeping on top of these things will improve your standard of work, as well as your physical and mental health.
"I recommend Bath Spa because..."
It is a creatively-focused university. It celebrates the Arts in all its forms and emphasises the importance of creativity across all walks of life. Bath Spa encourages imagination and innovation and gave me the confidence to experiment with my skills as a theatre-maker.