Proof of the pudding: a paid placement year
The summer before undertaking my professional placement year had been a culturally rich and life enhancing experience. I travelled through South East Asia independently, taught English in a Balinese school and then secured a teaching position in China's Zhejiang province. Sadly, the final day of August saw my placement fall through, leaving me without a role to go to.
What followed was three long months spent scouring Indeed.com, Prospects and any other job-related website I could find. Facing countless rejection emails and interviews that went nowhere, I was beginning to lose hope. I wanted to embark on a year undertaking a Professional Placement that would challenge and motivate me. What I needed was experience and a placement that would ready me for the world of work but would ultimately leave me feeling fulfilled.
It was then that I stumbled across a position as a Sales and Marketing Intern with a start-up company called My Baker. My Baker is a virtual bakery that connects customers and their cake visions to their community of talented independent bakers from across the UK. Existing for 2 years now, My Baker is one of the fastest growing start-ups in the baking space!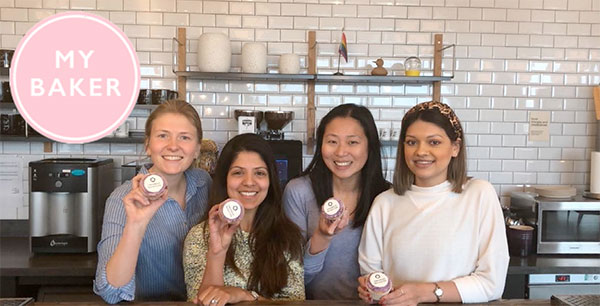 This was a role I had previously considered unattainable, given that my degree was English Literature and Creative Writing. I had no prior business acumen other than what I'd seen of my managers' in my part-time jobs. Without the support of the Universities Placement and Careers Teams, encouraging me to use the transferable skills gained through my two years studying and aiding in CV and cover letter writing, I wouldn't have had the confidence or self-belief to apply. Thankfully I did, and two successful interviews later I had been given the job! From the offset, in my Sales and Marketing role, I was trusted to manage online orders, talk with customers and find them their perfect cake! I was involved in countless campaigns and incentives that I was often given sole responsibility for.
I was even given the opportunity to use my skills in creative writing to compose blog posts and guidebooks. It was a truly incredible experience that allowed me to put into practice all that my degree has readied me for. I have gained a huge amount of knowledge and experience in the eight months that I spent with My Baker. I have been encouraged to believe in my ideas, voice them and follow through with making them a reality. This has been one of the best introductions into the career sector I hope to venture into and has provided some much-needed motivation for my final year of studies.
Before embarking on my professional placement year, I had no idea of my career path or even the job options available to me, which is why I'm so grateful to have been given this opportunity. I've grown not only as a student, but as an individual. I've even been lucky enough to work with a view of London's skyline, complete with unlimited tea and biscuits. It's safe to say it's been more than I could have ever hoped for!
Disclaimer: The Bath Spa blog is a platform for individual voices and views from the University's community. Any views or opinions represented in individual posts are personal, belonging solely to the author of that post, and do not represent the views of other Bath Spa staff, or Bath Spa University as an institution.