Sound (Design)
MA
Postgraduate degree
Award

MA Sound (Design)

School/s

Bath School of Music and Performing Arts

Campus or location

Newton Park

Course length

One year full-time or two years part-time.
Entry requirements
Entry requirements for our postgraduate courses vary. We're generally looking for a good honours degree or equivalent.
Some courses also require an interview or the submission of a portfolio of work.
Please contact our admissions team for more information: admissions@bathspa.ac.uk.
Explore sound design and audio post production for film and other visual media in this creative postgraduate course.
Contemporary and innovative approaches to sound design and audio post production.
Covers a wide spectrum while accommodating individual interests and requirements.
Runs alongside Sound (Production) and Sound (Arts) MAs, with options across programmes.
Through this forward-thinking course, you'll explore the creative use of sound within film and other visual media at an advanced level. The course focuses on the more creative aspects of sound design and post-production, while providing you with the necessary technical skills.
You'll develop your work within your areas of interest without stylistic boundaries. Interdisciplinary collaboration with related fields of practice is encouraged.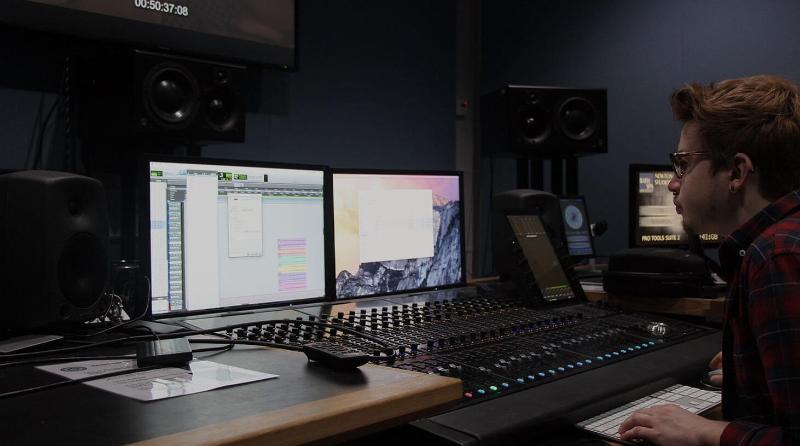 Opportunities
Careers
You can use the course to develop an individually-tailored portfolio of skills. This will equip you for the current employment landscape, where a combination of traditional audio post production roles are required alongside broader practice in sound, music and other media.
The course also provides the breadth necessary for FE and HE teaching in the field, and provides the basis required for PhD research and beyond.
Our graduates have a range of successful careers in production, composition, music for film and TV, sound design for moving image and games, sound art, software development, engineering, further education, higher education, and research.

Develop a wealth of indispensable digital skills that you can take into your future career. One of only three Adobe Creative Campuses in the UK, we provide all Bath Spa students with access to the full Adobe Creative Suite, giving you the tools to communicate creatively, whatever your course or chosen professional field.
Facilities and resources
Where the subject is taught
As an MA Sound (Design) student you'll be taught at Newton Park campus. You'll benefit from access to:
Post Production facilities including: two high-end equipped audio surround suites, two audio editing suites, Foley and dialogue recording room, surround viewing theatre, eight video editing/ colour grading suites, and two TV studios.
Compton Musiclab Studios with three control rooms and live recording room
Twiverton Mac workstation room with all the software required for the course
Resources
MA Sound (Design) students can hire out equipment using SISO, Bath Spa University's free equipment loan service. We provide a huge variety of equipment, including field recording equipment, film equipment and other audio related equipment.
Fees
Please note: Students from the EU, EEA and Switzerland are not generally eligible for the UK (Home) fee status. Please refer to the international student rate. Irish citizens and those granted Settled status under the EU Settlement Scheme are eligible for UK (Home) fee status. There are also other circumstances where this may apply: See UKCISA for more information.
UK students full time
Course fees
| | |
| --- | --- |
| 2023/24 entry | £8,430 |
| 2024/25 entry | Published Jan 2024 |
| 2026/27 entry | Published Jan 2025 |
UK students part time
Fees shown below are for part time study over two years, although some courses may be available over longer periods.
2023/24 Entry
Course fees
| | |
| --- | --- |
| Year 1 | £4,215 |
| Year 2 | £4,215 |
2024/25 Entry
Course fees
| | |
| --- | --- |
| Year 1 | Published Jan 2024 |
| Year 2 | Published Jan 2025 |
2026/27 Entry
Course fees
| | |
| --- | --- |
| Year 1 | Published Jan 2025 |
| Year 2 | Published Jan 2026 |
Interested in applying?
What we look for in potential students
We're looking for creative individuals that have proven experience in sound design, audio post production, or music production.
Generally we look for a first degree, 2:1 or higher. Often this will be in audio post production, film, music, music technology, or another closely related subject field. However, we accept applicants with other degrees where they can demonstrate relevant experience.
How do I apply?
Ready to apply? Click the "apply now" button in the centre of this page.
Need more guidance? Head to our how to apply pages.
Interview and portfolio guidance
Your application should be accompanied by a portfolio of creative work. The nature of this portfolio will depend on your previous studies and/or experience.
Typically, a portfolio consists of two or three pieces, which might consist of film, film sound design, multimedia sound, music production, sound installation work, or similar. We'll be looking above all for the creative use of sound in your work.
Want to apply for this year?
Many of our postgraduate courses have a limited number of student spaces. To avoid the disappointment of the course being full, we recommend that you apply now.
Late applications (generally those made after 31 July) will only be considered if places remain on the course.
Need more information or still have questions? Contact us to discuss your situation.