Publishing
BA (Hons)
Undergraduate degree - studied as part of a combined award
Key facts
Award

BA (Hons) Combined Award

School/s

School of Writing, Publishing and the Humanities

Campus or location

Newton Park

Course length

Three years full-time or four years full time with professional placement year. Part-time available.
UCAS codes
Using our list of possible combinations, choose which combination course you'd like to apply for. You'll find UCAS codes specific to that combination on the course page.
Entry requirements
We accept a wide range of qualifications for entry to our undergraduate programmes. The main ones are listed under 'Typical offers' in the main column below. For combined courses, please check both subjects. If your qualification is not listed, please email admissions@bathspa.ac.uk with your specific details.
Study Publishing as a joint subject and learn to shape stories, information and ideas for print and digital.
Work experience opportunities with publishers, social enterprises and media companies are included in the course.
Our graduates have been employed by BBC, Penguin Random House and Immediate Media.
Brings copywriting, editing, layout and web skills together with project management and team working to train tomorrow's publishing and media professionals.
"The direct help I received from tutors in improving my work, allowed me to feel very prepared when applying for jobs. Because of this and their help in getting work experience throughout the course, I got an incredible publishing job only a few months after I finished!"

Hanna Glover, BA (Hons) Publishing and Creative Writing 2020
Publishing at Bath Spa can be taken with subjects such as Creative Writing, English Literature and is also available as a Single Honours course in Journalism and Publishing. Our approach is characterised by innovative approaches, creative studio-based collaborative working, and high-quality making across all published forms from handmade and print to digital and live.
Publishing is one of the UK's largest creative industries, which shapes and presents content across a wide range of subjects. Publishers find an audience for a variety of publications, from books and magazines to innovative apps and websites.
We'll equip you with a wide range of the latest digital making skills, such as Adobe InDesign, web and multimedia social content, alongside core publishing skills such as copywriting and editing, design, layout and marketing.
You'll also get access to key industry resources such as Nielsen Bookscan sales data, the BookMachine online industry community and Society of Young Publishers South West events, some of which are hosted at the University.
Through collaborative project development, you'll acquire essential creative skills in working with others, carving out your own role and achieving high-quality results. You'll graduate with industry experience and a stunning digital portfolio of your work.
---
Open Days
Get a taste of university life – come to one of our Open Days.
---
"I was able to tailor my course to the exact career I was looking for. The Publishing course enabled me to specialise in science writing and I found work experience as a science reporter during my third year, interviewing leading researchers and tech businesses."

Amy Barrett, Creative Writing and Publishing Graduate, now Editorial Assistant at BBC Science Focus
What you'll learn
Overview
You'll graduate with essential publishing skills, from writing persuasive, concise copy and text editing, to communicating brand identity and audience research. We'll teach you how to layout content and manipulate images using industry-standard software, with opportunities to develop your skills in image use, video, photography, infographics, and HTML.
Additional modules offer the chance to specialise and deepen your knowledge and skill base, and to work on larger personal projects linked to your career aims.
Course structure
Year one
We'll introduce you to core publishing principles, with a focus on copywriting and editing. You'll become familiar with layout, production and publishing software. There will be weekly deadlines, so you'll get used to turning around work quickly and in a well-presented form. Alongside this you'll start to build an in-depth knowledge of the publishing industry and have the chance to work collaboratively on all-day challenge projects.
Year two
You'll gain greater insight into particular areas of publishing, such as marketing, editorial and design. Optional modules allow you to delve deeper into areas such as illustrated books, independent magazines, fiction editing, and the use of publishing skills for social enterprise and charity work.
Year three
Tutors will guide you to focus your skills and knowledge around your personal creative and career interests. You'll be encouraged to develop your individual approach as a creator, curator or project manager; your final portfolio will reflect this, showcasing your work for prospective employers. Optional modules cover book commissioning, children's publishing, and cross-platform digital publishing.
How will I be assessed?
You'll be assessed by coursework, including portfolios, essays, feature articles, reflective commentaries and reports. In some modules you'll share your work through short, informal presentations.
How will I be taught?
You'll be taught through creative workshops, skills labs, seminars and lectures. You will learn to be adept at project management and product development following a research and development process. We work on-screen and beyond: creating sketchbooks; making physical prototypes; getting out and meeting people; finding opportunities.
Throughout the course, you'll work to briefs set by your tutors or industry collaborators, as well as working on your own projects. We expect you to work with flair and enthusiasm, taking your ideas and developing them into industry standard work.
Course modules
This course offers or includes the following modules. The modules you take will depend on your pathway or course combination (if applicable) as well as any optional or open modules chosen. Please check the programme document (below the main image on this page) for more information.
Year one (Level 4) modules
Introduction to Publishing
Introduction to Editing and Production
Create Lab
Year two (Level 5) modules
The Book Publishing Industry
Experiments in Book-Making
The Independent Magazine
The Editor
Social Enterprise
Science Journalism and Publishing
Professional Placement Year
Year three (Level 6) modules
Digital Publishing
Publishing Industry Project
The Commissioning Editor
Children's Publishing
Digital Content Strategy
Opportunities
Fieldwork
From visiting the London Book Fair or a bookbinders, to working on projects with local companies, you'll have the opportunity to participate in fieldwork across the Publishing modules.
Work placements, industry links and internships
Students have the opportunity to work on live projects and collaborations. We have worked with international and local clients such as the BBC, TEDxBristol, Bonnier Books, X Media Lab, the National Trust, Forest of Imagination arts events, and Bath Film Festival.
With our support, many students carry out work experience and freelance work. The Publishing lecturers have had a great amount of experience in the industry and are in an excellent position to help students to develop internship and work experience opportunities.
We work with industry contacts to develop internship and work experience opportunities for students.
You can also work on the publishing student-run, Milk Magazine.
Careers
Publishing graduates have been highly successful in gaining graduate-level jobs, including Editorial Assistant, Production Assistant, Digital Editor, Digital Marketing Coordinator, and Project Manager. Graduates have been employed by publishing companies including:
Future

Taylor & Francis

Penguin Random House.
Publishing prizes
Each year we award a publishing prize to one student from each year group.
Course delivery in 2022/23
Our focus is on providing the best possible in-person experience for you and your peers whilst maintaining the most successful aspects of online delivery that we know will benefit your learning. Learn more by reading our programme delivery statement.
"Over three fantastic years I was taught key industry skills and the business side of the industry. I left with a fantastic portfolio that is wowing employers!"

Tom Williams, BA (Hons) Creative Writing and Publishing graduate
Facilities and resources
Where the subject is taught
Publishing is taught on our Newton Park campus. You'll have access to a wide range of excellent facilities, including:
The Publishing Labs: digital and print making spaces
Resources
As a Publishing student, you'll benefit from:
Experienced Publishing technical demonstrators to support you

The latest specialist software as well as various print and handmade publishing equipment including digital cameras, iPads, booklet makers

Free equipment hire with SISO, Bath Spa's loan system.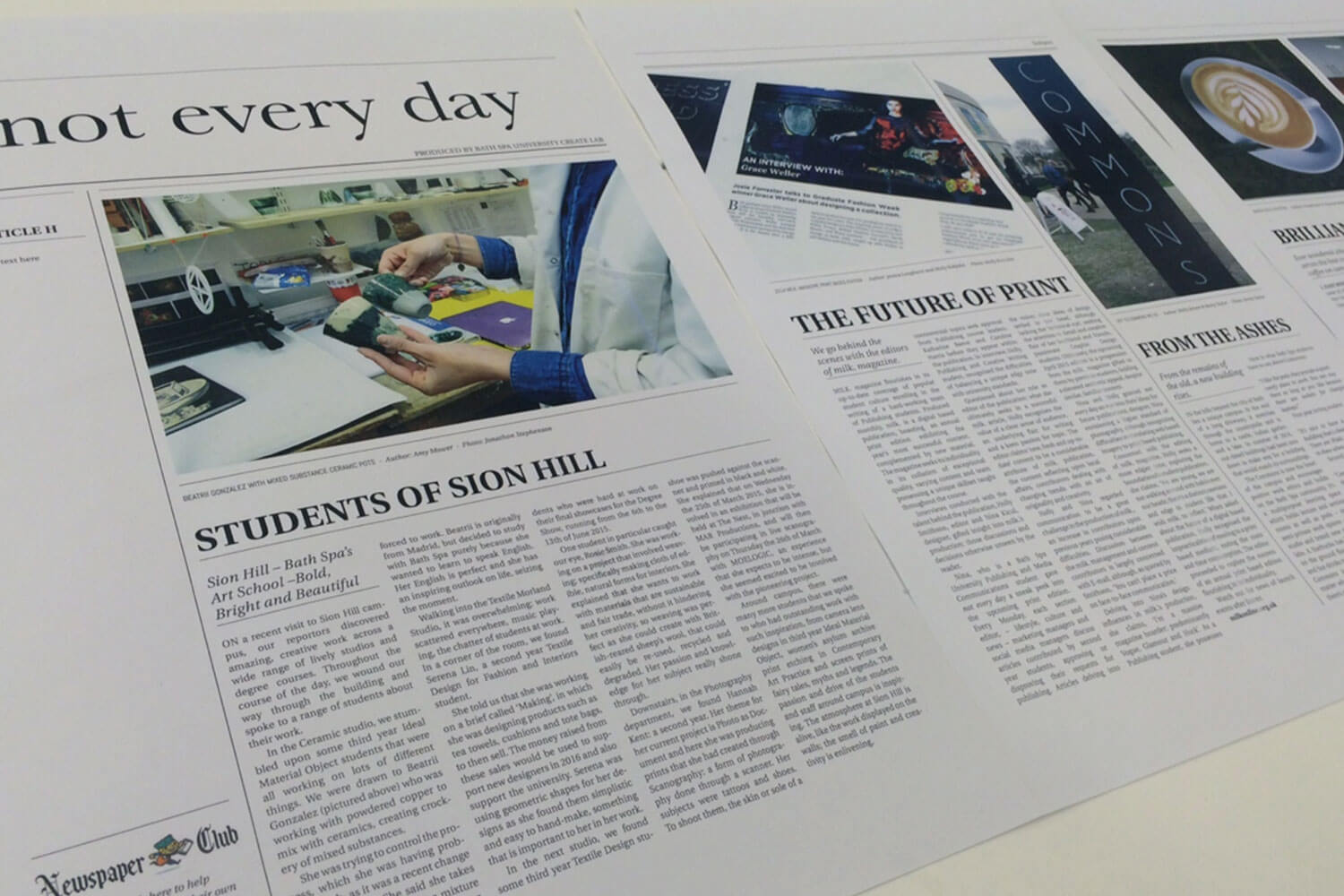 Fees
Please note: Students from the EU, EEA and Switzerland are not generally eligible for the UK (Home) fee status. Please refer to the international student rate. Irish citizens and those granted Settled status under the EU Settlement Scheme are eligible for UK (Home) fee status. There are also other circumstances where this may apply: See UKCISA for more information.
UK students full time
2022/23 Entry
Course fees
| | |
| --- | --- |
| Year 1 | £9,250 |
| Year 2 | Published Jan 2023 |
| Year 3 | Published Jan 2024 |
2023/24 Entry
Course fees
| | |
| --- | --- |
| Year 1 | Published Jan 2023 |
| Year 2 | Published Jan 2024 |
| Year 3 | Published Jan 2025 |
2024/25 Entry
Course fees
| | |
| --- | --- |
| Year 1 | Published Jan 2024 |
| Year 2 | Published Jan 2025 |
| Year 3 | Published Jan 2026 |
UK students part time
2022/23 Entry
Course fees
| | |
| --- | --- |
| Year 1 | £4,625 |
| Year 2 | Published Jan 2023 |
| Year 3 | Published Jan 2024 |
2023/24 Entry
Course fees
| | |
| --- | --- |
| Year 1 | Published Jan 2023 |
| Year 2 | Published Jan 2024 |
| Year 3 | Published Jan 2025 |
2024/25 Entry
Course fees
| | |
| --- | --- |
| Year 1 | Published Jan 2024 |
| Year 2 | Published Jan 2025 |
| Year 3 | Published Jan 2026 |
International students full time
2022/23 Entry
Course fees
| | |
| --- | --- |
| Year 1 | £15,450 |
| Year 2 | Published Jan 2023 |
| Year 3 | Published Jan 2024 |
2023/24 Entry
Course fees
| | |
| --- | --- |
| Year 1 | Published Jan 2023 |
| Year 2 | Published Jan 2024 |
| Year 3 | Published Jan 2025 |
2024/25 Entry
Course fees
| | |
| --- | --- |
| Year 1 | Published Jan 2024 |
| Year 2 | Published Jan 2025 |
| Year 3 | Published Jan 2026 |
All students full time - with professional placement year
During the placement year, the fee is reduced to 20% of the full time fee. Otherwise, fees are the same as for full time study. This applies to UK, EU and International students.