Professor
Bambo Soyinka
Professor of Story and Chair of the Research Centre for Transcultural Creativity and Education
Email: b.soyinka@bathspa.ac.uk
Department: Research and Graduate Affairs
Website: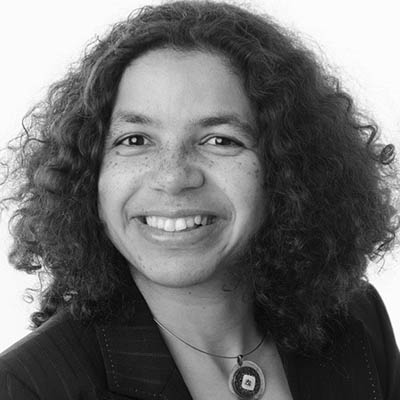 About me
Bambo is a Professor of Story at Bath Spa University. Working extensively across the arts and education, Bambo has developed numerous acclaimed co-productions noted for their capacity to bring people together across borders, fuse different worlds and enhance existing sectors with new knowledge. Her creative co-productions employ a wide range of platforms and modes of distribution, including theatre, installation, online environments and site-specific locations. Bambo's stories and productions have been produced in collaboration with national and international organisations, including National Theatre Wales, the BBC, Channel 4, the Berlinale, Arts Council of England, the Arts Council of Wales, the British Council, the AHRC and the ESRC.
As the director of the Research Centre for Transcultural Creativity and Education, Bambo guides the centre's creative vision and projects. She makes vital connections within the university and across the globe, ensuring that the research centre hears from, develops relationships with, and learns from creatives working in research.
Personal Statement
I am currently Professor of Story and Chair of the Research Centre for Transcultural Creativity and Education (TRACE) at Bath Spa University. My specific research expertise include: digital ethnography, mixed media digital storytelling, story migration and adaptation, data driven narratives and 'adaptive storytelling'.
Over the past 25 years, I have created and led an extensive portfolio of international and interdisciplinary programmes with artists, educators and entrepreneurs, using innovative approaches to storytelling. My work focuses on community-based research with an emphasis on the co-creation of knowledge with experts from non-academic backgrounds, supporting diversity and inclusion in writing cultures, and facilitating academic and cultural exchange/innovation/.
I am of British, African, and European Heritage (my father is a Yoruba and my grandmother was Jewish Austrian). I received my Professorship In 2015, whilst still in my 30s, becoming one of the youngest women of colour to receive this accolade in the UK. My mixed heritage background has influenced my approach to research which has always emphasised the theme of creativity across borders. I have played around with different labels to describe my identity (Afro-celt, Afro-Saxon, Afro-European and Black Jew) but I struggle to find one that fully describes me.
In 2015, I founded Paper Nations, a Creative Writing incubator focusing on diversity and innovation. Paper Nations has received two major funding grants to date worth over £1 mil, raising a further £500k from external partners. Both Arts Council England-funded projects have involved the development of a national infrastructure of support, for young writers and adults. This led to the publication of 'The Writer's Cycle' and 'Dare to Write?' adaptable pedagogical resources for educators developing inclusive writing environments.
I have recently been invited to participate as a lead academic partner in the newly formed National Centre for Cultural and Academic Exchange.
Academic qualifications
PhD in Social Science: Virtual Futures, Cardiff University, 2010 (ESRC funded)
MA in Digital Media from Sussex, 2001 (Distinction)
BA (Hons) Media and Performing Arts, University of Ulster, 1996 (First Class)
Professional memberships
Lead Academic and Sound Board Member for NCACE
Area Councillor for Arts Council England
Teaching Specialism
Professor Soyinka supervises projects which place narrative research or storytelling at its heart. Such projects may span several disciplines or may incorporate elements that are not usually found in a standard course of study. For example, current and former PhDs that she has supervised include:
A poetry film that sits at the intersection between film and creative writing courses.
A film script and work of creative non fiction that explores the process of 'writing through grief'.
A new approach to dramaturgy that explores 'non-verbal' scriptwriting techniques for puppet theatre, using a model that can be applied to immersive, high visual and movement-based dramas.
A novel for young people takes the Welsh language and uses it to inspire a version of English. Her supporting thesis explores the opportunities and betrayals inherent in this act.
A new work of creative nonfiction investigating the relationship between self-help and fairy tales.
A science communication thesis that explores multimodal approaches to storytelling.
Bambo's own thesis 'Virtual Futures' explores how multimodal storytelling techniques can be used to engage people in dialogue about sustainability and ecological risk.
Research and academic outputs