Dr
Conrad Moriarty-Cole
Senior Lecturer and Course Leader for Media Communications
School: Bath School of Art, Film and Media
Campus: Newton Park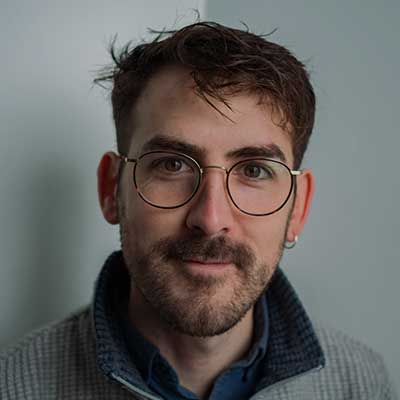 Personal statement
Dr Conrad Moriarty-Cole's research sits at the intersection of cultural studies, media theory, computer science, and philosophy, specialising in Artificial Intelligence and big data.
He is a Senior Lecturer and the Course Leader for BA Media Communications in the School of Art, Film and Media. Before coming to Bath Spa University, Conrad held Lecturer posts in Digital Culture at University of Brighton, as well as Digital Humanities at King's College London, and Cultural Studies at Goldsmiths College.
The core focus of his current research, which he is preparing as a monograph, is a critical reinterpretation of the philosophical legacy of phenomenology, developing a post-phenomenological process metaphysics of technology, nature, and society.
At the core of this work is the question of how to respond to the spread of artificial intelligence in contemporary computational culture. The philosophical and political implications of this line of inquiry are directed towards an intervention into the discourse around politics of technology and the construction of meaning in a digital society.
Conrad also writes and thinks about software, ecology, decolonialism, aesthetics, and most recently, Critical Administration Studies. Alongside this, he is also working on developing an international cultural studies research network.
Outside of academia, Conrad is a Chair of the Board of Directors at the Centre for Progressive Change (CPC), a not-for-profit organisation aimed at building national organising campaigns for a more progressive society.
Academic qualifications
PhD Cultural Studies and Philosophy, Goldsmiths College, University of London
MA Cultural Studies, Goldsmiths College, University of London
BA (Hons) Film Studies and Spanish, University of Portsmouth
Other external roles
Teaching specialisms
Digital Culture
Media Theory
Software Studies
Philosophy