Dr
Helen Moore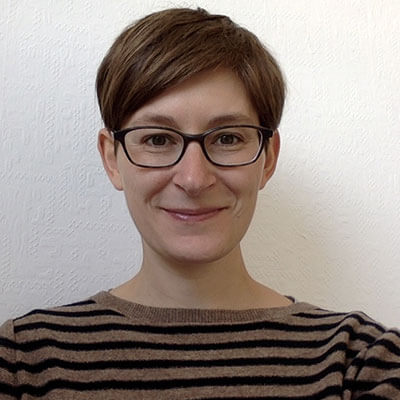 Personal statement
Helen is a Senior Lecturer in Sociology at Bath Spa University. She joined Bath Spa in January 2017, having previously worked at Surrey, Northampton and Kingston universities.
Helen's research interests include: 'race' and ethnicity; social inequalities; the relationship between identity, belonging and place; theories and lay understandings of 'community'; the exclusion of ethnic minorities from the English countryside; social class and cultural capital; and qualitative (especially ethnographic and participatory) research methods.
Academic qualifications
BA, Warwick University
MA, London School of Economics
PGCE, Goldsmiths, University of London
MSc, University of Surrey
PhD, University of Surrey.
Professional memberships
Fellow of the Higher Education Academy (FHEA)
Member of the British Sociological Association.
Subjects
Helen is the module coordinator for:
SC6008: Gender: Mind, Body, Culture
SC5109: Migration: Identity, Belonging and Security.
She also teaches on:
SC4001: Discovering Sociology
SC6010: Migration, Diversity and Racism.
Areas of expertise
'Race', ethnicity and migration
Gender and feminist theory
Social research methods.
Research and academic outputs
article
Moore, H (2019) 'Perceptions of Eastern European migrants in an English village: the role of the rural place image.' Journal of Ethnic and Migration Studies. ISSN 1369-183X
---
article
Frohlich, D.M, Ely, P, Moore, H, Golsteijn, C, Egglestone, P, Mills, J, Rogers, J, Metcalf, T, Stone, K and Menicou, M (2017) 'Designing interactive newsprint.' International Journal of Human-Computer Studies, 104. pp. 36-49. ISSN 1071-5819
---
article
Moore, H (2013) 'Shades of whiteness? English villagers, Eastern European migrants and the intersection of race and class in rural England.' Critical Race and Whiteness Studies, 9 (1). ISSN 1838 - 8310
---
conference_item
Moore, H (2019) Gender, ethnicity and respectability: intercultural encounters in the sexualized space of a provincial nightclub. In: British Sociological Association Conference - Smalltown Boys and Country Girls: Gender and Sexuality within the Rural Idyll, 28 May 2019, University of Lincoln, Lincoln,UK.
---
conference_item
Moore, H (2018) The in/visibility of Eastern European migrants in the English countryside. In: Joint BSA Race & Ethnicity and Ageing, Body & Society Study Group Conference - Invisible Bodies: Race, Embodiment and the Life-Course, 7 September 2018, University of Kent, UK.
---
conference_item
Moore, H (2016) 'Place images', East European migrants and the terms of belonging in a rural English village. In: BSA Annual Conference 2016 - Global Societies: Fragmenting and Connecting, 6 - 8 April 2016, Aston University, Birmingham, UK.
---
conference_item
Moore, H (2012) New geographies of migration & multiculture: the limits of multicultural intimacy in a rural Worcestershire village [podcast]. In: Centre on Migration, Policy & Society (COMPAS) Seminar Series 2012, May 2012, Centre on Migration, Policy & Society (COMPAS), University of Oxford, UK.
---
conference_item
Moore, H (2011) Moving beyond the city: East European migration and the challenges of multiculture in rural England. In: Centre for Research on Nationalism, Ethnicity and Multiculturalism (CRONEM): 7th Annual Conference, 28 – 29 June 2011, University of Surrey, Guildford, UK.
---
conference_item
Moore, H (2010) Shades of whiteness? The intersection of 'race' and class in the English countryside. In: New Territories in Critical Whiteness Studies: Postgraduate Conference, 18 - 20 August 2010, University of Leeds, Leeds, UK.
---