Dr
Nathan Filer
Reader - Creative Writing
Email: n.filer@bathspa.ac.uk
School: School of Writing, Publishing and the Humanities
Website: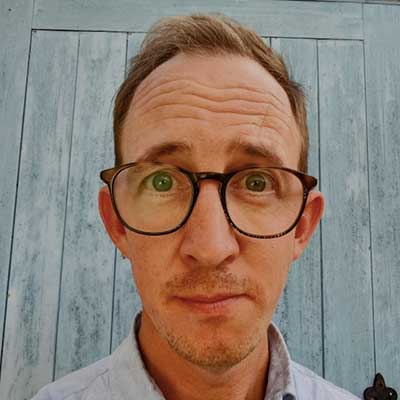 Personal statement
I've worked at Bath Spa University since 2014. I teach across the BA, MA and PhD Creative Writing programmes and am co-director of the Research Centre for Mental Health, Wellbeing and Creativity.
I have a special interest in mental health, having previously worked as a mental health nurse and researcher. My PhD thesis considered how we can tell stories that honour the unyielding complexity of mental illness and trauma while remaining alert to the demands of a general readership.
My novel, The Shock of the Fall (2013), tells the story of a young man navigating psychiatric services following the death of his brother. It was a Sunday Times bestseller and translated into thirty languages. It won the Costa Book of the Year, the Betty Trask Prize, the National Book Award for Popular Fiction and the Writers' Guild Award for Best First Novel. My subsequent book of non-fiction, The Heartland: Finding and Losing Schizophrenia, also published as This Book Will Change Your Mind About Mental Health (2019), was a Sunday Times Book of the Year and was longlisted for the Rathbones Folio Prize, awarded for the finest work of literature, regardless of form, to be published in the English language. The charity Rethink Mental Illness named it as one of their best books of the decade.
I've written essays and articles for the Guardian, New York Times, HuffPost and Asylum Magazine. My BBC Radio 4 documentary The Mind in the Media (2017), which explored portrayals of mental illness in fiction and journalism, was shortlisted for a Mind Media Award. My podcast series Why Do I Feel? was a Financial Times Top 10 Podcast of 2021 and won a Silver Medal at the 2022 Radio Academy ARIAS awards for 'Best Independent Podcast'.
I'm a recipient of The Big Anxiety Prize, awarded in association with the University of New South Wales for 'a creative thinker advancing the discussion of mental health'. I also hold an Honorary Doctorate in Liberal Arts from Abertay University, conferred in recognition of my role in raising awareness of mental health issues through literature.
I am keen to hear from Creative Writing PhD candidates who share an interest in my research specialisms.
Academic qualifications
BSc (Hons) Mental Health Nursing
MA Creative Writing
PhD Creative Writing
Professional memberships
Fellow - Higher Education Academy
Teaching specialisms
Creative Writing (fiction, narrative nonfiction, poetry)
Mental Health Humanities
Psychology and literature
Critical psychiatry
Impact
I have talked about books, mental health, or some combination of both on the BBC Radio 2 Book Club, BBC Radio 3's Free Thinking and BBC Radio 4's Open Book, Front Row, All in the Mind, Word of Mouth, A Good Read and the Today Programme.
I have guest-lectured at many universities in the UK and overseas, including the London School of Economics; University of Hull; St Mary's University; Birkbeck University of London; Stockholm University; University of Pécs in Hungary; Boston University (UK campus); Ithaca College (UK campus); and the School of British Studies at Berlin Humboldt University.
I have also given presentations at national and international literature festivals, including Hay-on-Wye, Birmingham Lit Fest, Wells Lit Fest, Plymouth International Literature Festival, Morges Literary Festival (Switzerland), Festival du Premier Roman in Chambéry (France) and the Rancho Mirage Writers Festival (US).
Journalism and essays
Selected work includes:
Why what we think we know about schizophrenia is wrong - The Guardian, May 2019
Why We Need To Move The Mental Health Conversation Beyond 'Stigma' - HuffPost, June 2019
Life, death and everyday miracles on the NHS frontline - The Guardian Weekend (Cover story), April 2015
Rules of Engagement - New York Times, November 2014
Why you should ignore superlatives on book jackets - The Guardian, July 2014
My Hero: Malala Yousafzai - The Guardian, February 2014
Mental Health Care: Where did it all go so wrong? - The Guardian, January 2014
Research and academic outputs