Dr
Samantha Walton
Reader in Modern Literature
Email: s.walton@bathspa.ac.uk
School: School of Writing, Publishing and the Humanities
Campus: Newton Park
Office: NP.CM.204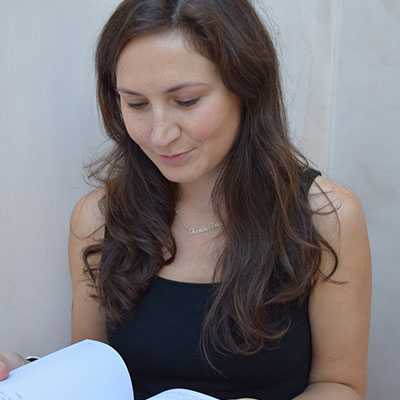 Personal statement
I joined Bath Spa University in January 2014, after finishing my PhD at the University of Edinburgh in 2013. My research is informed by environmental humanities and health humanities perspectives, and I'm interested in ways these two new humanities fields can be brought closer together. As a literature scholar, I specialise in modern and contemporary British literature, with particular interest in psychology and environmentalism; experimental poetics, fiction of the 1920s and 1930s; and the Scottish novelist and nature writer, Nan Shepherd. I co-edit the ASLE-UKI journal, Green Letters: Studies in Ecocriticism. I also write poetry, prose and creative non-fiction.
In my first monograph, Guilty But Insane: Mind and Law in Golden Age Detective Fiction (OUP, 2015), I examined detective writing in the context of psychological innovation, legal debates and literary modernism. In 2018, I completed a book on Nan Shepherd's environmental philosophy, entitled The Living World: Nan Shepherd and Environmental Thought. I am currently working on a cultural history of nature and wellbeing for a non-academic readership. I've also published articles and book chapters on ecological crime fiction, anthropocene feminism, war trauma and ecology, and the literature of women walking.
Between 2016 and 2018, I was an Early Career Leadership Fellow working on the Arts and Humanities Research Council-funded project, Cultures of Nature and Wellbeing: Connecting Health and the Environment through Literature. This involved collaboration with environment and health policymakers and wellbeing practitioners, and original research into what literature tells us about our emotional and ethical entanglements with the living world. Between December 2018 and May 2019, I will be continuing this work as a Carson Writing Fellow at the Rachel Carson Centre, Munich.
My research into environment crisis blends critical and creative approaches. In 2015, I received a British Academy Rising Star Engagement Award for the project 'Landscaping Change: exploring environmental regeneration and conservation using arts and humanities research methods.' The funding supported events at the Arnolfini and Hamilton House in Bristol, exploring issues including soil degradation, water relations, sustainable transport and urban ecology from artistic, poetic, activist, and academic perspectives.
In March 2016, the Landscaping Change conference facilitated interdisciplinary exchange and collaboration, featuring delegates from academic fields of literature, history, geography, theology, heritage, social science and anthropology; creative practitioners of art, theatre, poetry and digital writing; arts activists and environmental campaign groups. These events also sparked exciting new collaborations, including an ecopoetic sound poem written inspired by the Bath-Bristol Railway Path, co-produced with acoustic geographer Jonathan Prior, and a poetry and practice-based collaboration with environmental artist and researcher, Sage Brice.
I've held a number of visiting fellowships and residencies to support different strands of my work.In 2015, I was a Visiting Scholar in the Special Collections Centre at the University of Aberdeen, exploring Nan Shepherd's letters and editorial archive. In June-July 2016, I was Environmental Humanities Research Fellow at the Institute of Advanced Study in the Humanities at the University of Edinburgh, where I previously held a Postdoctoral Fellowship in 2013. I was a Poet in Residence at the ESRC Genomics Policy and Research Forum in 2013, and in July 2015 was Poet in Residence at SoundEye Poetry Festival in Cork, Ireland.
As a poet, I'm interested in avant garde and experimental writing and published my debut collection Self Heal in 2018 (Norwich: Boiler House Press). I co-run Sad Press, which specialises in pamphlets, translations and anthologies of new writing, and organise the Anathema Reading Series in Bristol, with support from Bath Spa University.
I currently supervise doctoral research on contemporary experimental ecopoetics, ecofeminism, and working class ecocriticisms. I am interested in hearing from prospective PhD students hoping to work in any of the fields outlined above, in particular:
Experimental ecopoetics
Scottish and interwar women writers
Mental illness and wellbeing in literature
Health and environmental humanities cross-over projects.
Academic qualifications
PhD University of Edinburgh
MSc Birkbeck, University of London
BA (Hons) King's College London.
Professional qualifications
Certificate in Professional Learning in Higher Education, Bath Spa University 2016.
Professional memberships
Co-editor, Green Letters: Studies in Ecocriticism, the journal of ASLE-UK
ASLE UKI - Member.
Areas of expertise
Writing and the environment
Landscape in literature
Crime fiction
Interwar modernisms
Scottish women writers
Psychology and literature
Innovative poetry, 20th and 21st century.
Current and previous modules at Bath Spa
EN5019 Poetry
EN6018 Writing and the Environmental Crisis
EN6060 Literature and Psychology
MA EN7007 Place, Planet, Location
MA EN7008 Writing Scotland and the Literary Renaissance.
I will be on research leave from November 2016-May 2019.
Research and academic outputs