Sapphire Henriksen
Student Governor
Campus: Locksbrook Campus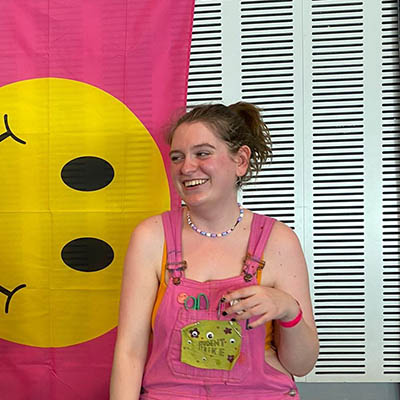 Personal statement
Sapphire is in her third and final year of Creative Arts Practice, and blends her interests in art, protest, and higher education using craftivism. She has run craftivist workshops for the National Union of Students in London's national student strike and Liverpool's NUS National Conference. These have been on the themes of collective power, student voice, and the changes students want to see in the higher education sector.
Sapphire was elected as Senior Academic Representative of Bath School of Art, Film and Media, a role she is reprising for a second term this academic year, following a year spent volunteering as a course representative. She was awarded 'Senior Academic Rep of the Year' by the Student's Union, and the 'Vice Chancellor's Award for Academic Impact' for her work as a Senior Academic Rep.
As a Senior Academic Representative in art and design, Sapphire sits on the gallery committee, overseeing Bath Spa's opportunities for students and external artists to exhibit
on campus. She also has an active role within Decolonise Bath Spa, and sits on the SU Leaders in Diversity Steering Group.