Himalayan Flood Reconstruction
Using multi-disciplinary tools, we developed a new understanding of the 1994 Phojal Nalla flood disaster, offering improved capacity for development proposals of hydro-electric power in the region.
Project background
Funded with generous support from Bath Spa University and the Santander Universities Scheme.
High-magnitude flood events are a common occurrence in the Indian Himalaya. In the Kullu District, seasonal climatic conditions (such as pre-monsoon snowmelt and summer monsoon rainfall) alongside seismic activity are important drivers for the hydro-geomorphic systems. Disasters occur when these significant hazard events combine with vulnerable communities, and are of even greater likelihood when development extends beyond traditionally risk adverse locations.
In this context, the growing demand for electricity in India, especially from renewable sources, brings one such development pressure, as small hydro-electric power generation and transmission is now big business in Himachal Pradesh region. Development planning and assessment would greatly benefit from historical flood knowledge when considering the environmental viability of proposed hydro-power developments.
Whilst existing documentary records of historical floods are very fragmentary in the public domain, there are, however, more hidden and uncollated sources if the time is taken to acquire them. Similarly, there is a wealth of local community knowledge and bio-geomorphic evidence that also provides an opportunity to better understand local flood conditions. Shifting to routine use of these sources will deliver improved knowledge of historical floods, which in turn will contribute to better assessment of future flood risk and more robust evaluation of the viability of proposed hydro-electric power plants.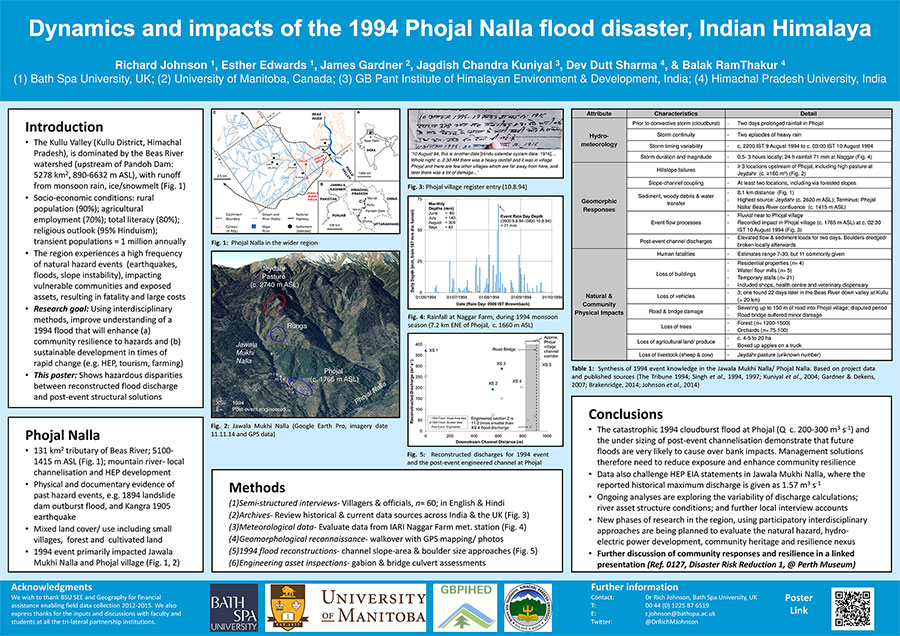 Project milestones
Data collection
Our methods of data collection included the following:
Catchment geomorphological reconnaissance and GPS mapping
Engineering asset inspections
Detailed field-based reconstructions of 1994 flood event flow velocity and discharge using geomorphological, sedimentological and hydraulic tools
Semi-structured interviews, particularly with the village community, to establish knowledge of the 1994 flood occurrence, impacts and responses.
Archival research
Our archival and historical research on this project included:
Extensive archive research in India, UK and USA, amongst private and public collections, to reveal documentary evidence of historical flood, landslide and earthquake occurrence in the Phojal Nalla catchment
Synthesis of hydro-meteorological records, including a unique rainfall record for Naggar (19th century to present)
Review of contemporary documents, with particular reference to hydro-electric power development proposals.
Research outcomes
Details of our research outputs for this project can be found on ResearchSpace.
Additional research outcomes were shared as part of the Perth III: Mountains of Our Future Earth International Conference in October 2015 (see poster above).
More detailed considerations in respect of hydro-power development issues were presented at the Fifth International Palaeoflood Conference in Rapid City, USA (September 2016).