HiFlo-DAT Flood Hazard Database
HiFlo-DAT works to create a new historical flood hazard database for evolved Disaster Risk Reduction in the Kullu District, Indian Himalaya
Project background
Environmental hazards such as floods negatively impact the health and prosperity of people around the world, especially the vulnerable. Society recognises that reducing these disaster impacts is central to achieving sustainable development.
The current thinking of the United Nations is outlined by the Sendai Framework for Disaster Risk Reduction (2015-2030). This framework outlines two key proponents of risk reduction:
Resilience (such as better disaster awareness, preparation, response, recovery)
Shared responsibility
India has signed up to this vision, and is working towards solutions via the Indian National Disaster Management Plan (2016) and the multi-national Asia Regional Plan (2016). An early priority of these policies is to improve 'disaster awareness', incorporating a 2020 target to develop methods for creating disaster databases to help reduce future impacts.
A summary of the project, outlining our methods and key partners, is available on our presentation poster.
Funding
We are grateful to the following organisations for providing funding for this project.
University Grants Commission (UGC): Rs. 1,533,233
UK-India Education and Research Initiative (UKIERI): £21,281
Bath Spa University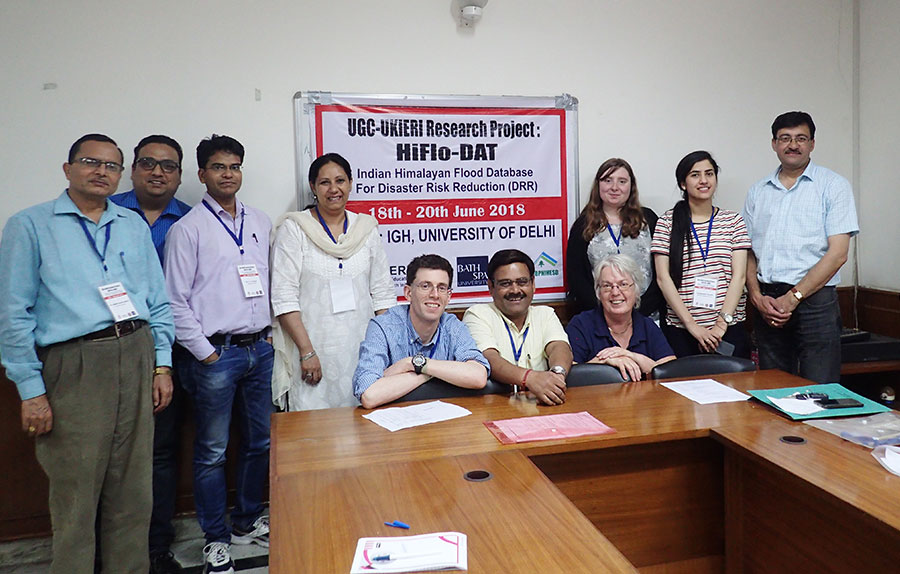 Project milestones and goals
Partnership and collaboration
This project will rely on the establishment of key partnerships between the following groups:
Academic staff in both India and the UK
Students working in partnership with the above
Indian government agencies
NGOs
Kraft Films (led by a Bath Spa alumni)
These parties will work together to discuss, develop, evaluate and share a trial database.
Research
The database will be constructed on the basis of research on historical floods and climate conditions in the Kullu Valley (Himachal Pradesh). The team are using English language newspaper accounts held in the British Library (London) and Nehru Memorial Museum and Library (Delhi) to supplement existing archive materials and meteorological data compiled by the academic project partners.
Main goals
The main goal of this project is to obtain, evaluate and share knowledge to help better manage floods in the Indian Himalayas, ultimately contributing to wider international targets as outlined above.
Benefits
We envision the benefits of this project to include:
Growth in the academic, research, andteaching links between India and the UK - helping to develop the skills and knowledge of the next generation
Provision of a trial database to help Government and NGO agencies better undertake flood management in the Kullu Valley,
Development of a basic method and framework for such risk analysis that can be used in other parts of India.
Public engagement and dissemination
The database will be made publicly available and findings will be communicated using our webpages, social media, academic conferences, public lectures and - more importantly - via a policy-practice communique (in Hindi and English) alongside an introductory film.
Please also see our public lecture about the project from the University of Delhi above (October 2019). This has also been outlined in a blog post on the Bath Spa blog.