Dance
BA (Hons)
Undergraduate degree - single or combined honours
UCAS codes: Institution B20, Course W500 or W501 (with professional placement year)
Key facts
Award

BA (Hons) Dance

School/s

Bath School of Music and Performing Arts

Campus or location

Newton Park

Course length

Three years full time, or four years full time with professional placement year.
UCAS codes

Institution Code: B20
Course Code: W500 or W501
Campus Code: A,BSU
Entry requirements
We accept a wide range of qualifications for entry to our undergraduate programmes. The main ones are listed under 'Typical offers' in the main column below. For combined courses, please check both subjects. If your qualification is not listed, please email admissions@bathspa.ac.uk with your specific details.
Build the skills you need to become a creative and articulate dance professional.
Experience rigorous practical training in choreography, technique and performance.
Gain industry experience and contacts with weekly classes from our extensive network of professional dance artists and companies.
100% student satisfaction (NSS 2021) and top 20 for Teaching Quality (Sunday Times Good University Guide 2021).*
---
For the 2021-22 academic year we have made a number of changes to teaching and learning in order to enable blended learning during the ongoing uncertainty around the Covid-19 pandemic.
The courses below will have specific changes for 2021-22, indicated in the Programme Change Form. We will revert to our published curriculum as far as possible for 2022-23. We will continue to keep the situation under review in light of ongoing Government guidance. The Programme Document beneath the main image shows you the programme specification as normally delivered.
---
Immerse yourself in an exciting and challenging artistic environment. By studying Dance at Bath Spa University, you'll be part of an exciting training programme with a strong practical focus.

Creativity and performance lie at the heart of the course. These, as well as the breadth of opportunities we offer, make our Dance course distinctive. The course suits creative individuals who are looking for a degree that is both physically and intellectually stimulating.
Find out more about our Dance department or read below for more course information.
100% student satisfaction
100% of final year students were satisfied with Bath Spa's Dance degree this year (source: NSS 2021).
94% satisfied with teaching
94% of final year students were satisfied with teaching on Bath Spa's Dance degree (source: NSS 2021).
Top 20 for teaching quality
We're in the top 20 UK universities for teaching quality in Drama, Dance and Cinematics (source: Sunday Times Good University Guide 2021).
Create. Perform. Transform.
Immerse yourself in an exciting and challenging artistic environment with a strong practical focus. Find out more about our Dance department.
---
Open Days
Get a taste of university life – come to one of our Open Days.
---
"I truly feel lucky that I spent three years in a place where all my aspirations and ideas, even the craziest ones, were respected and supported. This course gave me everything I needed to become a skilful dancer and a creative artist."

Delicia Sefiha, BA Dance graduate
"I could not be more proud to say that I was trained at Bath Spa, and no matter where we are or what we do, the course has not only set us up for the 'real world' but has been invaluable in shaping our artistic thoughts and confidence."

Sarah Dyke, Dance graduate
What you'll learn
Overview
You'll find yourself immersed in a world of exciting choreographic opportunities, broadening your understanding of performance making. You'll regularly present your work in a variety of performance projects, with lots of opportunities to work alongside professional artists and companies. We'll encourage you to develop a critical and analytical mindset that will support your creative enquiry.

Technique forms an important part of the course, full-time dance students benefit from four to five classes in the studio on a regular basis. Cunningham and Limon­ based classes, somatic practice and contact improvisation are all part of your technical training and give you the chance to develop into a strong and confident dancer.

Each year you'll take performance modules with visiting professional companies. As part of this, you'll take part in intensive projects that build your skills as a maker and performer. We'll introduce you to the exciting world where dance intersects with other art forms to make performance work.

Please note, if you choose to study dance as a combined award, you won't study all the available modules. You can choose to study a joint degree, or you can place greater emphasis on one subject by taking it as a major.
Course structure
Year one
Your first year will be a fast-paced, challenging experience that builds your skills in the key areas of performance, creativity and critical thinking. You'll work on regular performance projects, creating solo, small group and large ensemble work. We introduce you to new ways to think and move that will help you to broaden your skills as a dance artist.
Regular sessions with visiting companies and artists will help you expand your understanding of the dance industry and inspire you to think about your own career aspirations.
Year two
You'll stretch your creative and performance skills in exciting new directions. A wide range of practical sessions will deepen your understanding of how performance work can be created for different contexts; we encourage you to see yourself – and the work you make – within a broader perspective.
The visiting guest artist programme continues to provide you with inspirational workshops and residencies that help to build your knowledge of the field and inform your artistic practice.
Year three
You'll focus on developing a specialist area. Modules allow you to follow a specific pathway that supports your interests, such as performance, choreography, teaching or dance movement therapy. You'll embark on a large scale performance project, as well as completing a work placement with a professional dance organisation and undertaking an independent project that you design and manage to completion.
Regular individual tutoring, with specialist dance careers staff, will help you build a plan for after you graduate. We pledge to continue to support you as part of our graduate alumni scheme, no matter how long ago you graduated.

How will I be assessed?
We'll assess your work in a variety of ways such as practical performances, presentations, portfolios and essays. Practical projects may be assessed on your creative process, the final product or both.
How will I be taught?
The course has a strong practical focus with workshops, technique classes and choreographic laboratories. These are led by qualified staff and visiting choreographers and artists.
Digital technology plays a significant role in the course; we apply it to creative practice as well as using it to teach. Screendance, and the integration of digital media in live performance work is a distinctive feature of the course.
Course modules
This course offers or includes the following modules. The modules you take will depend on your pathway or course combination (if applicable) as well as any optional or open modules chosen. Please check the programme document (below the main image on this page) for more information.
Year one (Level 4) modules
Creative Dance Practice 1
Digital Performance Practice 1
Body in Performance 1
Creative Dance Practice 2
Somatic Improvisation
Body in Performance 2
Year two (Level 5) modules
Creative Dance Practice 3
Performance in Context 1
Performance Project
Creative Dance Practice 4
Digital Performance Practice 2
Performance in Context 2
Professional Placement Year
Year three (Level 6) modules
Professional Project: Dance Performance
Body in Performance 3
Somatics for Performance and Wellbeing
Dance Research Project
Dance Independent Study
Professional Practice
Creative Enterprise Project 1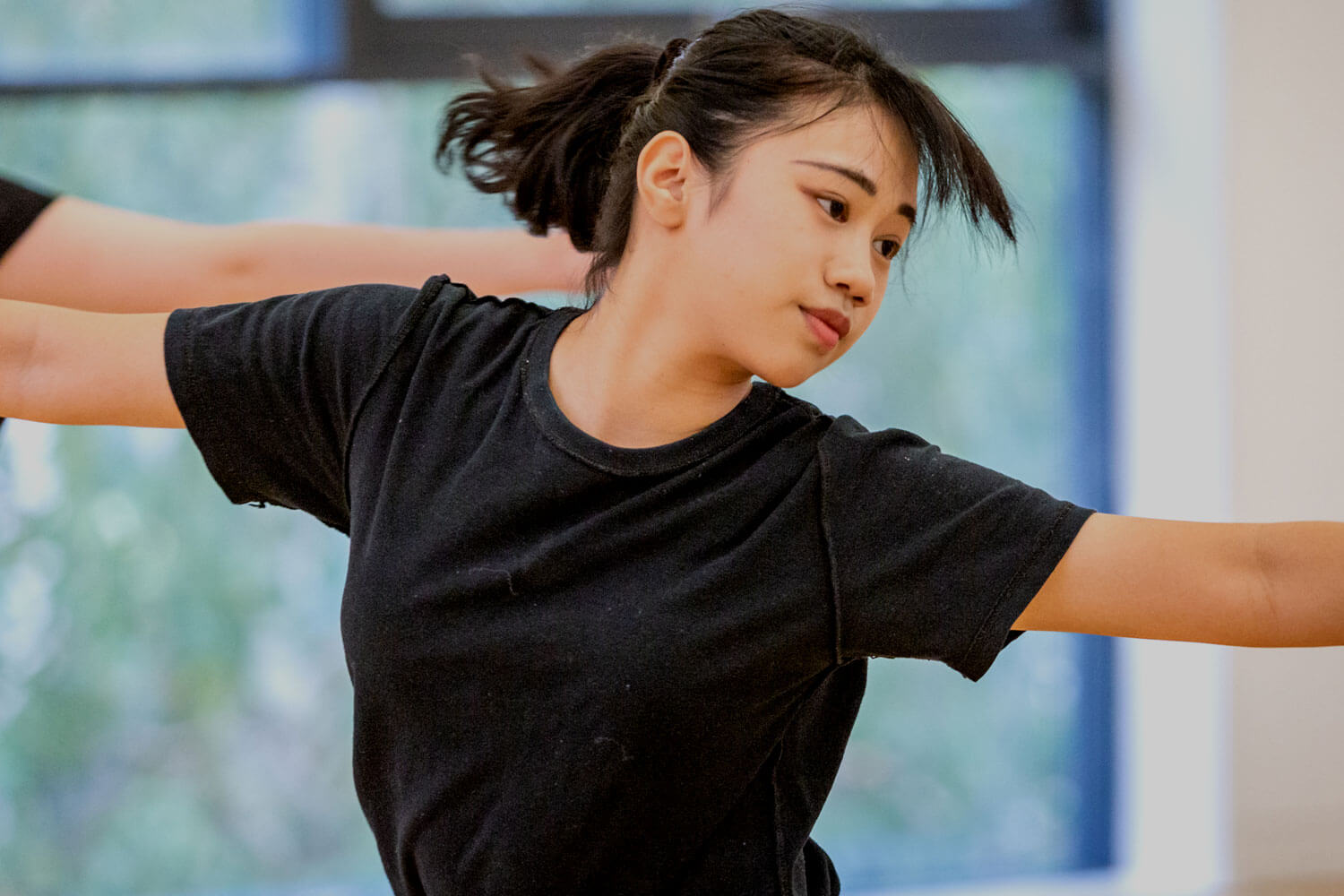 Opportunities
Work placements, industry links and internships
Guest artists and companies
Previous guests who have worked with our students include: Jasmin Vardimon Dance Company, Bedlam Dance Company, Earthfall , Impermanence Dance Theatre, Lila Dance, Karla Shacklock Dance, Wendy Houston, Alexander Whitely, Protein Dance, Maresa von Stockert, Jean Abreu, Laila Diallo.
Careers
Our dance graduates work in a range of professions including:
Performance
Choreography
Community dance work
Teaching
Dance movement therapy
Arts management / administration
Graduates have been employed by organisations including: Earthfall Dance, Maresa Von Stockhert, Bath Dance, Institute for Contemporary Interdisciplinary Arts, Hofesh Shechter, Pretty Good Girl Dance Theatre, Theatre Bristol, Karla Shacklock Dance, Royal Academy of Dance, Zinc Arts, Citrus Arts, Kapow Dance and numerous schools, colleges and universities.
Performances and events
As a Bath Spa dancer, you'll be part of a busy events calendar that will allow you to both participate in and watch professional dance performances. We'll encourage you to participate in dance festivals and exhibitions, and you'll have the opportunity to apply for choreographic platforms and screen dance festivals.
Professional placement year
Overview
This optional placement year provides you with the opportunity to identify, apply for and secure professional experience, normally comprising one to three placements over a minimum of nine months. Successful completion of this module will demonstrate your ability to secure and sustain graduate-level employment.
By completing the module, you'll be entitled to the addition of 'with Professional Placement Year' to your degree title.
Preparation
Before your Professional Placement Year, you'll work to secure your placement, constructing a development plan with your module leader and your placement coordinator from our Careers and Employability team.
How will I be assessed?
On your return to University for your final year, you'll submit your Placement Portfolio, detailing your development on your placement.
"I can't thank you all enough for all of your help and support. Since returning to Ireland, I have got so much work..."

Eimear Byrne, BA Dance graduate
Facilities and resources
Where the subject is taught
The course is taught at our Newton Park campus.
You'll work in our dance studios, which are fully equipped for choreography, performance and work with digital media. We regularly host professional performances and workshops from leading dance artists in the University Theatre.
Bath Spa University offers many other excellent facilities including:
Mac editing suite
Green screen facilities
Resources
You can hire out equipment using SISO, Bath Spa University's free equipment loan service. We provide a huge variety of equipment including laptops, ipads, projectors and cameras.
Our greatest resource is, perhaps, the professionalism and experience of the tutors who teach on the course and our professional associates and partners.
Fees
Please note: Students from the EU, EEA and Switzerland are not generally eligible for the UK (Home) fee status. Please refer to the international student rate. Irish citizens and those granted Settled status under the EU Settlement Scheme are eligible for UK (Home) fee status. There are also other circumstances where this may apply: See UKCISA for more information.
UK students full time
2021/22 Entry
Course fees
| | |
| --- | --- |
| Year 1 | £9,250 |
| Year 2 | Published Jan 2022 |
| Year 3 | Published Jan 2023 |
2022/23 Entry
Course fees
| | |
| --- | --- |
| Year 1 | Published Jan 2022 |
| Year 2 | Published Jan 2023 |
| Year 3 | Published Jan 2024 |
2023/24 Entry
Course fees
| | |
| --- | --- |
| Year 1 | Published Jan 2023 |
| Year 2 | Published Jan 2024 |
| Year 3 | Published Jan 2025 |
International students full time
2021/22 Entry
Course fees
| | |
| --- | --- |
| Year 1 | £14,925 |
| Year 2 | Published Jan 2022 |
| Year 3 | Published Jan 2023 |
2022/23 Entry
Course fees
| | |
| --- | --- |
| Year 1 | Published Jan 2022 |
| Year 2 | Published Jan 2023 |
| Year 3 | Published Jan 2024 |
2023/24 Entry
Course fees
| | |
| --- | --- |
| Year 1 | Published Jan 2023 |
| Year 2 | Published Jan 2024 |
| Year 3 | Published Jan 2025 |
All students full time - with professional placement year
During the placement year, the fee is reduced to 20% of the full time fee. Otherwise, fees are the same as for full time study. This applies to UK, EU and International students.
"The Bath Spa dancers were an absolute delight to teach, and very responsive to material... I've gone on to hire a Bath Spa graduate dancer to participate in my professional dance project, where she will perform across the South West."

Steve Johnstone, Off The Map Dance Company
Interested in applying?
What we look for in potential students
We are looking for individuals who are:
strong and confident performers;

creatively open-minded and willing to take artistic risks;

good team players;

passionate about dance and prepared to work hard to see results
Typical offers
We accept a wide range of qualifications for entry to our undergraduate programmes. The main ones are listed below:
A Level - grades BCC-CCC including a Grade C in Dance, Performing Arts or a related subject preferred.
BTEC - Extended Diploma grades from Distinction, Merit, Merit (DMM) to Merit, Merit, Merit (MMM) in a related subject, or evidence of experience in Dance or Performing Arts.
T Levels – grade Merit-Pass (C+) preferred in a relevant subject.
International Baccalaureate - a minimum of 27 points are required in addition to evidence of involvement in dance or performing arts.
Access to HE courses - typical offers for applicants with Access to HE will be the Access to HE Diploma or Access to HE Certificate (60 credits, 45 of which must be Level 3, including 30 at merit or higher) together with evidence of involvement in dance and performing arts.
English Language Requirements for International and EU Applicants
IELTS 6.0 - for visa nationals, with a minimum score of IELTS 5.5 in each element.
Course enquiries
For further information about the programme or entry requirements, please email us at admissions@bathspa.ac.uk.
How do I apply?
Ready to apply? Click the 'apply now' button in the centre of this page.
Need more guidance? Head to our how to apply pages.
Interview and portfolio guidance
If you apply, we'll ask you to attend an audition day so that we can assess your suitability for the programme. The audition gives you a chance to demonstrate your physical dance skills and your creative abilities. Your personal statement is your chance to show your skills and experience in dance. We want to know about what inspires you and what you hope to achieve with your training.
Auditions will consist of:

Technique Class
We are looking for commitment, enthusiasm and physical evidence of dance training to an appropriate level (alignment, accuracy, energy).

Creative Workshop
We are looking for creativity and imagination, the ability to work as a group and to create and present work in a contemporary style.

Course Overview/ Q&A Session
This session should clarify what you can expect from the course in terms of practical and written requirements, workshops, projects and placements. We will also be able to answer individual questions to help you to decide whether this course is right for you.

Eligible applicants will be invited to auditions at our Newton Park Campus between December and March.We do not charge an audition fee.
Three year course
With placement year