Acting
BA (Hons)
Undergraduate degree - single honours
UCAS codes: Institution B20, Course W410 or RTFD (with professional placement year)
Key facts
Award

BA (Hons) Acting

School/s

Bath School of Music and Performing Arts

Campus or location

Newton Park and related sites in Bath

Course length

Three years full time, or four years full time with professional placement year. Part time available.
UCAS codes

Institution Code: B20
Course Code: W410 or RTFD
Campus Code: A,BSU
Entry requirements
We accept a wide range of qualifications for entry to our undergraduate programmes. The main ones are listed under 'Typical offers' in the main column below. For combined courses, please check both subjects. If your qualification is not listed, please email admissions@bathspa.ac.uk with your specific details.
BA Acting trains you to become a versatile, creative and employable performer, with skills spanning stage, screen, television and radio.
Develop your expertise in classical and contemporary actor training in live and recorded media.
Work with industry professionals to develop valuable relationships and key networking skills.
Gain extensive technical skills (voice, movement, singing, comedy, acting for camera) to give you the edge in your chosen career.
This highly diverse professional training course provides you with the key practical and academic skills required to be at the forefront of emerging opportunities in the performing arts industry.
As a student on the BA Acting course, you'll be part of the prestigious Bath School of Music and Performing Arts - a flourishing creative hub of ideas and collaborative practice. You'll benefit from innovative collaborations with other courses in the school, including Theatre and Digital Production, Film and Music students.
Our goal is for you to not only seek work, but also to create it. Bath Spa Acting graduates work in acting, performing arts, regional and commercial theatres, television productions and feature films. Others are also running national and international theatre companies, heading up national arts programmes, working as producers and creatives, or have gone on to further, specialised study on one of our postgraduate courses, such as MA Directing or MA Performing Shakespeare.
---
Open Days
Get a taste of university life – come to one of our Open Days.
---
What you'll learn
Overview
This is a challenging Acting degree, taught by experienced and specialised staff, that reflects the considerable stamina and continued application required to become the actor that you want to be. Our excellent teaching reputation combines rigorous practical training with research and analytical skills.
BA Acting provides regular technical classes to develop your voice, singing, movement and comedy skills to a professional level. In classes and performance projects, you'll explore the key processes and practitioners that inform contemporary approaches to acting.
In your second year, stage combat and on-camera acting and training classes help you develop work that is practical, skills-based and industry-aware. Underpinning this is an emphasis on the vital interaction between academic research and acting processes.
Our Acting course is designed to equip you to succeed in an increasingly competitive profession. You'll develop creative and transferable skills to become an independent thinker and motivated artist. We support your professional training with advice on how to optimise your creative and professional engagement with future employers (communication skills, CV, headshot, interview technique, industry correspondence, self-taping and career plan). You'll compile a live digital presence and consider all aspects of freelancing, working in performance-related careers, and/or undertaking further study.
Course structure
Year one
The first year introduces you to the key practitioners and processes that underpin actor training, alongside the foundations for understanding the interconnectivity between composition, rehearsal, research and performance.
You'll develop such skills as script analysis, breaking down a scene, researching the world of the play, interpreting character, exploring subtext and tools for devised, self-motivated work.
This will be balanced by technical classes, which will introduce you to professional-level movement, and vocal and comedic skills that will enable you to work effectively both as an individual and as part of an ensemble.
Year two
This year advances your knowledge and application of the interpretation, analysis and performance of text, providing you with industry-focused projects in order to extend your understanding and application of performing in, as well as creating, drama.
Alongside your regular technical classes, you'll receive acting for camera training and stage combat classes, designed to enhance your skills-base and prepare you for production projects in year three.
Year three
This is your apprentice year, when we'll encourage you to take your skills into an outward-facing environment.
You'll become a member of Bath Spa Productions, a professional company that produces work across a range of live and recorded media. All work during this year is designed to encourage your understanding of professional and industry specific opportunities, enhancing your self-awareness of your own creative strengths, and facilitating your expression of ideas within future professional and/or academic contexts.

The production environment, focused on live and recorded media during this year, will test your ability to work collaboratively by connecting your acting work with design, technical, management, music and other production elements. Within this collaborative environment you're expected to meet industry-standard expectations and work within professionally recognised timeframes.
How will I be assessed?
You'll be assessed through performance work, essays, evaluations and presentations. Over the three years, 80% of assessment is practical and 20% is written.
In your final year, you'll also be assessed on either a 5,000 word academic essay based on a practical project of your choosing, or a traditional dissertation.
How will I be taught?
You'll learn in a wide variety of settings, including regular practical skills and acting classes, seminars, workshops, tutorials, rehearsals, blogs and journals, group discussion and collaborative learning.
The course is teaching-intensive; over 50% of your hours are spent in class and you'll have an average of 18 contact hours per week in your first two years, with more independent rehearsals in your graduating year. You need to complement this with equivalent hours of independent study and preparation.
Course modules
This course offers or includes the following modules. The modules you take will depend on your pathway or course combination (if applicable) as well as any optional or open modules chosen. Please check the programme document for more information.
Year one (Level 4) modules
Introduction to Acting Processes
Composition
Performance Skills 1
Acting Processes
Ensemble Practice
Performance Skills 2
Year two (Level 5) modules
Actor Interpreter
Actor Creator
Performance Skills 3
Creating with Shakespeare
Performance Skills 4
Theatre Directing and the Production Process
Acting New Dramaturgies
Professional Placement Year
Year three (Level 6) modules
Acting Research Project
Acting Independent Study
Production Project - Acting in a Directed Play
Production Project - Making Performance
Production Project - Mediated Performance
Rehearsed Reading
The Professional Actor
Opportunities
Work placements, industry links and internships
We work with practitioners and producers in theatre, film and television, as well as innovative theatre companies and established regional and national theatre venues.
The course has a successful professional partnership with The Theatre Royal Bath.
Recent collaborators include: playwright Phillip Ridley; directors Ian Nicholson, Matt Ball, Max Barton, Kirsty Davies, John Ward, Lazarus Theatre Company, SpecifiQ, Dan Horrigan of Sky of the Bird; Dr Rebecca Loukes from RedCape; Oliver Jones from Creativity Works and Blind Eye Theatre Company; Toby Peach, Associate Artist / Artistic Director of Birds Anonymous Theatre Company; Pigdog Productions; David Glass; and Ed Viney, who was Creative Associate at the Bush Theatre and Director in Residence at the National Theatre Studio.
Careers
Recently our graduating students performed in a national tour by Taking Flight Theatre. Three graduates were chosen by the David Glass Ensemble to perform in the internationally acclaimed Bleak House, now preparing for an international tour. Several have established successful theatre companies: Nitty Gritty Theatre, Black Dog Productions and The James Company.
Other graduates are working on BBC's Poldark, a Warner Bros film, and voicing a major character in an animated film. Students recently performed at Santa Monica College, USA. We have regular workshops with Redcape Theatre and fantastic partnerships with Lazarus Theatre Company, The David Glass Ensemble and Theatre Royal, Bath.
Our graduates also engage in further study or work actively in allied performance roles, as artistic directors, writers, arts officers and teachers.
Graduate successes
Connor Crawford (2019 graduate) received a place in the National Youth Theatre's REP Company, a nine-month industry based training opportunity culminating in three professional shows in London and a tour throughout the UK.
Matthew Emeny (2015 graduate, and 2018 graduate of MA Creative Producing) is an associate artist at the award-winning Natural Theatre Company and also works independently under the banner Calf 2 Cow. His theatre and film work has received awards and critical acclaim, including Sir Kenneth Branagh's "Best Inspired by Shakespeare" award for his short film adaptation of Othello.
Matthew Michaelson (2018 graduate) played the role of a skinhead thug in a Bollywood production 83, produced and starred in his own short war film METAL and has appeared in gritty crime drama Web Crawler.
Tommy Carmichael (2016 graduate) currently performs with Immersion Theatre Company and has worked with several companies including the David Glass Ensemble, Lazarus Theatre Company and Black Dog Production.
Samuel De La Torre (2017 graduate) is a Bath/Bristol based actor and theatre maker running his own company, AllouAqui Dance Theatre.
Nikki Jackson (2018 graduate) has performed in Sweeney Todd, Tread the Boards Theatre Company based in Stratford-upon-Avon.
Nik Aarre (2017 graduate) has appeared in several feature films and a new TV drama, and is now returning to Bath Spa to study for his MA in Directing.
Nim Ventura has been performing in comic TV programmes including Modern Horror Stories for Comedy Central UK, Strictly Red Carpet for BBC 3, and So Beano for Sky Kids.
Harriet Louise Wyatt is heading up a whole new arts programme for The Corn Exchange, Newbury, called Ageing Creatively.
Dominic Thompson and Jess Melia (2016 graduates) are Artistic Directors of Gritty Theatre Based in The Midlands.
Emi Howells (2014 graduate) runs Howell Productions and recently performed in the latest production: Nazanin's Story at The Houses of Parliament.
Our graduates have established successful theatre companies of their own: Calf 2 Cow, Nitty Gritty Theatre, Black Dog Productions and The James Company. Others have worked on BBC's Poldark, voiced a major character in an animated film, and worked for Warner Bros and several Netflix productions.
Course delivery in 2022/23
Our focus is on providing the best possible in-person experience for you and your peers whilst maintaining the most successful aspects of online delivery that we know will benefit your learning. Learn more by reading our programme delivery statement.
Professional placement year
Overview
This optional placement year provides you with the opportunity to identify, apply for and secure professional experience, normally comprising one to three placements over a minimum of nine months. Successful completion of this module will demonstrate your ability to secure and sustain graduate-level employment.
By completing the module, you'll be entitled to the addition of 'with Professional Placement Year' to your degree title.
Preparation
Before your Professional Placement Year, you'll work to secure your placement, constructing a development plan with your module leader and your placement coordinator from our Careers and Employability team.
How will I be assessed?
On your return to University for your final year, you'll submit your Placement Portfolio, detailing your development on your placement.
Facilities and resources
Where the subject is taught
Our Oldfield Park Theatre workshops are a new purpose-built facility in central Bath for second and third year Acting students. These facilities include:
Four rehearsal studios and Black Box performance space
Breakout spaces and quiet study areas
Lecture and seminar rooms
25-person IT suite
Fully-equipped carpentry workshop and teaching space
Fully-equipped costume making workshop
Prop making workshop.
You'll also have access to facilities on our other campuses, including:
State-of-the art television studios - Newton Park
University Theatre - Newton Park
Fees
Please note: Students from the EU, EEA and Switzerland are not generally eligible for the UK (Home) fee status. Please refer to the international student rate. Irish citizens and those granted Settled status under the EU Settlement Scheme are eligible for UK (Home) fee status. There are also other circumstances where this may apply: See UKCISA for more information.
UK students full time
2022/23 Entry
Course fees
| | |
| --- | --- |
| Year 1 | £9,250 |
| Year 2 | Published Jan 2023 |
| Year 3 | Published Jan 2024 |
2023/24 Entry
Course fees
| | |
| --- | --- |
| Year 1 | Published Jan 2023 |
| Year 2 | Published Jan 2024 |
| Year 3 | Published Jan 2025 |
2024/25 Entry
Course fees
| | |
| --- | --- |
| Year 1 | Published Jan 2024 |
| Year 2 | Published Jan 2025 |
| Year 3 | Published Jan 2026 |
UK students part time
2022/23 Entry
Course fees
| | |
| --- | --- |
| Year 1 | £4,625 |
| Year 2 | Published Jan 2023 |
| Year 3 | Published Jan 2024 |
2023/24 Entry
Course fees
| | |
| --- | --- |
| Year 1 | Published Jan 2023 |
| Year 2 | Published Jan 2024 |
| Year 3 | Published Jan 2025 |
2024/25 Entry
Course fees
| | |
| --- | --- |
| Year 1 | Published Jan 2024 |
| Year 2 | Published Jan 2025 |
| Year 3 | Published Jan 2026 |
International students full time
2022/23 Entry
Course fees
| | |
| --- | --- |
| Year 1 | £15,450 |
| Year 2 | Published Jan 2023 |
| Year 3 | Published Jan 2024 |
2023/24 Entry
Course fees
| | |
| --- | --- |
| Year 1 | Published Jan 2023 |
| Year 2 | Published Jan 2024 |
| Year 3 | Published Jan 2025 |
2024/25 Entry
Course fees
| | |
| --- | --- |
| Year 1 | Published Jan 2024 |
| Year 2 | Published Jan 2025 |
| Year 3 | Published Jan 2026 |
All students full time - with professional placement year
During the placement year, the fee is reduced to 20% of the full time fee. Otherwise, fees are the same as for full time study. This applies to UK, EU and International students.
Interested in applying?
What we look for in potential students
We look for artistic and intellectual potential. Are you curious about your subject, hard-working, imaginative and playful? Do you enjoy working with others and are you hungry to learn?
If so, this could be the course for you.
Typical offers
We accept a wide range of qualifications for entry to our undergraduate programmes. The main ones are listed below:
A Level - grades BCC-CCC including a Grade C in Drama, Theatre Studies or Performing Arts preferred.
BTEC - Extended Diploma grades from Distinction, Merit, Merit (DMM) to Merit, Merit, Merit (MMM) in a related subject, or evidence of experience in Performing Arts.
T Levels – grade Merit-Pass (C+) preferred in a relevant subject.
International Baccalaureate - a minimum of 27 points are required in addition to evidence of involvement in drama or performing arts.
Access to HE courses - typical offers for applicants with Access to HE will be the Access to HE Diploma or Access to HE Certificate (60 credits, 45 of which must be Level 3, including 30 at merit or higher) together with evidence of involvement in drama and performing arts.
English Language Requirements for International and EU Applicants
IELTS 6.0 - for visa nationals, with a minimum score of IELTS 5.5 in each element.
Course enquiries
For further information about the programme or entry requirements, please email us at admissions@bathspa.ac.uk.
How do I apply?
Ready to apply? Click the 'apply now' button in the centre of this page.
Need more guidance? Head to our how to apply webpages.
Interview and portfolio guidance
We invite all eligible candidates to attend an audition.

Auditions begin at 9am and run to around 5pm. There are six elements to the day:
Welcome - Q and A about the programme
Movement workshop
Text workshop
Monologue presentations
Tour of Oldfield Park facilities
Interview
Candidates must prepare a contemporary monologue. You'll receive further information if you're invited to audition.
The audition panel members consider the academic reference, academic qualifications and personal statement of each candidate, as well as the work in the sessions. In the interview, the workshops and monologue presentation elements are considered and the panel scores each candidate against the following criteria:
Responsiveness to ideas and direction
Creativeness of responses
Spontaneity demonstrated in tasks
Proficiency of skills
Depth of comprehension
Approachability.
We do not charge an audition fee.
International students must present two contrasting monologues via the internet in Windows or Quicktime compatible video. The monologues should be performed and recorded for the specific purposes of audition and not be edited work from other videos. The panel will also interview the candidate via phone or Skype.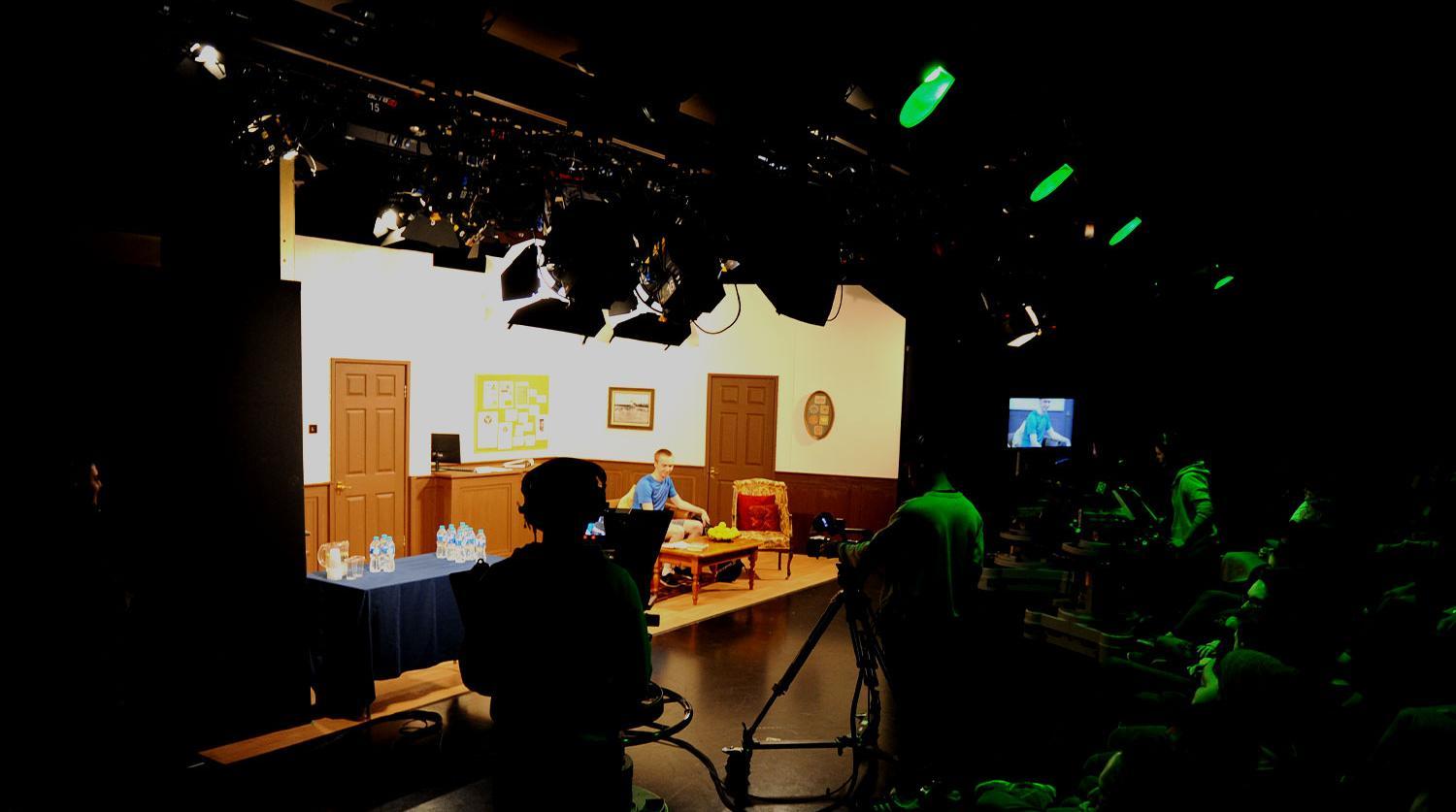 Three year course
With placement year
Image credits: Production images by Nick Spratling @nick_theofficialphotographer. Majority of headshots by M.A.D Photography. Dom Thompson by Sorrel Price Photography.