Dominic Thompson
BA (Hons) Acting graduate
Department: Bath School of Music and Performing Arts
Website: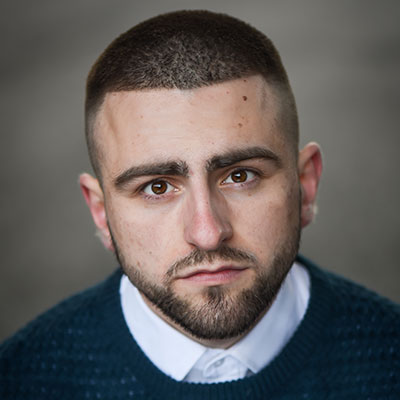 Student/Alumni profile 
Course studied: BA (Hons) Acting
Graduating year: 2016
Dominic is a Birmingham based actor and theatre producer. Recent acting projects have achieved notoriety on YouTube and local press; 'The Return of the Ring' gaining 260,000 YouTube views in two weeks, and a performance of his monologue reaching BBC WM. Local gang film 'The Initiation' made it to a press blog on the Birmingham Mail which then went to print.
His company, Gritty Theatre, has produced 13 productions and over 90 live performances that have been seen from Edinburgh to Brighton. In 2018, Gritty's first production, Bones, starring Dominic himself, transferred to The King's Head Theatre which was the first of two London transfers in the same year. Gritty's 13th production Yen transferred to The Bunker Theatre in June.
"The best thing about the course was the lectures! Some of the skills I've learned have changed my life for the better, and that's not just in industry."
"What are the highlights of your time at Bath Spa?"
Being part of a creative community. I still have contacts and friends that continue to help in the industry today.
"How did the course support your steps into industry?"
The course gave me strong training, industry links and a flexibility that allowed you to cross from course to industry with minimal stress.
"I chose the BA Acting course at Bath Spa because..."
I wanted to be an actor and I was impressed with what I seen from the lectures on the audition date.
"My advice for current students..."
Don't wait, just do it!
"I recommend Bath Spa because..."
It's beautiful! Coming from a city like Birmingham, it was a massive culture change but a very knowledgeable experience.