More than an art shop, we're also a one-stop shop for various services available to not only Bath Spa staff and students, but also to the general public.
Based at Locksbrook Campus, the art shop is stocked with a wide range of specialist materials including various papers, inks, professional paints, printmaking supplies, drawing tools and much more.
Our highly-experienced staff are also on hand to offer advice and guidance relating to art materials and techniques, and order specifically required materials whenever possible.
We offer:
10% discount to students, staff and alumni
A wide range of papers, printmaking supplies and art materials
Advice about materials and products (how to combine media, affordable options, etc.)
Taking payment for short courses
Ordering in specialist materials
Space to Sell - student, alumni and other artists' work for sale
A selection of Wunderkammer Press books
Space to Sell
Supporting our talented community of students and alumni with a space to promote and sell their work.
Short Courses
Our short courses are open to the public as well as Bath Spa students and staff, and are a great way to build skills and try new things. The art shop is a convenient place to pay for your course and purchase supplies.
View our short courses
Wunderkammer Press
Wunderkammer Press provides a space for experimentation in art and design publishing through beautifully produced and thought provoking work, featuring many Bath Spa artists. A selection of these books is available in the art shop.
Space to meet
Locksbrook Campus is part of your community - a place for local artists, staff and students alike to meet and exchange ideas. Pop in for some paints or pastels, have a wander through our gallery or enjoy a coffee in the cafe.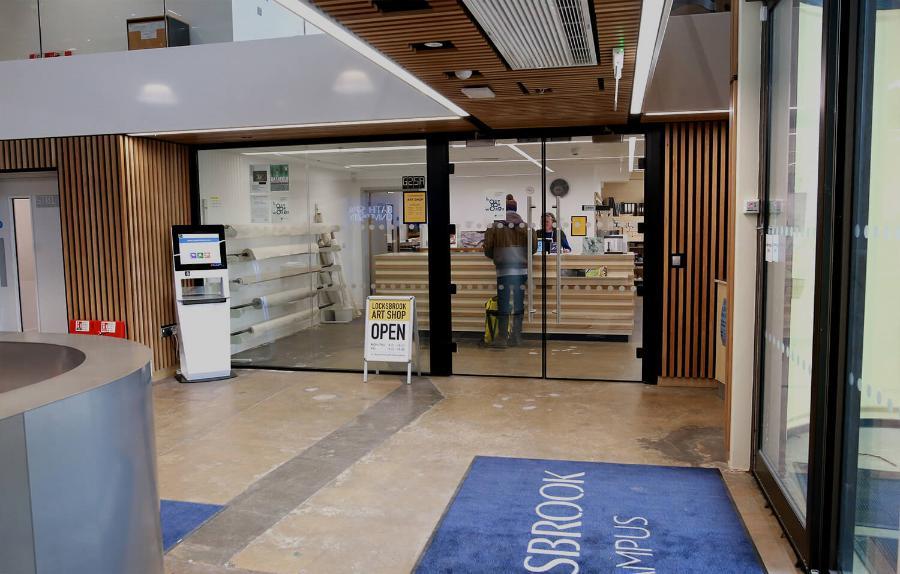 Opening hours
Please note that due to the current situation around COVID-19, the Art Shop is temporarily closed.
Contact details
Need to know about accessibility of our Art Shop? Our Student Wellbeing Services team will be happy to answer your questions. You can also read our accessibility guide.