We have great food and dining facilities, so you're sure to find something to your taste.
We're all about sustainability. We are proud to announce that our facilities at the Oak Tree Nursery, Newton Park Refectory and Cafe Sion have been awarded the 2019 Soil Association's Silver Food for Life Food Served Here award.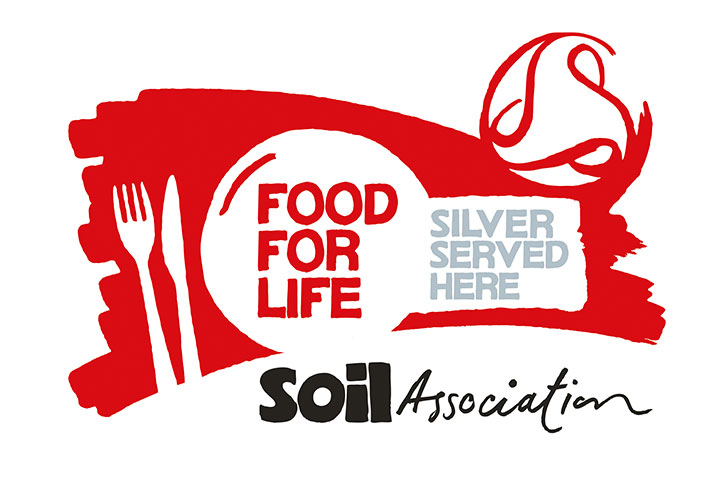 Newton Park
The Refectory
A bright and social eating area with a takeaway service if you're on the move. All meals are prepared on site, using lots of locally sourced produce. Menus are seasonal and rotate on a weekly basis.
Need to know about the accessibility of the Refectory? Our Student Wellbeing Services team are happy to answer your questions, or visit our accessibility guide.
Café Commons
Located on the ground floor of Commons, Newton Park's main teaching building, the Café is a convenient place to grab a drink, lunch or a snack.
The Café serves Starbucks hot drinks, as well as a selection of cold drinks, range of sandwiches, salads, paninis, cakes, and snacks.
SU Bar and Kitchen
Located in the Students' Union (SU), the SU Bar and Kitchen offers a wide range of home-cooked quality food, at reasonable prices. Our students use the SU Bar and Kitchen to eat, meet up with friends, play pool or study.
Sion Hill and Corsham Court
Café Sion
Our Café Sion coffee bar is a modern 'Latte & Laptop' space, for visitors, staff and students.
You'll find a range of food and drinks on offer, including breakfast baguettes, pastries, jacket potatoes, pasties, sausage rolls, pizza slices, homemade soup as well as made-to-order salads and baguettes and meals of the day.
Drinks available include barista style espresso coffee, creamy hot chocolate and a selection of teas, all Fairtrade or Rainforest Alliance.
Corsham Court Café
Corsham Court café has a relaxed and welcoming feel. They serve barista style coffee and a range of cold drinks as well as made-to-order breakfast rolls, sandwiches, jacket potatoes and lunches. There is always a soup of the day and a great range of cakes and confectionery.
Locksbrook Campus
Locksbrook Café
This cook-to-order café serves homemade food including hot breakfasts, mac and cheese and chargrilled burgers along with a range of paninis, sandwiches, flatbreads and more.
Many menu items are gluten free, vegetarian, vegan and dairy free.
Barista trained staff serve our locally-supplied Bristol Twenty coffee, plus a wide range of other drinks.
A choice of confectionery, cakes, muffins, traybakes and chocolate is also available, including delicious pastries from renowned Bath bakery, Bertinet.
Opening hours
Opening hours for our outlets vary, so please check our Facebook or Instagram for up-to-date information.
For key University events such as open days and registration, we operate extended opening times.
*Please note that during the holidays, opening hours may vary.
Get the app
The Meet + Drink + Eat app allows you to order food and other grocery essentials from your phone for delivery or collection across our Newton Park campus.
Available to download free from the App Store.
Fairtrade commitment
Bath Spa University is committed to ethical consumerism, and supports fairtrade products in all our catering outlets. All our coffee products are certified fairtrade.
Fairtrade products ensure better working conditions, better pay and improved opportunities for workers in developing countries. Bath Spa University is proud to support these ventures in keeping with our dedication to integrity and sustainability.