Need help? Book an appointment with Melissa Collier-Baker, your subject librarian.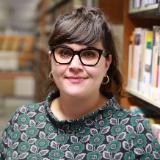 Melissa Collier-Baker
Currently working two days a week on campus, three days remotely. At present, all student appointments will be via video meeting.
Click here to book a virtual appointment

I'm also running some virtual research workshops this year. Click here to see what's on, and email me to book a space.