BAFTA Nomination for Academic
 News 
BAFTA nomination for Film and Media lecturer
Friday, 8 April, 2022
A BBC Three show produced by a Bath Spa University academic has been nominated for two awards at this year's BAFTA Television Awards.
Sophie Francis, Senior Lecturer in Film and Media and producer for Channel 5 and the BBC, is in the running for scooping the Best Drama and Best Writer (Drama) trophies for her work on coming of age 'dramedy' In My Skin.
The show — which has already won a Royal Television Society Award — is centred on a teenage girl from a troubled home dealing with her father's abusive behaviour, and mother's bipolar disorder, while navigating sexuality and her teenage years.
The original plot takes the audience on an engaging and humorous journey from the perspective of the protagonist Bethan, played by Gabrielle Creevey, who won a BAFTA Cymru award for her portrayal in the first series of the show.
Speaking about the success of the show during the latest awards season, Sophie said:
"The series has won the Royal Television Society Best Series Award twice now which is great, but being nominated for the BAFTA award is very special."
The production of the second series of the show was particularly challenging against a background of constantly evolving Covid-19 restrictions. Sophie explains:
"We filmed in April 2021 and finding and keeping locations was our main issue because pandemic restrictions were still in force and so many places were either uncontactable or reluctant to let us film. The pandemic made things trickier but we counted ourselves very lucky that we were able to be in production and were working on such great scripts."
After studying Stage Management, Sophie secured a job as a production secretary on a film and enjoyed the collaborative nature of the industry and decided to forge her career in film and television. Since joining Bath Spa University in 2016, she's been supported by her colleagues and has been able to keep working in the industry:
"I really enjoy working with students and I've been lucky in that I've managed to keep working professionally on and off during my time at Bath Spa. Working in the TV industry helps keep my teaching up to date and relevant."
Sophie offered the following advice to students looking to follow in her footsteps:
"Get out there, don't be shy and make as many contacts as you can. The industry is very busy at the moment but it's still very competitive so you have to be keen, professional and resilient."
Speaking about what is next for the show, Sophie has her fingers crossed for the BAFTA, but has confirmed there would not be another series as the show is based on a true story that has now concluded.
Both series of In My Skin are available to watch on BBC iPlayer now. The BAFTA Television Awards take place on Sunday 8 May at Royal Festival Hall in London, where the show will be up against stiff competition for Best Drama – Manhunt: The Night Stalker (ITV), Unforgotten (ITV) and Vigil (BBC One).
Good luck to Sophie and the team behind and in front of the camera from all at Bath Spa!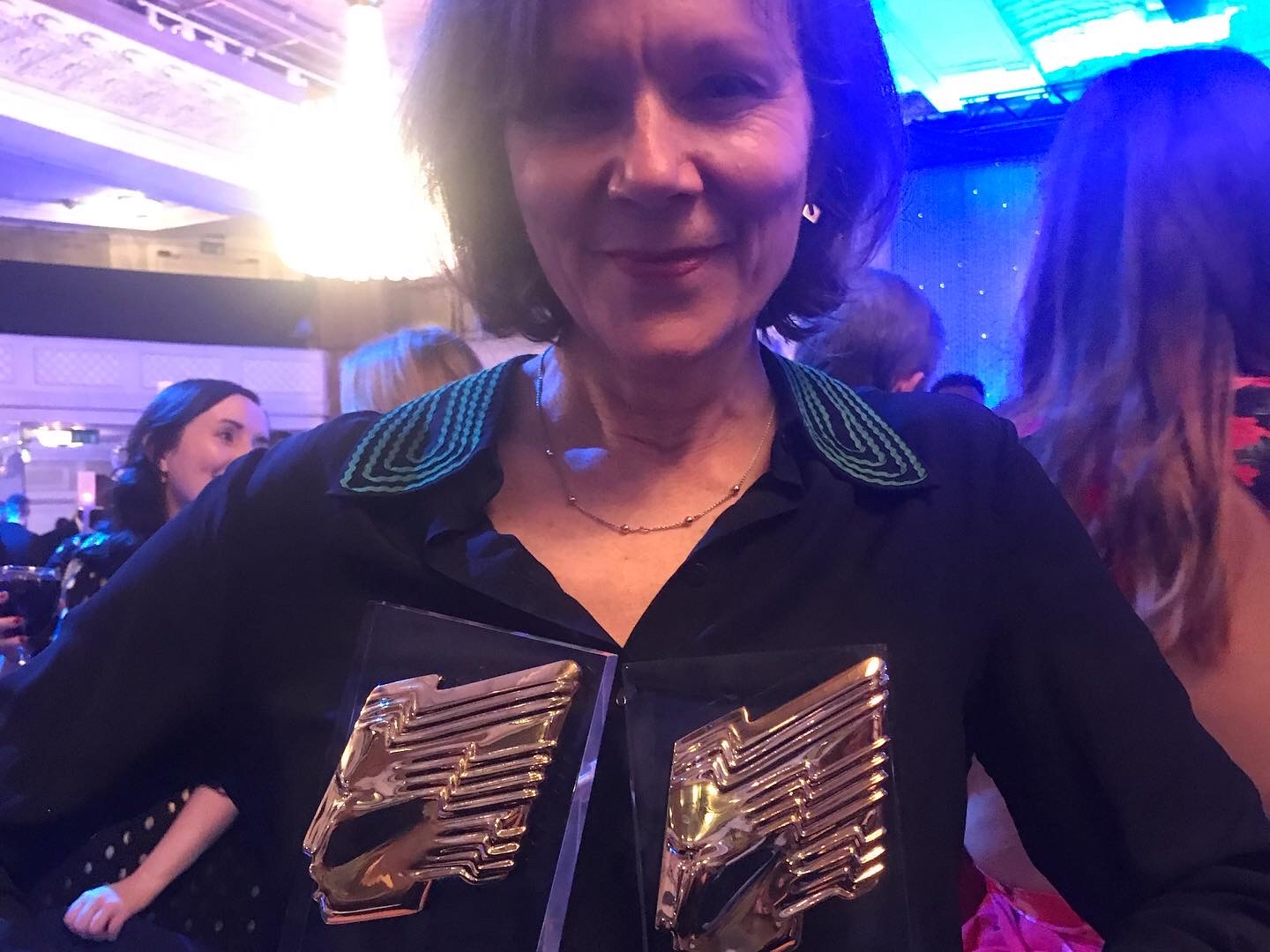 (Sophie Francis holding the two Royal Television Society Awards at the ceremony earlier in the year.)
Recent news
Image credit: Sophie Francis.