Andy Keep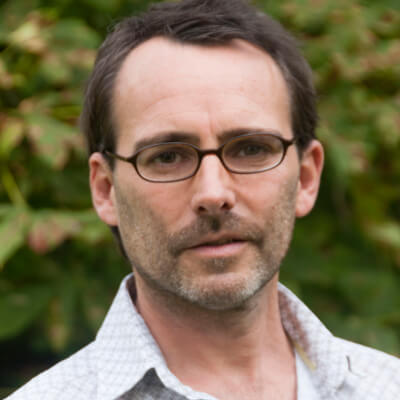 Personal Statement
My musical activities have evolved through an immense amount of diversity over the last twenty years. In the last five years my professional practice, teaching, and research have moved away from studio production and the role of instrumentalist into 'live electronics' performance, composition, and the teaching of fluid and innovative approaches to technology in the sonic arts.
Performances and collaborations in Live Electronics have included accompanying film footage with Liz Purnell in 'Electric Water', contributing to Resonance Radio Orchestra, collaborating with Knut Aufermann, John Richards, John Butcher, Steve Beresford, Alfredo Genovasi, headlining the LMC 2004 'Resonance Radio' celebrations in the Conway Hall, and collaborating with with Joseph Hyde and Barry Moon in a live electronic score for 'Aliata, Queen of Mars' commissioned by Bath Film Festival.
Previous activities as a multi instrumentalist, composer, producer, signed artist and jazz musician have included - Performing alongside David Bryne on North Indian Tabla for the Jools Holland show.
Jazz and funk gigs as a bassist with numerous instrumentalists, including James Brown horn man Pee Wee Ellis.
Being signed to EMI as part of UK experimental trip-hop act Earthling - numerous record and CD releases, European tour work, festivals, television and radio appearances.
Releasing an array of recordings, productions and remixes as Ming, Edison, and Andy Keep.
Jazz bandleader, performer, and composer on electric and upright bass for projects such as Code Red and the 17 piece Ultrasound.
Musical Director for the live performance work of many bands including Bath Spa's own experimental electronics and laptop ensemble Behaviour, through to the Virgin signed rock act 'Sunna'.
Composing music for BBC, Channel 4 and a variety of dance companies. This included extensive european tour work and residencies with Man Act physical theatre company.
Academic Qualifications
PhD BSU/UWE
BA(Hons) Dartington College of Arts
Professional Memberships
Fellow of the Higher Education Academy
Writer member of Performing Rights Society
Sonic Arts Network (Board member / Chair 2006-8) RIP
London Musicians' Collective RIP
Current Scholarship
PhD 2003-2007. The practice-led research, entitled 'Responsive performance strategies with electronic feedback: shaping intrinsic behaviours', contributes to the field of live electronics and sonic art activity by mapping out a topological model of intrinsic sonic behavioural states found in audible electronic feedback systems, offering a range of performative strategies to influence and impose upon them. Over the last few years various concerts have been given in London and the South West as a solo artist and in collaboration with many key figures in live electronics and improvisation. The finished thesis included a portfolio of documented performances.


There have been a number of direct influences on teaching practice resulting from ongoing research activities. The primary one being the design and success of the year 3 Sonic Performance Pathway on our BA Creative Music Technology program. The resulting BEHAVIOUR ensemble culminates in public performances each year at venues such as the Watershed Media Centre Bristol, Michael Tippett Centre in Bath, Cube Microplex Bristol, and the Sonic Arts Network EXPO2006 in Manchester, and 2007 in Plymouth, Bath International Festival 2008 and 2009, 2010 Arnolfini Bristol and 2011 Spike Island Gallery Bristol.


Another key area within the practical research is the aesthetic and sonic results of 'creative abuse' in both electronic and digital technologies. This has led to the design of a Digital Audio Techniques MT5004 module for year 2 of the BA program, and a presentation at the Art of Production conference at University of Westminster in September 2005.
Other External Roles
Steering Group Committee member for Arts Council England / THRIVE new music organisation SAM 2007-8
On the Board of Directors for the UK's Sonic Arts Network 2006-8 (Chair 2007-8)
Mentor for ArtsMAtrix South West 2006-7
Currently External Examiner for Cardiff Metropolitan University Music Production and Technology BA(Hons)
Areas of Expertise
Specialising in innovative teaching and learning appraoches to -
Sonic Performance - founder and director of Bath Spa's large scale BEHAVIOUR ensemble
Composition - a phenomenological approach to composing with sounding objects
Digital Audio Techniques - classic and 'post digital' approaches
Studio Production - modern techniques and aesthetics
Research and academic outputs
book_section
Keep, A (2009) 'Instrumentalizing: approaches to improvising with sounding objects in experimental music.' In: Saunders, J, ed. The Ashgate Research Companion to Experimental Music. Ashgate, Aldershot. ISBN 9780754662822
---
article
Keep, A (2007) 'Audio Y connectors: my secret to instant guerrilla oscillators, raw synthesis and dirty cross modulations.' Leonardo Music Journal, 17. ISSN 0961-1215
---
conference_item
Keep, A (2007) Behaviour - teaching electroacoustic improvisation through referent strategies. In: Improvisation Continuums Conference, 12-14 April 2007, Royal Welsh College of Music and Drama, Cardiff, UK.
---
conference_item
Keep, A (2005) Does creative abuse drive developments in music production? In: The Art of Record Production, 17-18 September 2005, University of Westminster, London, UK.
---
conference_item
Keep, A (2004) All music technology is equal, but some is more equal than others. In: Taming the Beast: Learning & Teaching in Music Technology. PALATINE conference, 21 June 2004, De Montfort University, Leicester, UK.
---
thesis
Keep, A (2008) Responsive performance strategies with electronic feedback: shaping intrinsic behaviours. PhD thesis, Bath Spa University.
---
performance
Keep, A (2011) LYSN. In: Rumor Festival 65: "Breaking the Waves", Utrecht, The Netherlands, May 2011.
---
performance
Keep, A (2010) Criminal Mind (Duck Projects/Magpie Umbrella). In: Festival Luoghi Comuni Parola, Immagine, Movimento 2010, Milan, Italy, 6 June 2010.
---
audio
Keep, A (2009) My Laptop Colony - Colony In My Laptop.
---
audio
Keep, A (2000) Red (by Ming).
---
audio
Keep, A (1999) Critical moments (by Ultrasound).
---
audio
Keep, A (1998) Dumbec.
---
audio
Keep, A (1995) Radar (by Earthling).
---