Jonathan Kelham
Course Coordinator - Foundation in Art and Design
Email: j.kelham@bathspa.ac.uk
School: Bath School of Art, Film and Media
Campus: Locksbrook Campus
Website: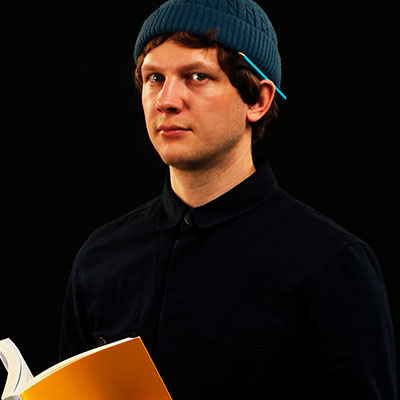 Personal statement
Jonathan Kelham is a Bristol-based artist and coordinator for the Integrated Foundation in Art and Design.
Since receiving a MA in Fine Art [Distinction] from Birmingham Institute of Art and Design in 2010, Jonathan has exhibited his work throughout the UK and internationally; including The Netherlands Institute for Sound and Vision, Exeter Phoenix, MK Gallery, John Hansard Gallery, Ceri Hand Gallery and Dundee Contemporary Arts.
Using narrative-heavy illustration, animation and digital imagery, he constructs a highly subjective group of idiosyncratic characters, the Leaders of Men. Jonathan explores a particular romanticised, melancholic and bumbling Englishness. This fictional narrative is informed by the reoccurring qualities of utopian writing and philosophies to generate an alternative/parody space.
In 2016 Jonathan founded the ACE funded UGO Project Space for the British Art Show 8 Associate Programme in Southampton. UGO became a programme of commissioned public billboard artworks by artists including S Mark Gubb and Stuart Whipps.
Interested in the pedagogical potential of the digital project space, Jonathan established UGO 0.2. As an integrated element within an undergraduate Fine Art programme, the project space was devised to provide a broad and experimental opportunity for students to consider the potential for the internet to inform their emerging works. UGO 0.2 theorised, tested and considered the increased focus in digital production and curation in contemporary fine art practice. The developed output formed a programme of collaborative, temporary, formal and live research projects by students, staff and invited artists, including Olivia Bax, Chris Alton and curator Dr Dave Evans.
In 2019 Jonathan was awarded a PhD studentship at the University For The Creative Arts [Farnham] to undertake research on establishing further frameworks on digital project space pedagogy within art schools.
Academic qualifications
PGCHEP - University of Essex
PGCE - Birmingham City University
MA Fine Art - Birmingham Institute of Art and Design
BA Fine Art - Birmingham Institute of Art and Design
Professional memberships
Fellow - Higher Education Academy (2017)
Research Fellow - Centre for Fine Art Research, Birmingham City University (2012-2015)
Other external roles
2018 VL University of Sunderland, BA MA Fine Art
2016 VL University of Chichester, BA MA Fine Art
2013-14 VL Camberwell School of Art [UAL], BA Art Pathways.
2012 VL Birmingham Institute of Art and Design, BA MA Fine Art
Teaching specialisms
Fine Art drawing
Digital project spaces
Illustration