Lu Liu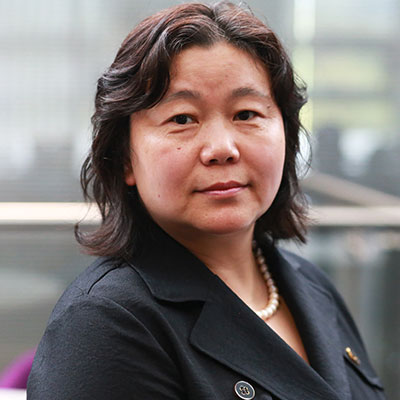 Personal statement
Lu Liu joined Bath Spa University in October 2010. She is a senior lecturer in business and management. She is the pathway leader of BABM (International Business) and MABM (International Business) and the associate director of the Research Centre for Leadership, Ethics and Professional Practice. She also supervises PhD students.
Lu's research interest includes integrating knowledge management activities into the management information systems for the SMEs and non-profit organisations; international new ventures and their post-entry performance; regional economic development in the ethnic minority and less-developed areas; and business ethics. As a member of the teaching staff, she is also interested in knowledge exchange in online teaching and the comparative studies on the pedagogical design and delivery of business modules in different countries.
She has previously worked at the University of Bolton, University of Sheffield-Sheffield International College, Harbin Engineering University, and a Chinese state-owned textiles trading company.
Academic qualifications
PhD, Knowledge and Information Management, University of Bolton, UK
PG Certificate, Professional Learning in Higher Education, Bath Spa University
MSc, International business (E-business), Luleå University of Technology, Sweden
BA, International Economics and Business, Østfold University College, Norway
BEng, Engineering Economics, Harbin Engineering University, China
Professional qualifications
RINCE2® Foundation certificate in Project Management
Qualification Certificate of Lecturer, the Minister of Education, China
Qualification Certificate of Economist, the Minister of Education, China
Professional memberships
Fellow - Higher Education Academy
Membership, American Economic Association, the US
Membership, The Foundation of CUAES Research Committee on Ethnic Minorities with a Relatively Small Population, China
Other external roles
Consultant - the Institute of Hei Jhin Culture, Jiamusi University, China
Areas of expertise
International business
Inter-cultural communication
Interactive teaching and training
Online teaching
Research methods
Teaching subjects
International Business (UG)
International Business Environment (PG)
International Business Practice (PG)
PhD research supervision
Lu is interested in supervising PhD students in the following areas:
International small and medium sized enterprises' (SMEs) behaviour and performance
Knowledge and information management in the SMEs and non-profit organisations
Business ethics in emerging markets.
Current PhD supervision includes:
Cultural impact on internal auditors' ethical decision making-A comparative study of India and United Kingdom (first supervisor)
The Application of Knowledge Management and Supply China Practice: UK food Industry (first supervisor)
Assessing the level and impact of financial literacy: the comparison of UK and Turkey (second supervisor)
Humour Generation through Creative Computing (second supervisor)
Preferred methods
Qualitative:
Case studies
Grounded theory
Action research.
Quantitative:
Experiment
Survey
Cross-sectional studies
Longitudinal studies.
Mixed methods.
Research and academic outputs