Matthew Robertson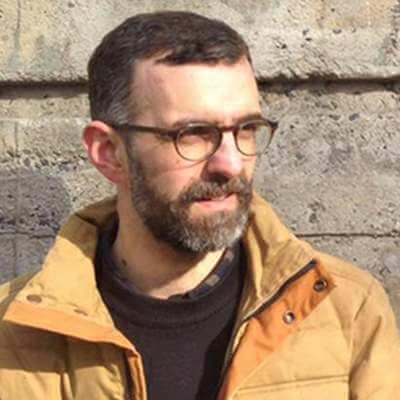 Personal Statement
As Senior Lecturer in Graphic Communication, Matthew teaches across a range of specialist subjects including: design principles, information design, interface design, professional design practice, publication design, print production, software skills, typographic design and visual identity design.
He is currently Year one leader, requiring him to oversee the first year student experience, ensuring the consistent delivery and assessment of studio/workshop based modules. He has also taught design-related subjects to cohorts outside the Field of Design including Creative Arts and Creative Computing.
Matthew has coordinated several overseas study trips visiting internationally renowned design studios in Berlin and San Francisco. He engages in a range of design activities outside his part-time post, and his most recent commissions have included book design, music packaging and design writing.
His writing has appeared in magazines including Arkitip, Eye and Sturgeon. In recent years his research activities have centered on experimental visual/sound poetics. Much of this work makes use of found materials, from litter discovered on streets to overheard conversations in public spaces.
Matthew's visual poetry has appeared in publications including Pocket Litter and Sugar Mule. He has also been invited to participate in visual/sound poetry events at the Phonos Foundation, Pompeu Fabra University, Barcelona and Goldsmiths, University of London.
Academic qualifications
BA (Hons) Visual Communication, University of Western Sydney.
Qualifications, skills and experience
Author/co-designer of 'Factory Records: The Complete Graphic Album', Thames and Hudson, London: 2006. 224-page monograph with 400 colour illustrations. Chosen as no. 18 in a twenty book collection celebrating the 60th anniversary of Thames and Hudson, 2009.
Introductory essay on Peter Saville for Arkitip issue 49, Los Angeles, November 2008.
Visual poetry:

pole poem: one to seven voices. Self-published pamphlet, 2011.
topo-typo and numeral included in Pocket Litter [issue 3] edited by Lawrence Upton. London: Writers Forum. Published June 2011.
ess/ata/tte [2012] included in Sugar Mule [US] edited by Lawrence Upton. Published 2013 [online]. Available from Sugarmule
fragments [2012]. London: Writers Forum. 14-page A5 booklet. ISBN 987 1 84254 899 8.
Bath Spa employment
Teaching specialism
Graphic communication
Typography
Publishing and related software applications.
Current scholarship
Attended 'Typo London' conference, University of London and 'Word Event' symposium, Bath Spa University in 2011.
Regular participation at Writers Forum workshop in London since April 2011.
Recent professional updating
Work in collaboration with Peter Saville Studio [UK] for clients including:
Adidas
Avant Grade Diaries, Mercedes-Benz
City of Manchester
DC Snowboarding
Section 25, Factory Benelux
Factory Records Limited
Joy Division
Kvadrat
Swing, Gillian and Stephen [New Order]
Umbro
Warner Music
Victoria and Albert Museum.
Freelance commissions for clients including:
1205, Paula Gerbase [UK]
AVA Publishing [UK]
Bath Spa University [UK]
Brown Owl Films, Hudson Productions [UK/US]
The Creative Federation [UK]
Crow, Nonzero Records [AU]
Edelman [UK]
GB3, Rubber Records [AU]
Nantes, Deadhand Music [AU]
Palazzo Press, Allen Lane [UK]
Severed Heads, LTM Recordings [UK/AU]
Underground Lovers, Rubber Records [AU]
Scandinavian Kitchen [UK]
Slack Cycling [UK].
Research and academic outputs
book
Robertson, M (2012) fragments: a visual poem. Writers Forum, London. ISBN 9871842548998
---
book
Robertson, M and Hindmarch, K (2007) Factory Records: the complete graphic album. Thames and Hudson, London. ISBN 9780500286364
---
article
Robertson, M and Upton, L (2011) 'Topo-typo and Numeral.' Pocket Litter (3).
---
article
Robertson, M and Saville, P (2008) 'Peter Saville essay.' Arkitip (49).
---
artefact
Robertson, M (2010) Music Packaging.
---
performance
Robertson, M, Upton, L and Apak, A (2012) ess/ata/tte. Writers Forum Workshop, 5 May 2012.
---