Naomi Alderman
Professor of Creative Writing
School: School of Writing, Publishing and the Humanities
Website: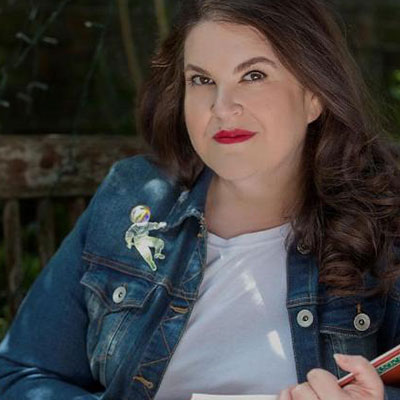 Personal statement
Naomi Alderman attended Oxford University and UEA. Her first novel, Disobedience, was published in ten languages; like her second novel, The Lessons, and her third, The Liars' Gospel, it was read on BBC radio's Book at Bedtime. In 2006 she won the Orange Award for New Writers. In 2007, she was named Sunday Times Young Writer of the Year, and one of Waterstones' 25 Writers for the Future.
Her prize-winning short fiction has appeared in Prospect, on BBC Radio 4 and in a number of anthologies. In 2009 she was shortlisted for the BBC National Short Story Award.
From 2004 to 2007 Naomi was lead writer on groundbreaking alternate reality game Perplex City. She's written online games for Penguin, the BBC, and other clients. In 2011 she wrote the Doctor Who tie-in novel Borrowed Time. In 2012, she co-created the top-selling fitness game and audio adventure Zombies, Run! which was shortlisted for five Develop Awards, won the Bookseller's Adult's App of the Year and has sold more than half a million copies.
Naomi broadcasts regularly, has guest-presented Front Row on BBC Radio 4 and writes regularly for Prospect and the Guardian. In 2013 she was named one of Granta's Best of Young British Novelists in their once-a-decade list.
Academic qualifications
BA (Hons) Oxon
MA (Hons) UEA.
Areas of expertise
fiction writing
historical fiction
short stories
novels
digital writing
games writing and
interactive storytelling.
Teaching specialism
Fiction writing, historial fiction, short stories, novels, digital writing, games writing and interactive storytelling.
Current scholarship
Currently working on a novel centring on gender, and on a game supported by the NHS's SBRI funding initiative.
Research and academic outputs