Sarah Morton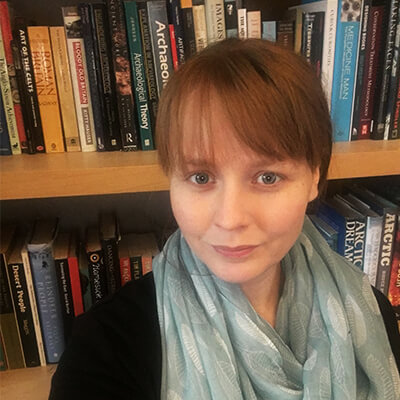 Personal statement
As a museum professional, I have worked across a variety of roles including conservation, collections management, exhibition curation and project management. As a Lecturer in Heritage, I am interested in developing and researching university and heritage sector collaborations.
On joining Bath Spa University in 2017, I took over the management of the heritage placement modules and am currently working with sector partners on developing best practice standards for student placements within heritage organisations.
My academic research interests focus on how heritage is socially and materially constructed and the meanings and associations it can hold for different stakeholders. My current work examines the legacies of the repatriation of ancestral human remains from UK museums, the meaning and social role of human remains within museum spaces, and the geographies of the human remains store.
Academic qualifications
DPhil - University of Oxford (2018)
MSc, Conservation for Archaeology and Museums - University College London (2007)
MA, Principles of Conservation - University College London (2005)
BA (Hons), Archaeology - University of Nottingham (2002)
Professional qualifications
Accredited Conservator Restorer (ACR)
Professional memberships
Accredited member - Institute for Conservation (ICON)
Member - Museum Association
Teaching specialisms
Material evidence and the social role of material culture
Professional practice and work placements within the UK heritage sector
Management, interpretation and conservation of museum collections and heritage sites
Human remains in museums, repatriation and restitution
Research ethics and methodologies
Other external roles
Member - ICON Archaeology Group Committee
ICON Representative - Archaeological Archives Forum
Grants and awards
Museums Universities Partnership Initiative Match Grant - 'Student Placements in Museums: Exploring Models of Good Practice' (2017-18)
Wellcome Trust Medical Humanities Small Grant - 'Corpses Cadavers and Catalogues: The Mobilities of Dead Bodies and Body Parts, Past and Present' (2015-16)
Royal Geographical Society Henrietta Hutton Research Grant - 'Legacies of the Repatriation of Human Remains Fieldwork' (2015-16)
Keble Association Gordon Smith Research Award - 'Legacies of the Repatriation of Human Remains Fieldwork' (2015-16)
Arts Humanities Research Council Collaborative Doctoral Award - 'The Legacies of the Repatriation of Human Remains' in collaboration with The Royal College of Surgeons of England (2013-17).
Research and academic outputs