Sarah Morton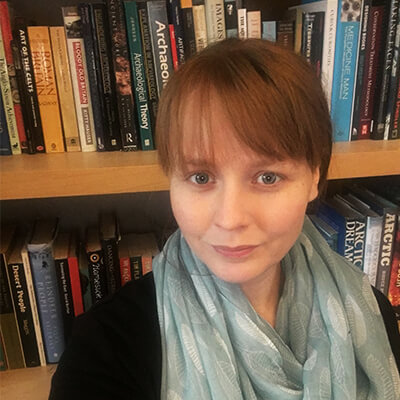 Personal statement
Sarah Morton is a lecturer in Heritage. Her research interest focus on how heritage is socially and materially constructed and the meanings and associations it can hold for different stakeholders. She is currently completing a DPhil at University of Oxford looking at repatriation of human remains from the Royal College of Surgeons of England. This research is funded by an AHRC Collobrative Doctoral Award and focuses on the materiality of the remains to explore the legacies of the process of repatriation for the museums and communities involved.

Prior to starting her doctoral research, Sarah worked in the heritage sector as an archaeologist and then after completing at MA and MSc in conservation, as an objects conservator and project manager. She has worked in commercial field archaeology in the UK and on research excavations in Bulgaria, Greece, Turkey and the Ukraine and has run her own conservation business since 2013.
As a museum professional she has worked across a variety of roles including conservation, collections management, exhibition curation and project management. From 2007 until 2013 she worked for the Oxfordshire Museum Service, a role that involved proving support, training and commercial services to a wide network of other heritage organisations. From 2012-2013 she managed the Arts Council England funded History in the Making outreach project which focused on using archaeological objects in the collections to make connections between place, identity and culture.

Sarah joined Bath Spa University in 2016. She teaches on both the undergraduate and postgraduate heritage programmes and manages the student placements with heritage organisations in Bath and across the South West. This role builds on her professional experience and interest in the collaboration between Universities and heritage organisations and she is currently working with the sector on the development of the heritage placement programme.
Academic qualifications
Archaeology BA (Hons) University of Nottingham 2002
MA Principles of Conservation University College London 200
MSc Conservation for Archaeology and Museums University College London 2007.
Professional qualifications
Accredited Conservator Restorer (ACR), Institute of Conservation (ICON) 2013.
Professional memberships
Accredited Member of the Institute of Conservation (ICON)
Postgraduate Fellow of the Royal Geographical Society
Member of the Museums Association and South West Federation of Museums.
Other external roles
Honorary Research Associate, Institute of Archaeology, University College London
Treasure of the ICON Archaeology Group
ICON representative on the Archaeological Archives Forum
As a freelance conservator she has recently undertaken work for Oxfordshire Museum Service, Buckinghamshire Museums Trust and Museum of Oxford.
Teaching specialism
Heritage
Museums
Objects Conservation
Archaeology
Repatriation
Human Remains.
Research and academic outputs