Amelia Hopgood
Textile Design for Fashion and Interiors graduate and Bristol Textile Quarter resident
Website: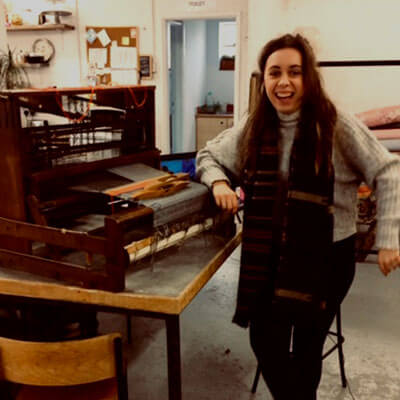 Amelia graduated from Textile Design for Fashion and Interiors in 2017 and was awarded a 10-month studio residency at Bristol Textile Quarter, which she started in January 2018.
She's loved having the space there as, in some ways, it reminded her of going back to university – providing her with structure, focus and a dedicated space to make. Being in a studio environment, and being around the different companies based there, has also helped her to understand the complexities of running a business.
To help finance her practice, Amelia has been working part-time for Bath lifestyle and interior brand, Neptune, giving her two days in the studio. She's been working on a handloom, and has been using the time to pare back her designs, especially in terms of colour and form.
Amelia has been delighted with the results, and her scarves are being stocked at Resident in Frome, who approached her following her degree show.
"Being at Bristol Textile Quarter was the best thing I could have ever done, as I wouldn't be where I am now; I know that I want to run a business, have learnt all I have, met the people I have, and also found myself as a person."

Amelia Hopgood
Over the past year, Amelia has also used the time to market her business – she's had business cards printed and professional photos taken, and also launched her website, all of which make the most of her natural styling ability.
The residency has now ended and, although Amelia feels she's not in a position to stay on at Bristol Textile Quarter at this stage in her career, they've offered her a six-month membership for when she's ready to return.
While she continues to work part-time, Amelia does plan to continue making, and her dream is to one day have her own shop.
Her advice for future graduates looking to set up their own business?
"Just do it! Don't hesitate, and just see how it goes."
"One of the best things about BTQ is our community of resident members. Everyone is working on different things, and at different stages of launching their businesses – and this means that there's a collective wisdom that everyone can tap into. We're really happy to have been able to host Amelia in our studio at the outset of her career, and seeing her develop her products and find her first stockist, solving problems along the way, has been really lovely to witness."

Emma Hague, Bristol Textile Quarter founding director