Jake Ogden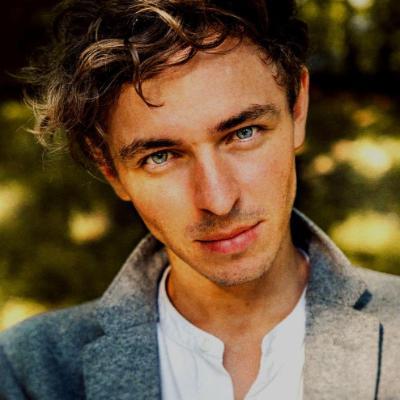 Alumni profile 
Course studied: BA (Hons) Photography
Graduating year: 2017
---
"Creative jobs DO exist, and they can pay well."
---
Jake's story
Bath Spa alum Jake (BA (Hons) Photography, 2017) is a filmmaker, photographer and designer living in London. He is part of the team that launched a cinematic self-improvement app, Curv, in June 2020.
The Curv app unites science-based studies and creative content to provide users with daily actions for self-improvement.
In this role, Jake combines his creativity with his passion to understand human behaviour.
My startup journey
I joined Curv a little over a year ago. I moved from North Devon's surfing coastline to London to get involved with it – that's how powerful I thought the idea was! I'm now the Creative Director of the company and I've learnt an unbelievable amount by being part of this crazy process.
Curv takes powerful science-backed studies and turns them into daily actions – actions that you, me, ANYONE can do. We combine science with cinematography and creativity, allowing you to improve yourself through simple, powerful and beautiful videos.
These self-improvements could include upping your confidence, increasing your sociability, or maybe even reducing procrastination! Curv makes self progression an easy and (just as importantly) enjoyable part of your every day.
Launching the app
Our app launched in June 2020 and we were very excited indeed. The run-up to the launch was a busy time which saw me finishing the final video edits while our developers worked super hard to get the app completed and looking beautiful.
A massively important part of this process was not only getting the content up to a high standard but also making sure the app was hitting that standard. We're confident we've hit that level; the app is lovely to use and interact with. I hope everyone enjoys using it as much as I've enjoyed making it.
This is only the very beginning for Curv! Despite the current climate, 2021 is showing promise of vastly larger funding and a huge leap into a bigger, more social-based platform. Keep your eyes peeled.
You might not know this, but…
The year after I graduated I dipped my toes into other creative jobs and travelled widely. This allowed me to both work in different countries and to build a greater understanding of 'what I wanted to do' with my life. Shooting for the most luxurious resort in Nepal was a highlight (obviously). I can't recommend Nepal highly enough – it's truly beautiful.
Why I chose Bath Spa
"Photography and Film were my two passions. I struggled for a long time to decide which path to take, but after visiting Bath Spa I fell in love with the possibility of exploring both options with the openness of the Photography course."
I also fell in love with Bath immediately. Living in one of the city's central crescents (how we pulled that off I'll never know) was one of the highlights of my time at Bath Spa.
How the course supported me
It helped me to understand what I truly enjoyed most, and to build my portfolio in the correct direction for future industry possibilities.
The best thing about the course was 100% the teachers, and I am most proud of the fact that I followed my passion, instead of the majority.
I recommend Bath Spa because of the staff and the city. I still see Bath as my favourite city in the UK.