Naomi Hutchinson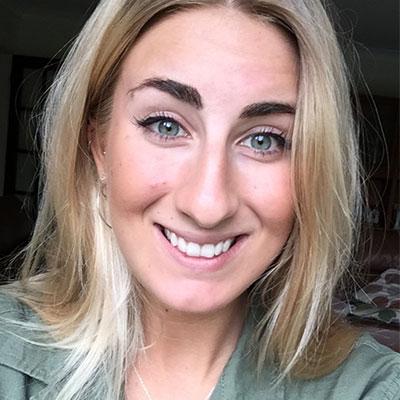 Alumni profile 
Course studied: BA (Hons) Theatre and Digital Production
Graduating year: 2018
As a creative individual, I particularly loved the course that Bath Spa offered in Theatre Production. Whilst we were taught each of the individual aspects of theatre, I took the design, carpentry and scenic art pathways in my second year, with a determination to get a career within design post-university.
I graduated with a first and decided to spend the following year travelling, working abroad, and volunteering in three different continents, which I found extremely inspiring and a brilliant way to get to know others and broaden my understanding of the world we live in. In between, I worked with a few different design companies who recieve commissions to create set pieces for different events and productions.
Once home, I spent much of my time applying for more full-time work within design, but I had a keen focus to work within store concept design. During my time at university, I discovered the incredibly creative retail brand Anthropologie and got speaking to the in house designer for the Bath store, and he explained how he got into the industry. Three years of working hard at University, in different design companies and speaking to numerous other designers, I have now been offered the job designing the displays for a few Anthropologie stores which are opening in 2020.
"Push boundaries, think outside the box and work hard! Your hard work will definitely be rewarded. Also build up a solid list of contacts - getting to know different professionals within the industry will always help you down the line!"
Why did you choose to study Theatre Production at Bath Spa?
I have always had a passion for making. I love experimenting with new materials, but within a 3D context, and have always enjoyed and admired the theatre. During my art foundation, I had a brilliant tutor who encouraged me to look into theatre production and set design which further led me to apply to the course at Bath Spa. The University has fantastic links with potential employers, and the opportunity to work on productions throughout University was a huge plus when I was applying.
What are the highlights of your career so far?
Some key highlights include being employed by The National Theatre as a freelance carpenter and scenic artist, and now being offered my current job with Anthropologie - a brand I have always been keen to work for.
How did the course support your steps into industry?
I was drawn to the course due to the fact that each of the tutors and lecturers at Bath Spa teach you each of the individual components of theatre production - lighting, set design, costume, sound, production management and so much more. During my time, I found this invaluable as a designer and maker as I now design with a clear understanding of how, for example, lighting could affect and enhance my design. Theatre is very much a collaboration between each department and this course taught us why."My advice for currenty students..."
"I recommend Bath Spa because..."
It has equipped me with a confidence in my work and a drive to achieve things that I didn't know would be possible.