Future Pasts investigates how different ideas of the past, in particular imagined past relationships between people and nature, shape the futures being urgently created now in pursuit of 'sustainability' and the avoidance of 'environmental crisis'.
Future Pasts explores tensions between traditional, indigenous and local conceptions of human/nature relationships, on the one hand, and new conceptions underlying modern market-based methods for creating 'green' futures, on the other. The project is based on in-depth field research in west Namibia - where three of our team members have long-term research experience - and in collaboration with our local institutional partners, especially the National Museum of Namibia, Save the Rhino Trust and Gobabeb Namib Research Institute.
Problems such as 'environmental change' and 'sustainability' are complex, requiring analysis that crosses disciplinary boundaries.
Our research, therefore, applies methods and theory from Cultural Geography, Ethnomusicology, Environmental History, Philosophy and Social Anthropology. Our field location encapsulates tensions present in many contemporary circumstances. Here, old and new conceptions of human/nature relationships are colliding spectacularly as resources such as uranium are extracted from land that is home to cultures with ancestral connections with these same places, as well as to highly valued (and endangered) animal and plant species.
All these strands of research have highlighted how understandings of 'the natural environment' are shaped by socio-cultural context, and have drawn attention to how historical and political dimensions underscore inclusions and exclusions in land distribution and environmental conservation policy. Oral history research and cultural landscapes mapping with indigenous Damara / ≠Nūkhoen and ||Ubun peoples in west Namibia, for example, revealed a large range of past settlement localities and environmental practices unrepresented and arguably un(der)valued in present policy, as well as illuminating how people in the past were able to sustain livelihoods in an extreme dryland environment. This research has been used to inform an Ancestral Land Commission appointed by the Namibian government in 2019, through provision of expert testimony to the Namidaman Traditional Authority in north-west Namibia and as a chapter in a major national review of the situation of Namibia's indigenous and marginalised peoples.
Future Pasts research has been used to:
add to the range of voices and perspectives that might be included in the design of cultural and biodiversity heritage conservation endeavours in west Namibia;

make more visible the histories, concerns and values of marginalised indigenous communities in the region;

contribute to understanding regarding climatic and environmental change in west Namibian landscapes.
A major dimension of Future Pasts has been the use of non-text-based media to convey research findings. A multi-media exhibition called Future Pasts: Landscapes, Memory and Music in West Namibia has been created from the project and curated at Gallery 44AD in Bath, UK (2017) and COSDEF Community Arts Venue in Swakopmund, Namibia (2019).
In 2017 our film The Damara King's Festival, made in collaboration with Mamokobo Video and Research and the Damara King's Festival Organising Committee in Namibia, was short-listed for the AHRC's Research in Film Awards (category 'International Development: Mobilising Global Voices'). We are currently editing several new films based on oral history research by Sian Sullivan and Welhelmina Ganuses with Bristol-based Namibia film-expert Oliver Halsey. The first of these - called The Music Returns to Kai-as - is now online (see below also).
More recently, a media rich website has been created by Future Pasts researcher Chris Low to explore multiple dimensions of a culture hero or trickster figure spoken of by Khoekhoegowab-speaking Damara / ≠Nūkhoen, Nama and Hai||om, who overlaps strongly with wider San / Bushmen trickster figures from across southern Africa. Entitled Haiseb: Tracking a Namibian Folk Hero of the KhoeSan, the site explores how knowledge of Haiseb relates to landscape, song and movement.
Repeat photographs of the Khan River crossing in the Namib Desert.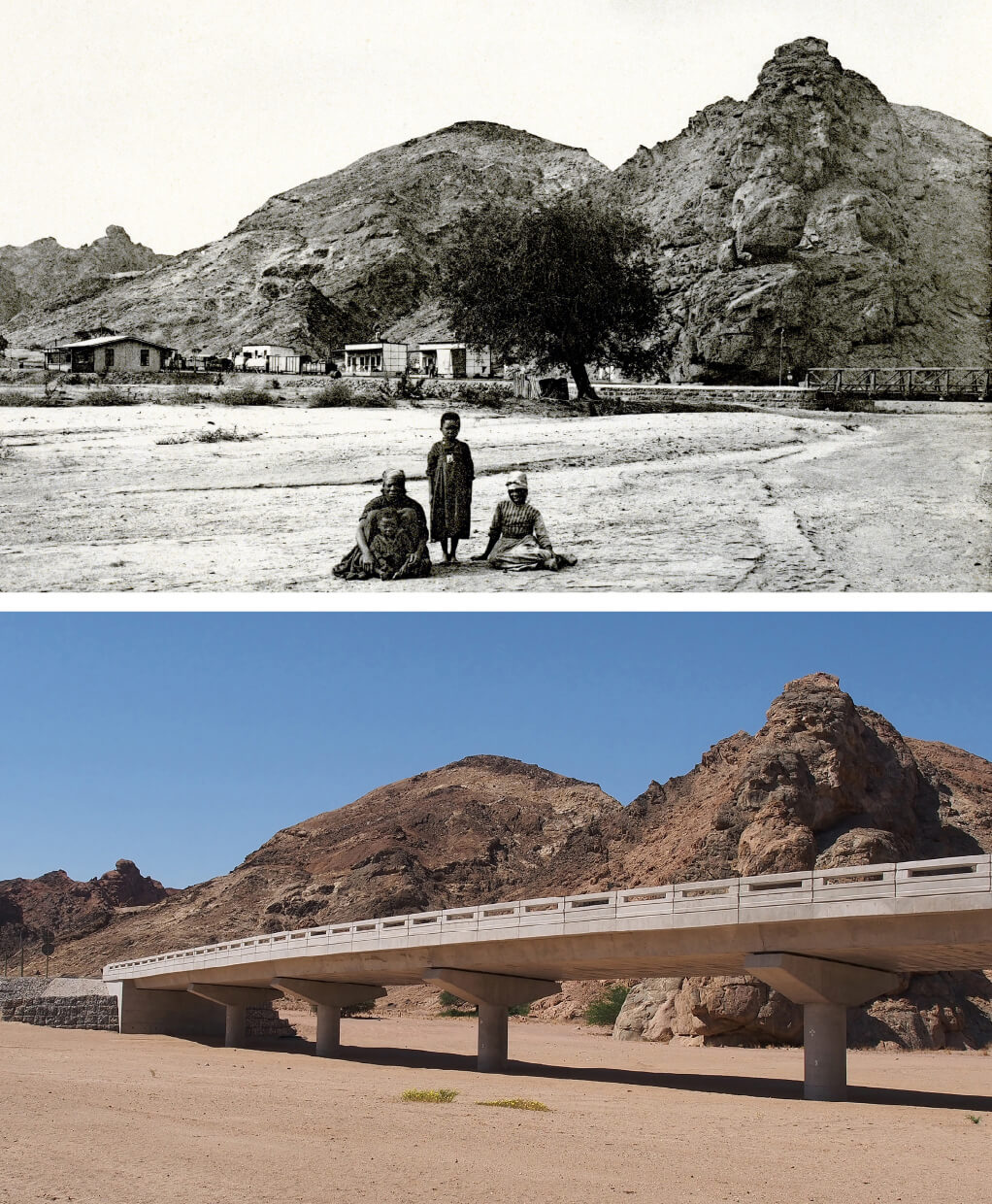 In the top image from 1906, Damara / ≠Nūkhoen women and children pose in the dry riverbed with the Khan Railway Station in the background. This narrow gauge railway was the first rail link between Swakopmund and Windhoek, built under German Colonial rule between 1897 and 1902.
Below, all traces of the original German railway have disappeared and been replaced by the private Khan Road Bridge. Built in 2015, the bridge was constructed to access and develop the new Husab Uranium Mine, owned by the China General Nuclear Power Group.
These repeat photographs are part of a dataset of matched historical and contemporary images for more than 100 sites throughout west Namibia, collated by Rick Rohde and extended through Future Pasts research.
Upper photo: F. Lange, 1906.
Lower photo: R. Rohde, E. Erb & M.T. Hoffman, 2016
Ruben !Nagu Sauneib Sanib and Sophia Opi |Awises stand with ||Khao-as mountain behind and to the side of them.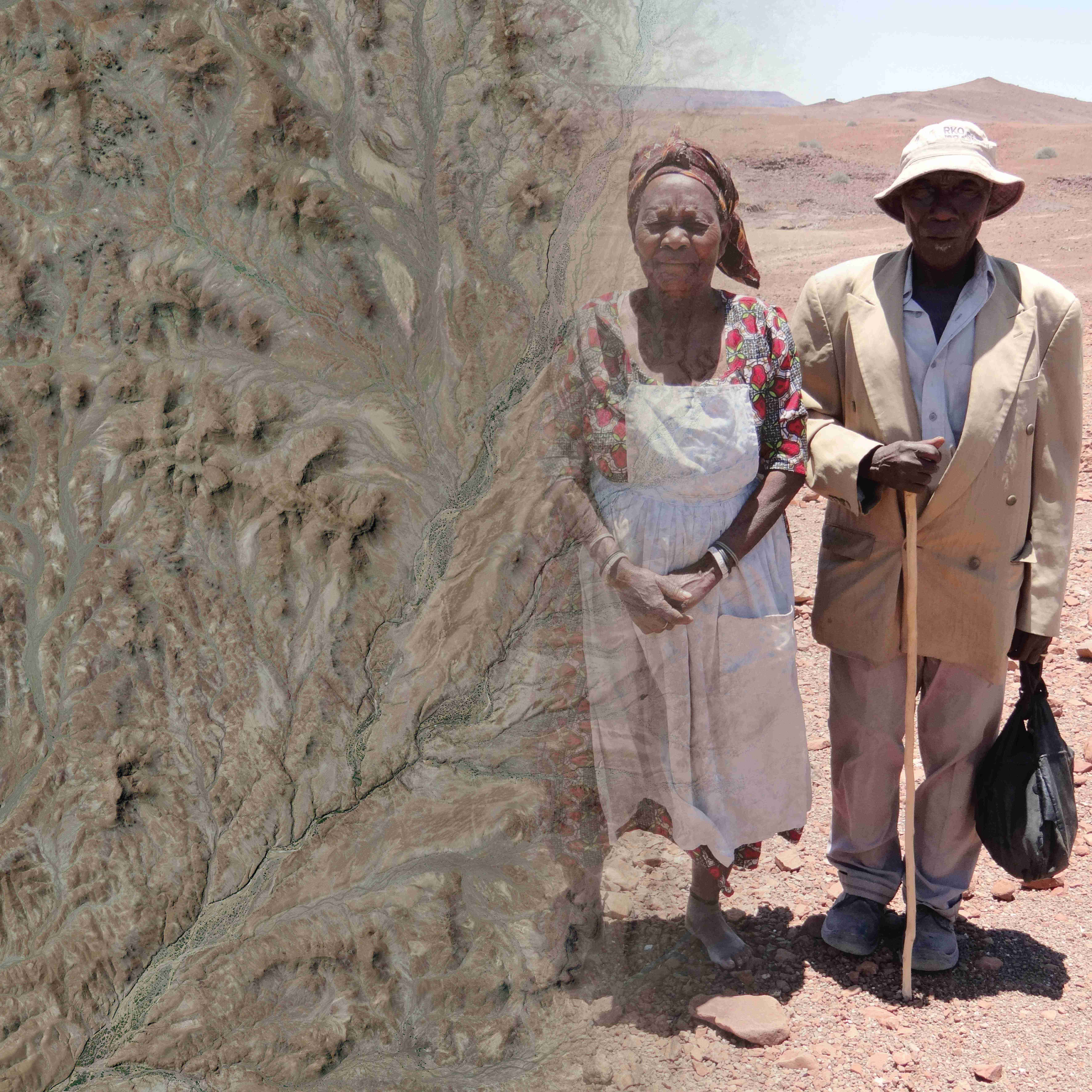 ||Khao-as is said to be the place where ||Khao-a Dama came from. Today, ||Khao-as is far from where people are living, and it had been a long time since Ruben and Sophia were able to see the mountain. When we were there Sophia broke into an arus healing song that linked the ||Khao-a Dama lineage with ||Khao-as mountain. The song that came forth in this moment of returning to the mountain can be heard here.
Photo: Sian Sullivan, November 2015, composite made with Mike Hannis using four 10x10 km aerial photographs from Directorate of Survey and Mapping, Windhoek. For more composite images inspired by oral history research see futurepasts.net/memory.
Linked Bath Spa University programmes
Linked courses
Postgraduate:
MA History
MSc Environmental Management.
Undergraduate:
BA Environment, Politics, Philosophy (Humanities) (in development)
Linked modules
Level 7
Cultural Landscapes (EH7008)
Environmental Ethics and Philosophy (EH7003)
Issues and Approaches in Environmental Humanities (EH7001)
Interdisciplinary Research Methods in Environmental Humanities (EH7002).
Level 6
Conservation in Africa (in development)
Environmental Politics (in development).
Project-linked publications
This project has many linked publications and other research outputs:
Additional project publications
Sullivan, S. and Ganuses, W.S. in press. Densities of meaning in west Namibian landscapes: genealogies, ancestral agencies, and healing, in Dieckmann, U. (ed.) Mapping the Unmappable? Cartographic Explorations with Indigenous Peoples in Africa. Bielefeld: Transcript.
Sullivan, S. and Ganuses, W.S. 2020 Understanding Damara / ≠Nūkhoen and ||Ubun indigeneity and marginalisation in Namibia, pp. 283-324 in Odendaal, W. and Werner, W. (eds.) 'Neither Here Nor There': Indigeneity, Marginalisation and Land Rights in Post-independence Namibia. Windhoek: Land, Environment and Development Project, Legal Assistance Centre. ISBN 978-99945-61-58-2.

Koot, S., Hebinck, P. and Sullivan, S. 2020 Science for Success – A Conflict of Interest? Researcher Position and Reflexivity in Socio-ecological Research for CBNRM in Namibia. Society and Natural Resources.

Hannis, M. 2020 Why virtue is good for you: the politics of ecological eudaimonism, in Bai, H., Chang, D. and Scott, C. (eds.) A Book of Ecological Virtues: Living Well in the Anthropocene. Regina: University of Regina Press.
Sullivan, S., Ganuses, WS., Hannis, M., Impey, A., Low, C. and Rohde, R. 2019 Future Pasts: Landscape, Memory and Music in West Namibia. 2nd edn. Bath: Future Pasts.
Sullivan, S., Ganuses, W.S., |Nuab, F. and senior members of Sesfontein and Anabeb Conservancies 2019 Dama / ≠Nūkhoen and ||Ubun Cultural Landscapes Mapping, West Namibia, in progress report to Namidaman Traditional Authority, Sesfontein. Bath: Future Pasts.

Sullivan, S. 2019 Towards a metaphysics of the soul and a participatory aesthetics of life: mobilising Foucault, affect and animism for caring practices of existence. New Formations: A Journal of Culture, Theory & Politics 95(3): 5-21.
Rohde, R., Hoffman, M., Durbach, I., Venter, Z., and Jack, S. 2019 Vegetation and climate change in the Pro-Namib and Namib Desert based on repeat photography: insights into climate trends. Journal of Arid Environments 165: 119-131.

Hoffman, M.T., Rohde, R.F. and Gillson, L. 2019 Rethinking catastrophe? Historical trajectories and modelled future vegetation change in southern African. Anthropocene 25: 1-25.

Hannis, M. and Sullivan, S. 2018 Relationality, reciprocity and flourishing in an African landscape, pp. 279-296 in Hartman, L.M. (ed.) That All May Flourish: Comparative Religious Environmental Ethics. New York: Oxford University Press.
Hannis, M. and Sullivan, S. 2018 Mining the desert. The Land 22: 46-49.
Sullivan, S. 2018 Future Pasts in an Apocalyptic Moment project featured as an AHRC Heritage Priority Area Case Study.
Sullivan, S. 2017 On 'natural capital', 'fairy-tales' and ideology. Invited Review Essay, Development and Change 48(2): 397-423.

Sullivan, S. 2017 What's ontology got to do with it? On nature and knowledge in a political ecology of 'the green economy'. Journal of Political Ecology 24: 217-242.

Sullivan, S. and Homewood, K. 2017 On non-equilibrium and nomadism: knowledge, diversity and global modernity in drylands, pp. 115–168 in Pimbert, M. (ed.) Food Sovereignty, Agroecology and Biocultural Knowledge: Constructing and Contesting Knowledge. London: Routledge Studies in Food, Society and the Environment.

Hannis, M. 2017 After development? In defence of sustainability. Global Discourse 7(1): 28-38.
Rohde, R., Hoffman, T., Jack, S. and Sullivan, S. 2017 Climate change complexity: repeat landscape photographs of the pro-Namib and Namib desert.
Sullivan, S. 2016 What's ontology got to do with it? On the knowledge of nature and the nature of knowledge in environmental anthropology, pp. 155-169 in Kopnina, H. and Shoreman-Ouimet, E. (eds.) Routledge International Handbook of Environmental Anthropology. London: Routledge.

Jack, S., Hoffman, M., Rohde, R., and Durbach, I. 2016 Climate change sentinel or false prophet? The case of Aloe dichotoma. Diversity and Distributions 22(7): 745-757.
Sullivan, S. 2016 (Re-)embodying which body? Philosophical, cross-cultural and personal reflections on corporeality, pp. 119-138 in Thomas-Pellicer, R., de Lucia, V. and Sullivan, S. (eds.) Law, Philosophy and Ecology: Exploring Re-Embodiments. London: GlassHouse Books, Routledge Law, Justice and Ecology Series.
Sullivan, S. 2016 Three of Namibia's most famous lion family have been poisoned – why? The Conversation 23 August.
Sullivan, S. and Hannis, M. 2015 Nets and frames, losses and gains: Value struggles in engagements with biodiversity offsetting policy in England. Ecosystem Services 15: 162-173.
Hannis, M. 2015 Freedom and Environment: Autonomy, Human Flourishing and the Political Philosophy of Sustainability. New York: Routledge.
Hannis M. 2015 The virtues of acknowledged ecological dependence: sustainability, autonomy and human flourishing. Environmental Values 24(2): 145-164.
Sullivan, S. and Low, C. 2014 Shades of the rainbow serpent? A KhoeSān animal between myth and landscape in southern Africa – ethnographic contextualisations of rock art representations. The Arts 3(2): 215-244 (special issue on World Rock Art).
Jack, S.L., Hoffman, M.T., Rohde, R.F., Durbach, I. and Archibald, M. 2014 Blow me down: a new perspective on Aloe dichotoma mortality from windthrow. BMC Ecology 14.
Sullivan, S. 2013 After the green rush? Biodiversity offsets, uranium power and the 'calculus of casualties' in greening growth. Human Geography 6(1): 80-101.